What Makes a Great Meatball?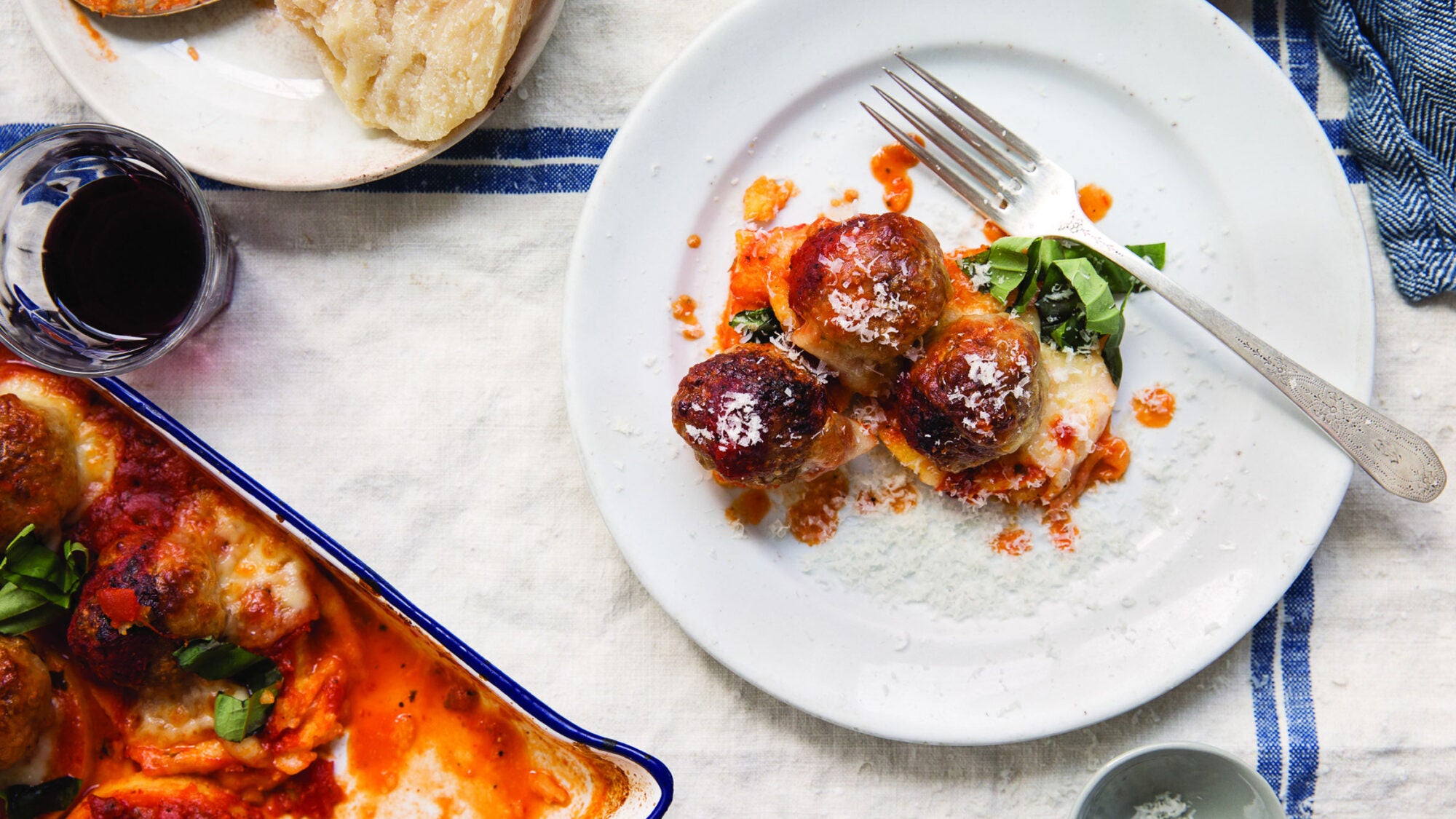 Salt, fat, season, and roll your way to a better meatball.
Large or small, beef or pork, tangled up in red sauce or smothered in gravy, there's a meatball for all. They're extremely versatile, easy to scale for even novice home cooks, and pretty hard to screw up—a welcome respite for those who are burned out from cooking and craving comfort without much fuss.
I'm a big fan of Nancy Singleton Hachisu's simmered chicken and miso meatballs from her cookbook Japanese Farm Food, a minimalist recipe that brings maximal flavor with a hefty dose of miso paste. And I'm jazzed about these lamb meatballs from the brilliant food writer Robyn Eckhardt's Istanbul and Beyond. They mimic the hand-chopped texture you may find in the streets of Istanbul or a strip mall in Detroit by sprinkling seasonings like dried chile and purple basil over ground meat and roughly blending them together with a knife's draw. But I know that, for many, nothing appeals more than a spaghetti-ready Italian American meatball, in all of its saucy glory.
On that front, I'm fortunate to have spent the last year working on a cookbook with chefs Angie Rito and Scott Tacinelli, owners of the modern Italian American restaurant Don Angie in New York. We have an entire chapter dedicated to meatballs, which means I learned a lot about proper ball technique. And while each meatball is special and unique, I gleaned some tips for the construction of all kinds—Italian American as well as those found across Asia, the Levant, and beyond—to take them from good to great. Roll with me:
Fat is flavor: Making a meatball without enough fat is a recipe for hard, dry disaster. Do not scrimp. Rito and Tacinelli's classic take uses a mixture of beef (ideally 15–20 percent fat ground chuck) and similarly rich veal (which adds a supple texture). If you're making a chicken meatball, look for ground dark meat—or do as Hachisu suggests and hand chop your own chicken thighs. Ground lamb and pork are generally fatty enough on their own to stand up to the job without much tinkering. Or feel free to create your own blend, balancing fattier cuts with lean (aim for a ratio of roughly 80 percent lean meat to 20 percent fatty).
Bind strategically: That ground meat needs something to help hold it together. While bread crumbs (fresh or those pulled off a shelf) are a common addition to Italian American recipes, be warned: too much can make the finished product dry and dense. Rito and Tacinelli prefer to use a French-inspired panade—really just a fancy word for "hunks of bread soaked in milk"—which adds both moisture and richness. Non-Italian recipes might call for rice or potato starch (as Eckhardt and Hachisu do in their recipes, respectively, incidentally making them gluten-free).
Season accordingly (that is, season aggressively): Seasoning is what gives meatballs their identity. Rito and Tacinelli use aromatics like grated raw onion (which releases its flavorful juices into the meat while it cooks) and roasted garlic (lending a more mellow, caramelized flavor than slivers of raw cloves) to up the ante in their Italian American version. Other seasonings vary hugely by the ball, but whatever their flavor, salt, chiles, fresh and/or dried herbs (oregano, basil, parsley, etc.), and spices (chile, garlic powder, paprika, etc.) should be mixed evenly throughout—which brings us to our next point.
A light touch: For any kind of meatball, mix its ingredients lightly (ideally by hand), until just combined—overmixing will cause toughness. The same goes for forming the balls themselves: drizzle a bit of oil or water on your hands to keep the meat from sticking, then roll the mixture into compact yet light balls. Avoid squeezing or compressing them into dense pucks—they won't get any lighter as they cook.
And when it comes to that final step—cooking, that is—there are, once again, as many routes as there are recipes. Searing and simmering are both great, but the simplest technique is to cook meatballs on a parchment-lined baking sheet in the oven. No muss, little fuss, and pure, unadulterated comfort—that's what meatballs are all about.
Here's the recipe we worked on, using techniques borrowed from grandmas on both sides of Rito and Tacinelli's family, plus a few pieces of chef-level flair. And here are five other favorite recipes I've spotted over the years.
Lead photo excerpted from One Pan and Done, by Molly Gilbert. Get the recipe for Molly Gilbert's One-Pan Turkey Parm Meatballs with Polenta here.