Togarashi: Fun to Say, Better to Sprinkle on Things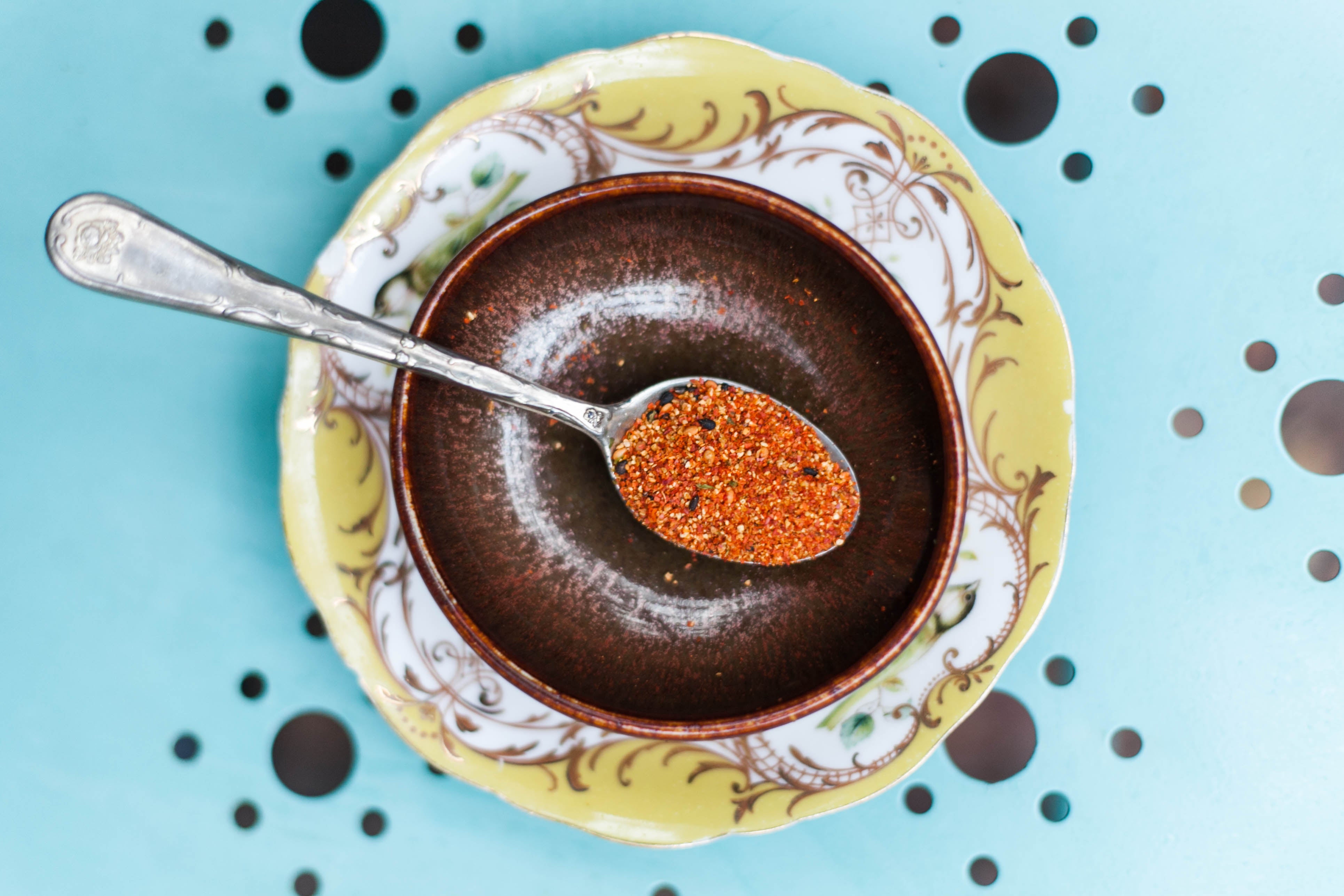 French fries, avocado toast, bagels. It's time to get creative with this vibrant, tongue-prickling Japanese condiment.
You know shishimi togarashi is trending when the spice giant McCormick rolls out a "Japanese seven-spice" as part of its gourmet line.
It used to be that American home cooks could only find the Japanese spice blend at Asian markets (or served alongside steaming bowls of ramen), but now it's everywhere, on the shelves at commercial grocery stores and sprinkled on avocado toast.
In the U.S., the blend is often referred to simply as togarashi, but this is incorrect, says Nancy Hachisu, author of Japanese Farm Food and Preserving the Japanese Way. "Togarashi [sometimes spelled in English as tongarashi] means chile pepper in Japanese," she says. Ichimi togarashi refers to the chile pepper by itself, with ichi + mi meaning one taste. Shichi + mi means seven tastes and refers to the blend, even when there aren't seven ingredients. The only one that should ever be called just togarashi is the ichimi, advises Hachisu.
The exact ingredients and ratios of the ingredients vary from brand to brand—Yagenbori is said to be the originator; House Foods produces the bright orange canister you're most likely familiar with—but any brand will give food a spicy kick and a citrusy lift. For the best-flavored shichimi togarashi, cooks should look for roughly ground blends with noticeably different colors rather than a homogenous powder, according to Hachisu. (A good bet: the blends made by chef-revered spice company La Boîte, which makes a togarashi that includes soy sauce powder.)
In Japan, shichimi togarashi is most often found at the table—either in casual restaurants or at home—and used as a condiment on noodle dishes, soups, and rice dishes. It's also sometimes employed as a flavoring for packaged savory snacks.
In American restaurants, some chefs incorporate the spice blend into Japanese-style dishes. For example, at New York City seafood restaurant Bergen Hill, it gets sprinkled over raw hamachi with ponzu. But other chefs are seeing its potential in a wider range of applications. At Knead Bagels in Philadelphia, for instance, the menu features a shichimi togarashi–spiced bagel with scallion cream cheese. In Nashville, chefs Chris Futrell and Casey Carstens toss French fries with shichimi togarashi at their Korean-inspired fried chicken joint.
In your own kitchen, the blend is perfect for tossing with popcorn and sprinkling over brothy soups. It's also delicious as a dusting for roasted fall vegetables—including squash, carrots, and parsnips—after they come out of the oven. In the summer, use it to give your watermelon-and-tomato salads an unexpected prickly heat. And of course, you can add a dash or two to your avocado toast any time of year.