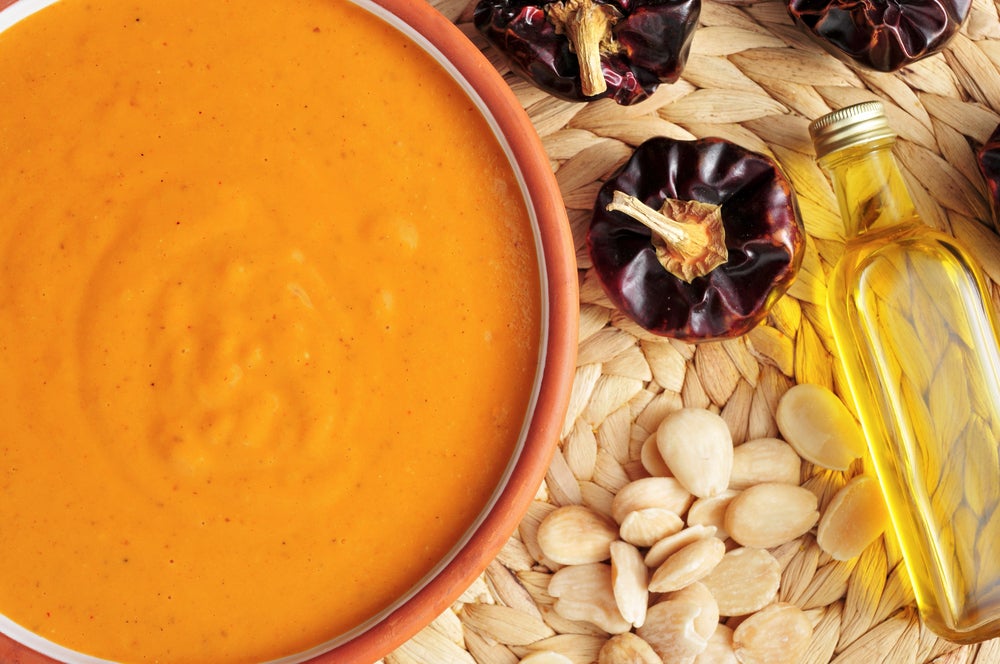 Sure, Italy has pesto, but this oily Spanish nut-and-pepper sauce is worth adding to your rotation.
Ligurian pesto is world famous for a reason: Pine nuts ground with olive oil, Parmesan, and heaps of basil taste pretty great. But over in Spain, particularly the northeast region of Catalonia, locals whip up a sauce that's just as good. It's called romesco, and it's a lot like pesto, made with almonds or pine nuts, olive oil, fresh herbs and garlic, and, instead of green basil, fresh red peppers. The chunky, nutty, subtly spicy sauce is often served with fish along the Catalonian coast, and come springtime, when a special variety of green onions called calcots shoot out of the ground, romesco is a staple dipping sauce for whole grilled green onions.
While Italians are pretty dogmatic about what goes into their pesto, Catalonians are a lot more lax; some versions add tomato, vinegar, or even soggy bread as a thickener. But like pesto, the surest path to romesco success is to pound it together with a mortar and pestle, which will give you the chunky, well-integrated sauce you're after without whipping your ingredients into paste.