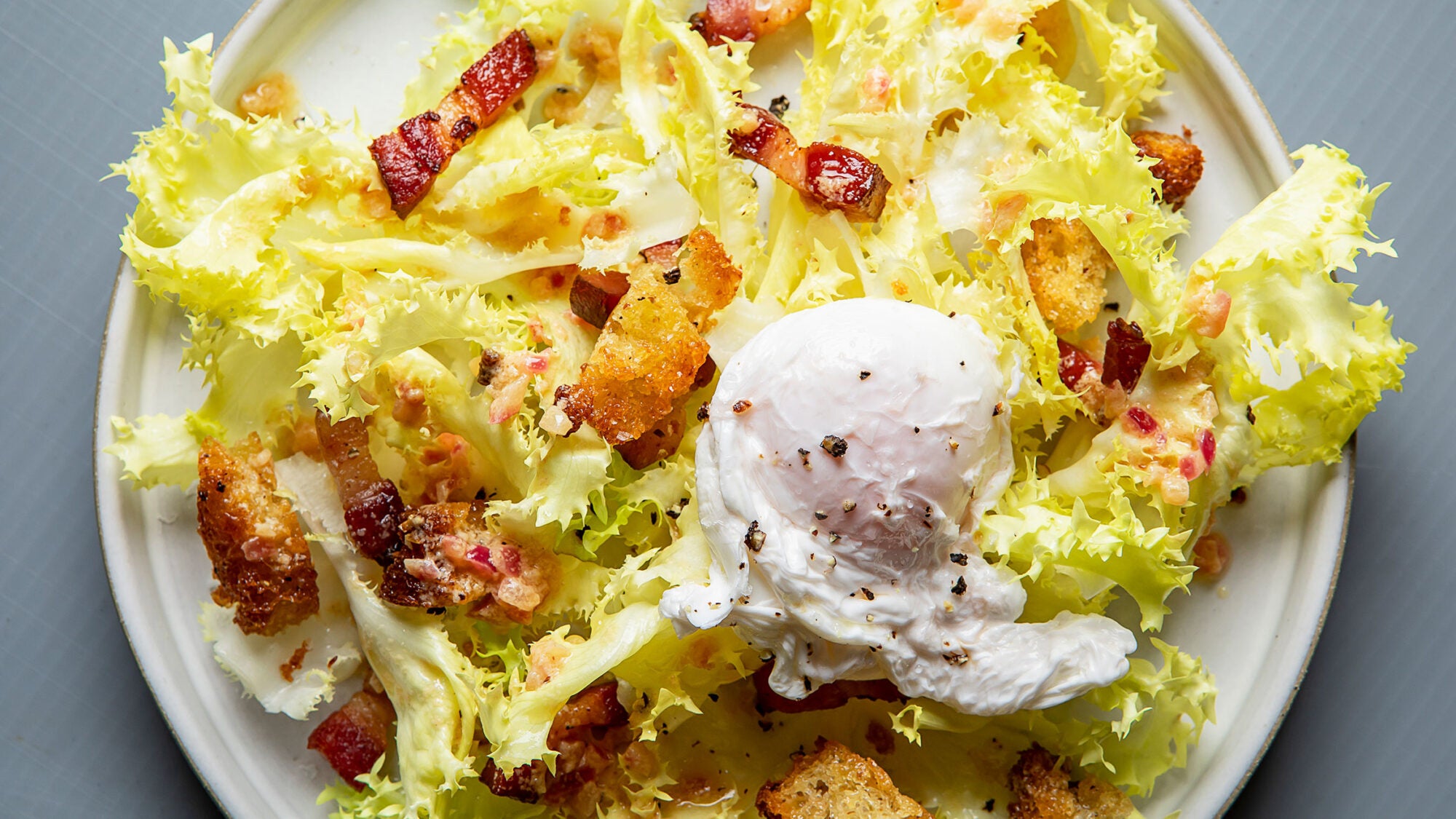 The bitter chicory is beloved, despised, and most of all, misunderstood.
"It's like eating hair," my colleague Anna Hezel declared when I brought up frisée in a meeting one day. "Blech," replied food critic Besha Rodell when asked her opinion of the bitter chicory. Danielle Callegari, a professor of Italian studies at UC Berkeley, was a little more diplomatic, calling it "the most confusing of leafy vegetables," but she added that, for her, it's "also totally annoying to eat because of how unwieldy it is."
Of course, there exists a chorus of frisée champions. "I kind of love it!" says writer, cookbook editor, and Splendid Table host Francis Lam. "Despite the fact that it became a stand-in for pretentious lettuce 20 years ago, it's delicious and has great texture." New York chef Anthony Sasso says he values it for being able to stand up "to all the strong-flavored, bold, acidic, salty stuff" that he cooks with, including anchovies, sherry vinegar, and blue cheese. "If you are into that, then it beats a 'tender' wimpy green any day," he says, adding, "I'm looking at you, Little Gem."
But more often than not, the people I surveyed were ambivalent about the green, hesitant to declare love or war upon its fuzzy head. Salt Fat Acid Heat author Samin Nosrat says she uses it on occasion "for loft, but I hate having too much of it in any one salad." Though Lam says that frisée "is perfectly capable of being served and enjoyed without the presence of bacon," many immediately associate it with the Salade Lyonnaise, the cozy brasserie classic consisting of a pile of frisée flecked with seared lardons, drenched in fatty and mustardy vinaigrette, and topped with a softly poached egg. Writer Charlotte Druckman says she remembers being introduced to it at the Odeon or Cafe Luxembourg as a kid growing up in New York. "I never questioned it because the gestalt of it was so good, but then I realized when frisée showed up elsewhere, I sometimes found it not the lettuce I wished was on my plate," she says.
Frisée—that awkwardly crimped symbol of French culinary elegance—is a paradox in the otherwise peaceful, unconflicted universe of salad greens. Though it has a comparably bitter bite, it has not gained the audience of its fashionable Brassicaceae friends, kale and Brussels and broccoli. And despite its wild, incised, ombré tendrils, it has not profited from the cult following of its attractive Cichorium cousins, radicchio, Castelfranco, and endive. Frisée has remained relatively single-purpose, pigeonholed as a foil to so many lardons.
This is, perhaps, in part due to semantics. "Most Americans probably don't realize how the [chicory] species are related," says Callegari. And as it turns out, "frisée" is not a technical term at all. Dr. Joe Willis, a horticulture agent at LSU's AgCenter, says it's "more or less a culinary term referring to special endive varieties that have curly, pale-green divided leaves." Technically, they are called "Cichorium endiva var. crispum" and often referred to as "curly endive." This is not to be confused with wild endive or escarole. "Lettuces," he says, "are a completely different genus, Lactuca." To add to the confusion, in Southern parlance, chicory often refers to the roasted ground root used as a coffee substitute.
Simply put, frisée is misunderstood.
Frisée—that awkwardly crimped symbol of French culinary elegance—is a paradox in the otherwise peaceful, unconflicted universe of salad greens.
To be clear, I am of the opinion that frisée has no business in my salad bowl. Aesthetically, I can appreciate its rebellious, anemone-like mane—I would like such voluminosity myself. I can also recognize its saintly necessity in an otherwise fat-based salad—its extraordinarily sturdy, crisp branches do seem an exceptional conductor of egg yolk and emulsified bacon. But every time the wispy, barbed tumbleweed has landed on my plate, I have, without exception, pushed it to the side. I just don't want to wrestle with salad, I guess.
However, in the course of kicking the Cichorium tires, I have begun to feel conflicted about my preconceived notions of frisée. To be entirely honest, I haven't eaten it in years. I couldn't begin to tell you where it falls along the spectrum of bitter, or exactly how toothsome it is. How can I confidently say I do not like frisée? With the strong exception of black olives and papaya, I have grown fond of most things I did not prefer years ago. Perhaps, unwittingly, I actually love frisée.
So much of what I am attracted to in people and art and my own work is the feeling of being challenged. The films and books and conversations I remember best are the ones that I can't quite make my mind up about: They're difficult; they don't quite make sense; they generate more questions than they do answers. The hot, uncomfortable center of an existential debate is my favorite place to spectate.
I, too, am difficult in my own way—ambivalent, critical, hardheaded when I want to be. Which is, perhaps, why I've decided to spend a thousand words explicating what it is about an unassuming vegetable that I can't quite get out of my head. In fact, I've even gone hunting for frisée in my new home in New Orleans, to no avail (blame Café du Monde's monopoly on the chicory signifier). So when I couldn't find it, I went and ordered seeds, which my green-thumbed landlord is kindly germinating in his backyard. All this just to see if I could pin down my own opinion.
It will be a few months before I know. From my window, I can see the pale green seedlings growing in a tray of soil, their shoots reaching toward the Southern winter sun. Come February, withstanding frost, they will have bloomed into their characteristic Muppet-y tangle, sturdy and unwieldy, bitter and a little bit feral-looking. And I will be ready with my lardons and my poached eggs, ready to wrestle with a salad.