What Is Chicago Barbecue?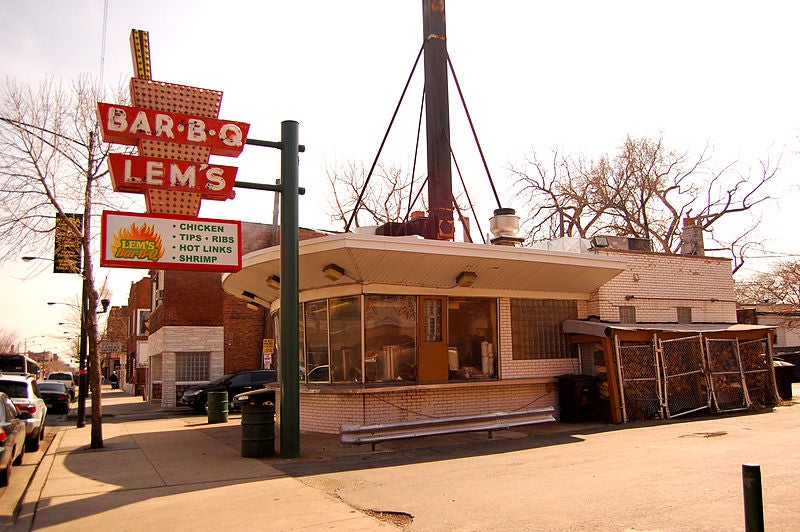 Get to know the Windy City's unsung smoked-meat tradition.
If we ask you about big American barbecue styles, what comes to mind? Texas, for sure, and the Carolinas, too. Erudite smokeheads may trot out Alabama white sauce and Baltimore pit beef, but all too often, Chicago's barbecue tradition gets left out in the cold. A 20th-century product of South Side industry and black entrepreneurship, Chicago barbecue is all about two cuts: spicy, coarsely ground sausages called hot links and the bony, cartilaginous ends of ribs, called rib tips.
Both are cooked directly over high heat in a locally manufactured steel-and-glass contraption called an aquarium smoker, which does indeed look like an aquarium and allows pitmasters to suffuse lots of meat with smoke in a matter of hours—a necessity for serving car and foot traffic at an urban pace.
Today, the tradition is at risk of extinction as the original pitmasters retire and the changing demands of the city make it difficult for successors to follow in their tracks. But you can still find venerable Chicago barbecue on the South Side if you know where to look; follow the smoke signals.
For more TASTE Food Questions, subscribe to our podcast TASTE Daily on Apple iTunes and Spotify. It's also free to add to your Alexa flash briefings. Just add the TASTE Daily Skill.