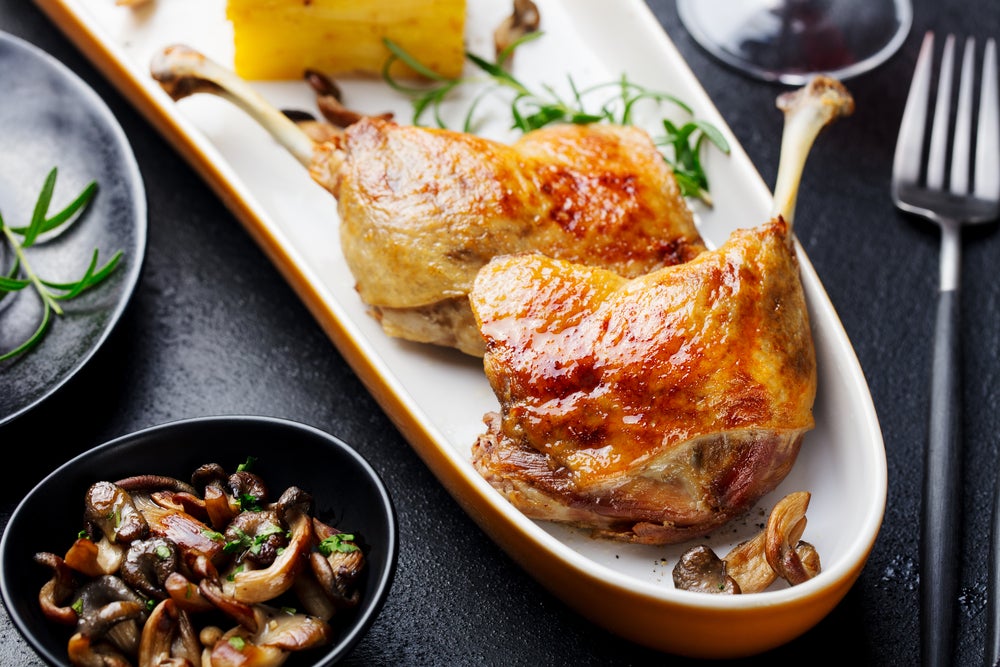 All about the Frenchiest cooking technique around.
Depending on the course, confit could mean one of two different things, but you've most likely come across the term in the context of cassoulet, the rich stew of white beans with sausages, fresh pork, and duck confit—duck packed in its own fat.
In the days before refrigeration, slowly cooking and packing meat in animal fat was a handy way to prolong its shelf life. As the tender meat cools, the fat solidifies, forming an airtight forcefield around every nook and cranny of duck leg, goose breast…you get the idea.
Poultry confit can last months without refrigeration, and even longer with it, and all that flavorful fat makes a luscious addition to any dish along with the bird itself. The word "confit" comes from the verb "confire," to preserve, and while it usually refers to savory applications like duck, it can also mean something wholly different—fruits and other sweet ingredients slowly cooked in sugar, then packed and preserved in the syrup for use in other desserts. Different ingredients, same concept, same French ingenuity.
For more TASTE Food Questions, subscribe to our podcast TASTE Daily on Apple iTunes and Spotify. It's also free to add to your Alexa flash briefings. Just add the TASTE Daily Skill. Presented by the Salvation Army.