Welcome to the Great Shroom Boom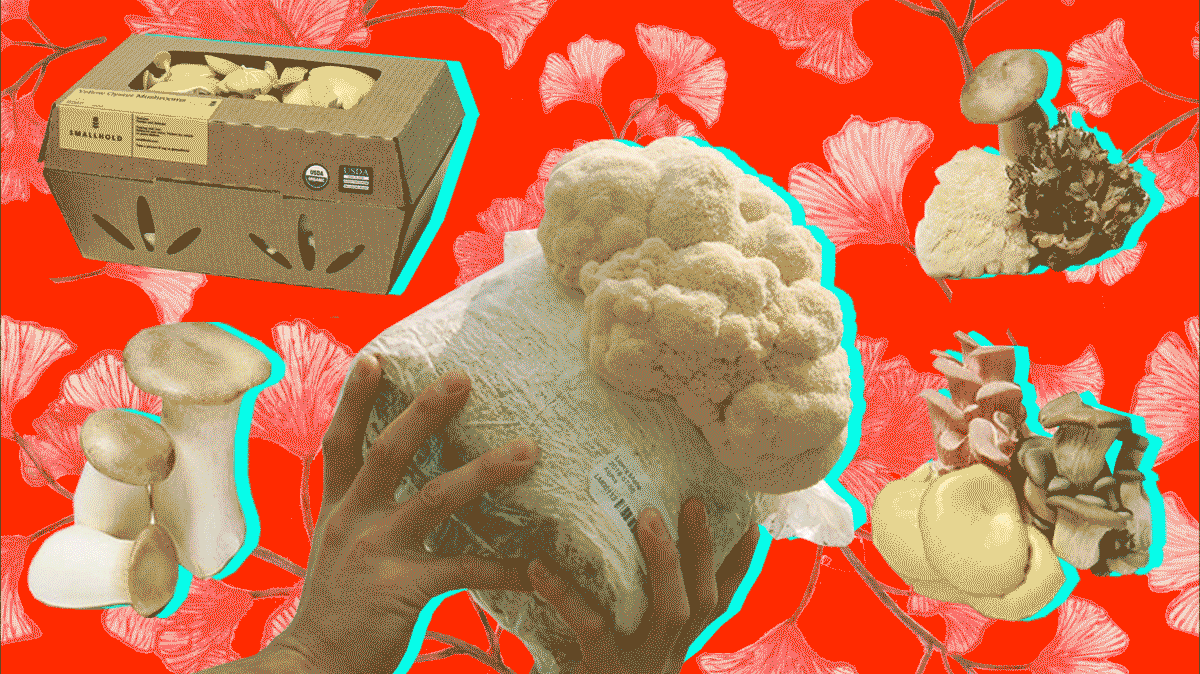 We're living in the age of mushroom coffee, chocolate, jerky, and beer.
At the start of the pandemic, when Smallhold, a Brooklyn-based indoor mushroom grower, saw orders from restaurant partners decline, they began to pivot to mushroom growing kits—timed perfectly for those looking to pick up a new culinary hobby. And they were not alone.
Almost overnight, my Instagram feed was filled with suggestions for mycelium fruiting block kits from smartly marketed companies like North Spore and Nearby Naturals to grow bright pink or yellow oyster mushrooms right in one's own home. For many, playing fungi gardener gave a sense of growing their own food in cramped apartments at a time when supermarket runs were fraught. For others, the sheer novelty of the colorful, wiggly mushrooms quickly sprouting out of their sawdust bases provided a shot of needed joy.
But the legitimate excitement and fascination around mushrooms during the pandemic extends well beyond just growing them. Today, fashion designers are working with eco-friendly mushroom leather. You can buy nonalcoholic beer brewed with turkey tail or lion's mane that promises properties that help you minimize stress. There are a dozen chaga mushroom–based coffees that aim to eradicate brain fog without caffeine jitters, and chic chocolate bars peppered with ingredients like reishi that highlight increased energy and immunity as their alleged benefits.
In January, Multiverse Marketplace opened, claiming to be the internet's first-ever dedicated space for the fungi kingdom, a curated online marketplace for purchasing mushroom products. Soon, they'll release a mushroom-themed podcast, blog, and even their own in-house product. And they're not the only mushroom media company launching: Mushroom People, from the team behind the weed-focused Broccoli magazine, will debut as its own publication later this year.
Due to increased interest, billions of dollars are pouring into the functional mushroom space, the non-psychedelic side of the industry (though once legalization is closer to fruition, it goes without saying that there will be plenty of money extended there, too); globally, the functional mushroom market is projected to make $69.3 billion by the end of 2024. It's an exciting time for those who have benefited from the power of mushrooms and who see the potential in their flavor and medicinal qualities—there are more options on the market than ever before.
It would be easy to call the 'shroom boom just a trend, but many of these products are simply repackaging the way mushrooms have been revered for their medicinal properties for thousands of years.
It would be easy to call the 'shroom boom just a trend, but many of these products are simply repackaging the way mushrooms have been revered for their medicinal properties for thousands of years, particularly in East Asia and by indigenous groups throughout the world—only now with millennial-looking branding. It has been well documented, for example, that mushroom-cacao drinks were consumed by the Aztecs. For thousands of years, mushrooms have been a key component of traditional Chinese medicine (TCM). And, in ancient Egypt, mushrooms were revered as symbols of immortality. Western companies are only now catching up and interested.
Andrea Hernández is a professional snack trend forecaster behind the newsletter Snaxshot, which has over 2,000 subscribers—a mix of CPG investors, founders, and snack-curious customers—who look to her for honest opinions about what's coming in the industry. She even has an anonymous hotline so that subscribers can give their unfiltered feedback on products. Recently, she put together an entire issue about the emerging fungi space. Mushrooms, she says when we chat via phone, may be more attractive than ever for consumers to explore, as they touch on so many different elements exacerbated by COVID-19. On the wellness side, there are tinctures and powders, which can be consumed as is or incorporated into cooking, that claim to help with immunity, stress, and fatigue, among other things. On the snack side, mushrooms offer a way to eat less meat while packing in the glutamates of umami.
When Michael Pan went home to see his family in Malaysia a few years ago, he came across a household recipe for a dried mushroom snack that had no official name; many of his family members are vegetarian Buddhists, and they looked to the natural sources of vitamins, fiber, and antioxidants present in shiitakes. It eventually became the basis for a hearty product I can't stop buying: Pan's Mushroom Jerky.
The original product is made with dried shiitake mushrooms, water, avocado oil, organic coconut sugar, Himalayan pink salt, and organic chia seeds. The result is a chewy snack that can be eaten by itself or used in noodle dishes, salads, and charcuterie-free charcuterie boards. In a Shark Tank episode that debuted last November, Pan struck a deal with one of the show's hosts, Mark Cuban. Since the episode's premiere, the response has been outsized. Pan attributes part of his success to staying true to his origins and honoring the history of mock meat that's rooted in ancient Chinese cooking.
"We're at the cross section of a few things happening in the mushroom space, using mushrooms' unique taste, texture, and health properties and building on that legacy," he tells me when we chat on the phone. "The question then becomes how we leverage that history to get as many people as possible to enjoy the benefits of mushrooms, which, in our case, are shiitakes."
Kirsten Kirby-Shoote is an urban farmer and member of I-Collective, an Indigenous food collective, who tells me that, overall, she's excited about what's happening with mushrooms, but she's concerned by it, too. The "exoticism and exploitation of Indigenous medicine" in order to sell certain products is something she's particularly wary of, especially right now, when Indigenous communities are disproportionately affected by COVID-19—and, likewise, of the potentially disrespectful harvesting practices she sees a lot of major companies employing. "Chaga in particular has very specific cultural traditions," she says. "I consider land, water, and plants to be relatives; once you divorce them from that, you're more comfortable calling them a resource . . . you're not going to see an emotional connection."
"I'm all for casual foraging, but when it comes to purchasing mushroom products, it's important to vet the company to understand how their mushrooms are grown and, if they're wild-harvested, to make sure they're wild-harvested sustainably and responsibly."
Though mushrooms are a much more sustainable alternative to meat, improperly harvesting them seems to be on the minds of at least a few business owners I spoke with in the mushroom space, especially as many of them have seen sales soar during the pandemic. "I'm all for casual foraging, but when it comes to purchasing mushroom products, it's important to vet the company to understand how their mushrooms are grown and, if they're wild-harvested, to make sure they're wild-harvested sustainably and responsibly," says nutritionist and chef Rachael Gorjestani, cofounder of a line of products called Goldmine. She has doubts about what happens when major brands forage their ingredients at scale.
Nadine Joseph runs one of the few BIPOC-owned medicinal mushroom brands, Peak and Valley, which she was inspired to launch after pursuing academic work on the neuroscience of stress. She says that sustainability is a key tenet of her model—in terms of both sourcing and ensuring that farmers are paid a living wage.
With Peak and Valley, which sells adaptogenic powders, Joseph hopes to show that "everyone should be able to enjoy the power of mushrooms," and she's been exhilarated by seeing her customers use her products in unexpected ways, like sprinkling them on ice cream.
Even with ubiquity on Instagram and their longevity as one of the world's oldest living organisms, there are still barriers to getting American customers on board the mushroom bandwagon, but attitudes are changing. "When I first started, I was met with a lot of skepticism," says Pan. "I believed in my concept and kept going, and it's amazing to see how much the consumer space has changed its attitude toward mushrooms over the past four years; I tip my hat to the companies that came before us that help paved the way."
Many have used the pandemic, whether they intended to or not, as a chance to realign their values. Mushrooms may well provide a blueprint for the food industry. After all, as author Anna Lowenhaupt Tsing writes in her prescient book The Mushroom at the End of the World: On the Possibility of Life in Capitalist Ruins, "the uncontrolled lives of mushrooms are a gift—and a guide—when the controlled world we thought we had fails."
Newish Products for Mushroom Enthusiasts
Want your mushrooms as a snack? I can't recommend Pan's Mushroom Jerky enough. Due to their recent appearance on Shark Tank, they're currently sold out, but I'm told they should be restocked by mid-March. Moku is another mushroom jerky brand on the market that I've enjoyed, if you can't wait for Pan's to restock.
Want to grow your own mushies? Try Smallhold or Nearby Naturals for gorgeous oysters, lion's manes, king trumpets, pioppinos, and other varieties that will spruce up your pandemic cooking.
Want your mushrooms in a powder form? Try Peak and Valley or Goldmine, powdered blends that you can mix into things like coffee, hot cocoa, baked goods, and smoothies.
Mushrooms in maple syrup? Try Rainbo's version, made with reishi and chaga, on pancakes, in smoothies, and in cocktails.
For umami-packed stocks? Try Dark Horse's umami powder—inspired by the founder's Japanese heritage—which uses dried and smoked shiitakes, reishi, grilled leeks, onions, nutritional yeast, tamari, dried tomatoes, and other ingredients. It's swell in stocks or sprinkled on rice, toast, veggies, and more.
For mushroom salt? Try Korean superette Queens's in-house mushroom salt, which is good on just about . . . everything.
For nonalcoholic "beer" alternatives? Try Fungtn. The British alcohol-free beer company uses chaga, turkey tail, and reishi mushrooms to develop its own mature flavors of IPA, pale ale, and lager, sans alcohol.
Looking for mushroom-packed sauces? Try experimenting with Heatonist's lion's mane piri piri hot sauce.