Welcome to the Great American Ham Wave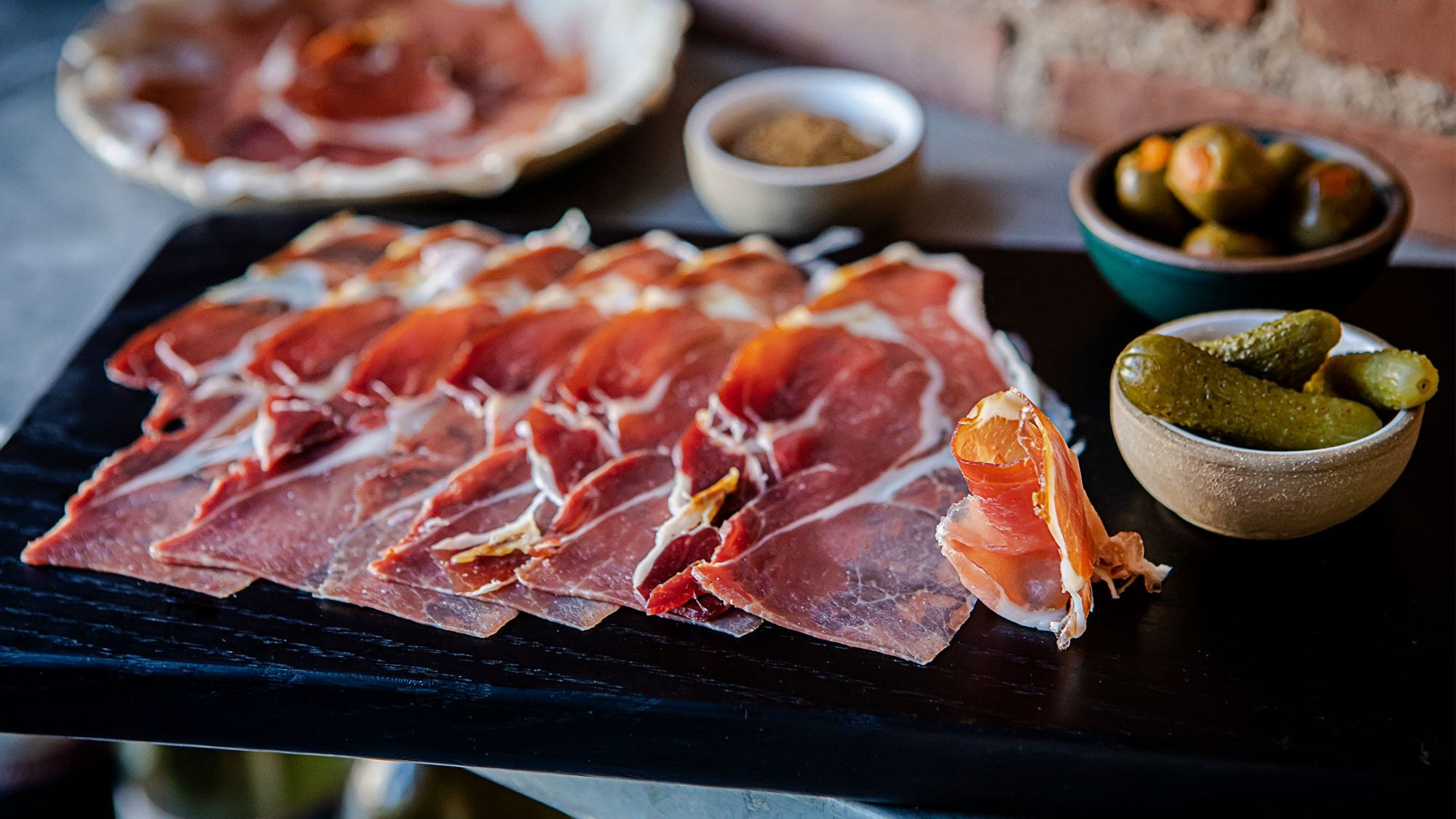 A swell of stateside producers are curing pork with a luxury appeal once reserved for Bayonne, prosciutto, and Ibérico.
About fifteen years ago, Sam W. Edwards III realized that country ham needed a bit of a rebrand. The third-generation ham maker, based in Surry, Virginia, was trying to convince the world that country ham had much more nuance, history, and craftsmanship than those thick, skillet-fried steaks that people were used to feasting on at waffle houses and Cracker Barrel outposts.
He brought some 18-month-aged, pasture-raised, heritage pork ham to Union Square Cafe in New York to do his best to convince Carmen Quagliata, the chef at the time. "You prepare it like you would a prosciutto or a serrano," he told the chef. "We're going to call it Surryano." Union Square Cafe put it on the menu with this tongue-in-cheek nickname, and soon after, Edwards's phone started ringing.
Although the name is a nod to one of Spain's most famous hams, the tradition of raising fatty, heavily marbled heritage breeds of pork, dry-curing them with salt, and aging them until the meat is firm, glossy red, and packed with umami is as American as apple pie. And as our charcuterie boards grow heavier with imported specialty meats from Spain, Italy, and France, a new generation of stateside ham producers are trying to prove that America can do it just as well, if not better.
For Edwards, this revival has been not just a way to pay tribute to the lengthy dry-curing techniques his grandfather used in in the 1920s, '30s, and '40s, but also a way to revive heritage breeds. "In the '60s and '70s, it became more of an industrialized-type pork, where they were trying to make pork the 'other white meat.' Super lean, theoretically healthier, and so forth," he says. But in recent years, farmers have sought to bring back breeds like Berkshires, Red Wattles, Tamworths, and Gloucestershire Old Spots.
The tradition of raising fatty, heavily marbled heritage breeds of pork, dry-curing them with salt, and aging them until the meat is firm, glossy red, and packed with umami is as American as apple pie.
"I think that, in general, there's a renaissance to valuing proper heritage breeds being raised a certain way and being handled in a more artisanal fashion, rather than industrial practices," says Kurt Oriol, cofounder and partner of Iberian Pastures in Georgia. In an effort to bring some of Oriol's Spanish heritage to American grocery stores, Iberian Pastures started raising Ibérico pigs in 2014, which are sold as a variety of pork products, including a salt-cured Spanish-style jamón and a paleta (made from the shoulder) that are both produced by La Quercia in Iowa.
In New Jersey, Rodrigo Duarte has been raising purebred Alentejano Ibérico pigs since 2016, caring for the animals and dry-curing the meat with centuries-old Portuguese techniques, feeding them Portuguese acorns and chestnuts, and aging the meat in a room that mimics the temperatures and humidity levels of the changing seasons.
Sam Suchoff, the founder and owner of Lady Edison in North Carolina, makes a ham that would be at home on a charcuterie plate alongside some of these Spanish and Portuguese-style jamóns, but he resists the comparison to European styles. His Lady Edison Extra Fancy Country Ham, which won a Good Food Award in 2017, is a ruby-hued, funky ham that's aged for 12–18 months. But it's made with North Carolina pigs, following the USDA specifications for the salt and moisture levels required to qualify as a country ham. "It's in no way an American prosciutto or an American jamón," he stresses. "What's extra fancy about it is that we're using quality pork, and we're giving it time to age."
Suchoff says that he loves to have a few slices of his country ham with a Miller High Life and lime, or a dry sherry. "Part of me hates to say that, because I don't want to seem like it's something that can't be enjoyed in an American setting, with an American meal," he says, "But something like a dry sherry is kind of unbeatable."
Lady Edison ham has appeared on the menu at Momofuku restaurants, is beloved by Tom Colicchio, and is currently on the menu at & Sons, a Brooklyn bar that celebrates the range and breadth of American hams—from Tennessee's famous Benton's to a Hudson Valley prosciutto—paired with an all-American wine list.
The bar was opened in 2020 by André Mack, a sommelier who had previously worked at the French Laundry and Per Se. The rotating menu of about a dozen hams are sliced on American-made Berkel meat slicers and served alongside domestic farmstead cheeses and cornbread madeleines. Mack was struck by the idea for the bar, ironically, while eating jamón in Spain. "When you go to a jamón bar, there's no wine or any products from any other country than Spain," he points out. "The sparkling water's from there!"
It occurred to him that America had its own rich culture of ham and wine to be celebrated and served with the same level of care and pride. Serving only American ham at his bar was less a statement of nationalism and more of a way to spotlight some of the craftsmanship that's often overlooked in favor of the European stuff. "We have people who are aging country hams for 42 months," he says. "San Daniele [prosciutto] is 24. And it's like, I don't get it. What's the difference?"