Welcome to the DeVonn Francis Dinner Party Multiverse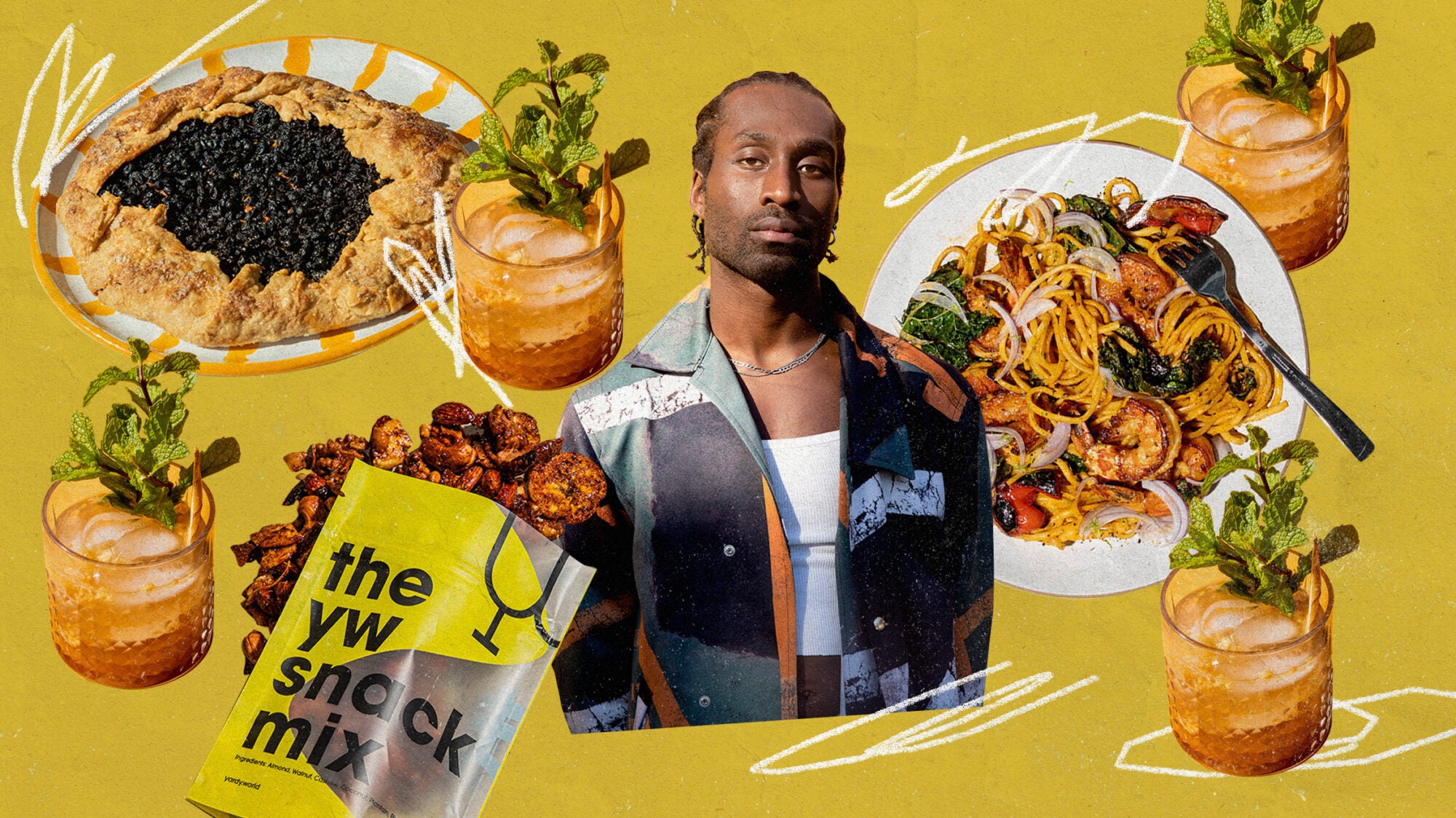 The Bon Appétit test kitchen staffer has big plans for a Yardy World takeover.
"To dine" and "to eat" are hardly synonymous verbs. Consumption—ingesting calories, remedying hunger—is pragmatic in nature. Dining, however, sates a different, more poetic genre of appetite. It's about flavor, pacing, conversation. "When I think about a dinner party, I think about storytelling, theater, and drama," says DeVonn Francis, the chef and artist behind New York–based food and event production company Yardy World. "How do all these different elements of a meal come together as a set piece? How is the layout going to make you want to engage with it? Eat it? Discuss it afterward?"
Francis and his team are what you might call dinner party impresarios. Their Afro-Caribbean menus—featuring dishes like spicy snapper escovitch with carrots and Scotch bonnet aioli, or street-cart-inspired watermelon salad topped with Francis's personal take on Tajín—fuel equally memorable affairs: blowout Dimes Square feasts with highly coveted tickets, or roller discos set in Bed-Stuy school gymnasiums, where folks dance to artists like SZA and Tara-Jo Tashna with squid ink aioli still caked on their fingertips—alongside private events for brands like Gucci and Squarespace.
Francis and his team oversee everything, from invitations and theme to menu and music. "You want everything to be sensory: maybe orange and lemon peel and cinnamon perfume the air. Maybe you have all these dahlias from the farmers' market sort of exploding out of a vase, next to a three-tiered cake with some big and ostentatious frosting design," he explains. "You want folks to feel fully immersed."
Growing up in Norfolk, Virginia, as the son of two Jamaican immigrants, Francis familiarized himself with Caribbean-American cooking at his father's local jerk chicken restaurant. At 19, when he moved to New York to study art at Manhattan's Cooper Union, he submerged himself in a new culinary space, working in kitchens and waiting tables at sceney downtown restaurants like Estela and Altro Paradiso. "While I was balancing school and restaurant work, I became really interested in art and food as modes of storytelling. And at the time, I was also thinking a lot about my history, and my parents' history, and how I could use something like a dinner table to tell those stories. That's how Yardy World came to be," he says. 
In addition to filming cooking tutorials in Bon Appétit's test kitchen and cooking at pop-ups held in venues like Winona's, The Fly, and Pioneer Works, Francis launched a new leg of Yardy World this past November: an e-commerce shop vending seasonal recipe cards for dishes like oxtail-apple pie and cornmeal funnel cake; chic linen napkins; and Caribbean-inspired snack mix loaded with nuts, spices, plantain chips, and dried fruit. Earlier this month, I spoke with Francis over Zoom about storytelling, tabletop curation, and the secrets to throwing a dinner party for the ages. 
What's the most important element of a great dinner party?
For me, immersion is what sets a dinner party apart from dining at a restaurant. The whole idea is you're in my home, you're entering my space, these are my rules. At one dinner, we were encouraging people to avoid using silverware, because using your hands, touching your food, is such a tactile, intimate way to approach eating. In that way, I want every dinner party I throw to provide people with different ways of sensing and experiencing things. And that's the great thing about food: when you're able to immerse people, they feel and taste things more deeply. They're transported. 
How do you decide on the concepts behind each of your events?
When I want to start planning a party, I'm always tapping friends and artists and community members who can help me bring a really exciting mix of people and ideas into the room—people who can help me rethink how we look at food and how we can build evocative visual landscapes. Sometimes we're building a meal around an album that was just released, or a runway collection, or a piece of art; sometimes around history and heritage. I once threw a party where we covered the table with these beautiful screen-printed newspapers featuring photographs of my mother, and each dish was inspired by a different one of my family members: a riff on my dad's go-to cabbage dish, a fish wrapped in banana leaf that reminded me of my first trip to Jamaica with my grandparents as a kid.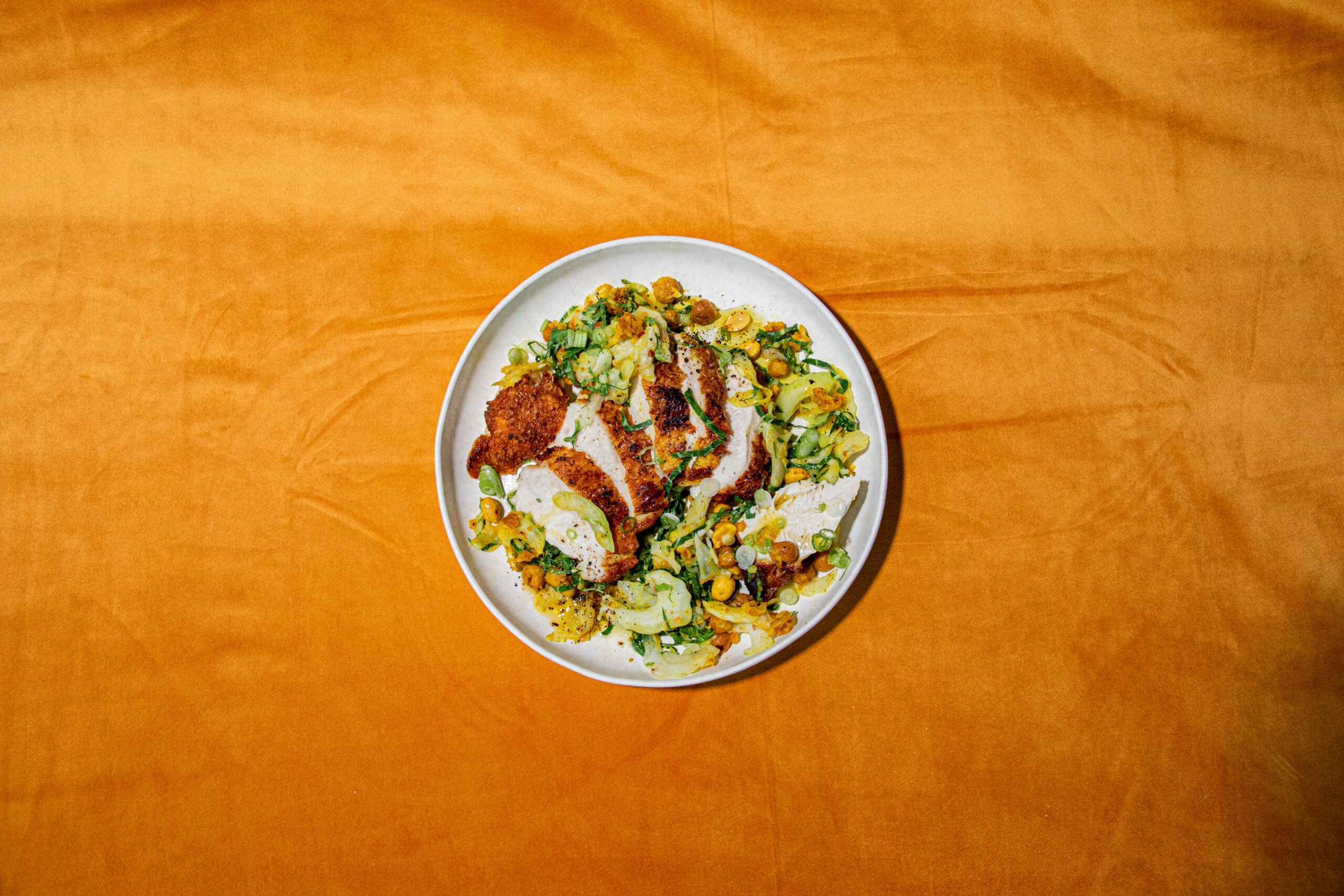 How does your background as an artist inform your dinner parties?
Art has always been a really important mode of storytelling for me—so when I go to create a dish, or my team and I are taking stock of what's in season, we aim for something that's technically delicious but that feels experiential as well. We ask ourselves, how do we bring out the best in an ingredient? How do we use a dish to showcase the history of an ingredient that people have been using for centuries, so that we're honoring its tradition but also bringing it into a contemporary context? How do we reinvent what that ingredient can do or how it shows up on a plate? As a kid, I would eat chayote squash boiled in soup, so at an event a while back, we did chayote squash, too—but in a savory tart with caramelized onions and culantro."
At the same time, from a design perspective, the presentation is just as important. How do we present a dish? Is it served cocktail-style? Is it folded into dough? Do people need to pick it up with their hands? Is it on a plate? And when all of those storytelling elements come together, you end up with something that feels like an art installation as much as it does a meal.
"When you're able to immerse people, they feel and taste things more deeply."
What inspired the launch of Yardy World's newer online shop?
Working at Bon Appétit has given me a whole new way of thinking about food. Good food is supposed to be something we can all have access to, and in the test kitchen, I've been focusing on taking some of the intimidation out of cooking; teaching basic culinary skills. And that's the philosophy behind Yardy World's snacks and tabletop items too: accessibility. All our products make the flavors I grew up with easily available in people's homes. That's important to me, given that not everyone can make it to our dinners in New York, and we don't always have the luxury of traveling to meet folks where they are.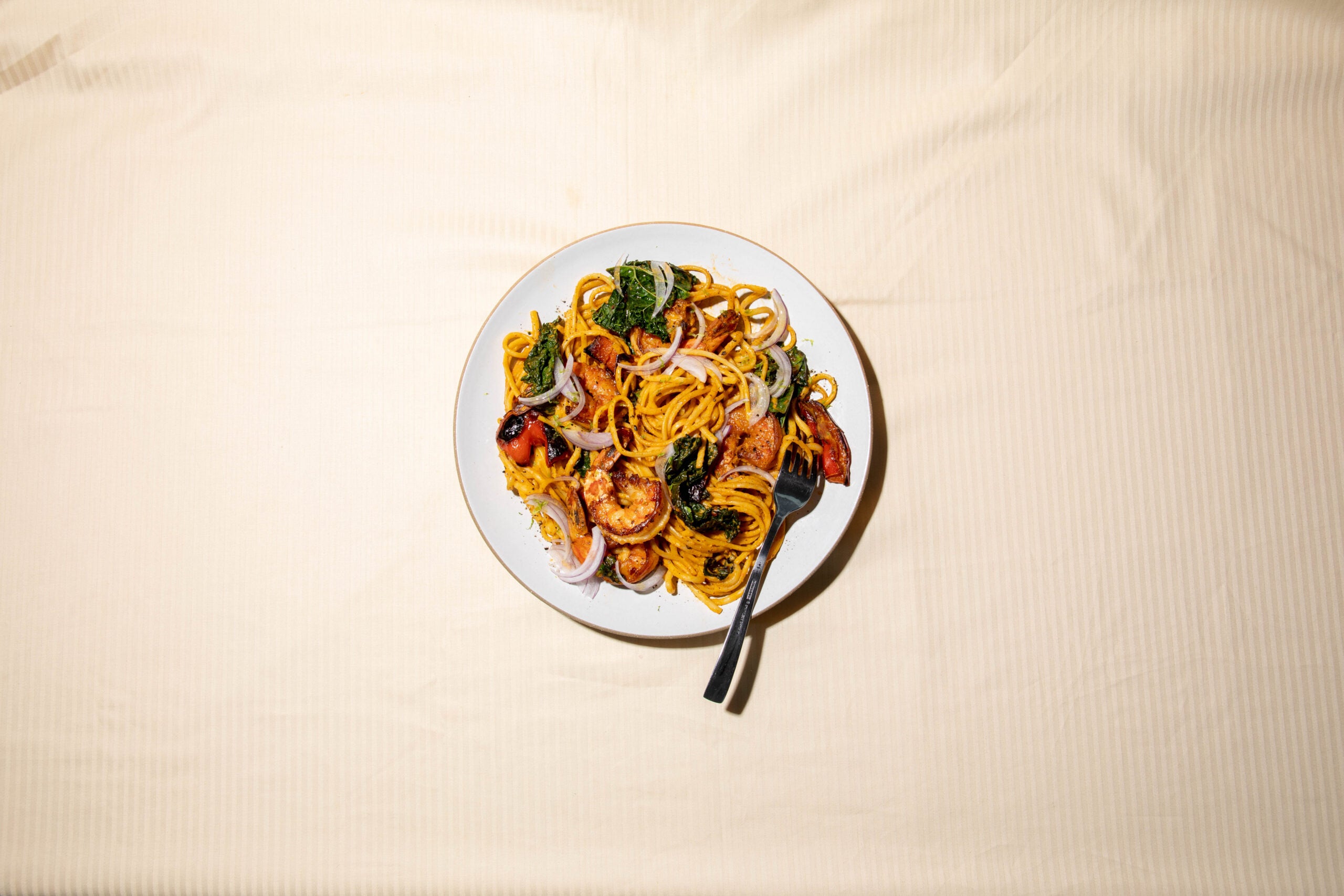 How does your history working in restaurants inform your pop-ups?
I really miss working in kitchens. I mean, when I was in college, working at fine dining restaurants in Lower Manhattan was such an incredible opportunity. I met so many amazing people. Waiting tables felt like my own personal version of getting the nightly news. I really got to understand what people cared about, or felt excited about, or felt scared about. I got to see relationships flourish or fall to pieces right in front of me. I think that concept has always been deeply moving to me—and a huge inspiration for Yardy World. With my events, I'm often honing in on what people want—or need—out of a dining experience, whether it be to feel nurtured or to feel entertained. 
When I think about my favorite restaurants right now, they're still places where I feel inspired to learn from the ways a staff curates an experience. But Yardy World events, unlike restaurants, are onetime experiences. You can't keep coming back to the same space—so we have to build a different ecosystem that's just as powerful, even if it only lasts a few hours.