We Need More Shrimp Burgers in Our Lives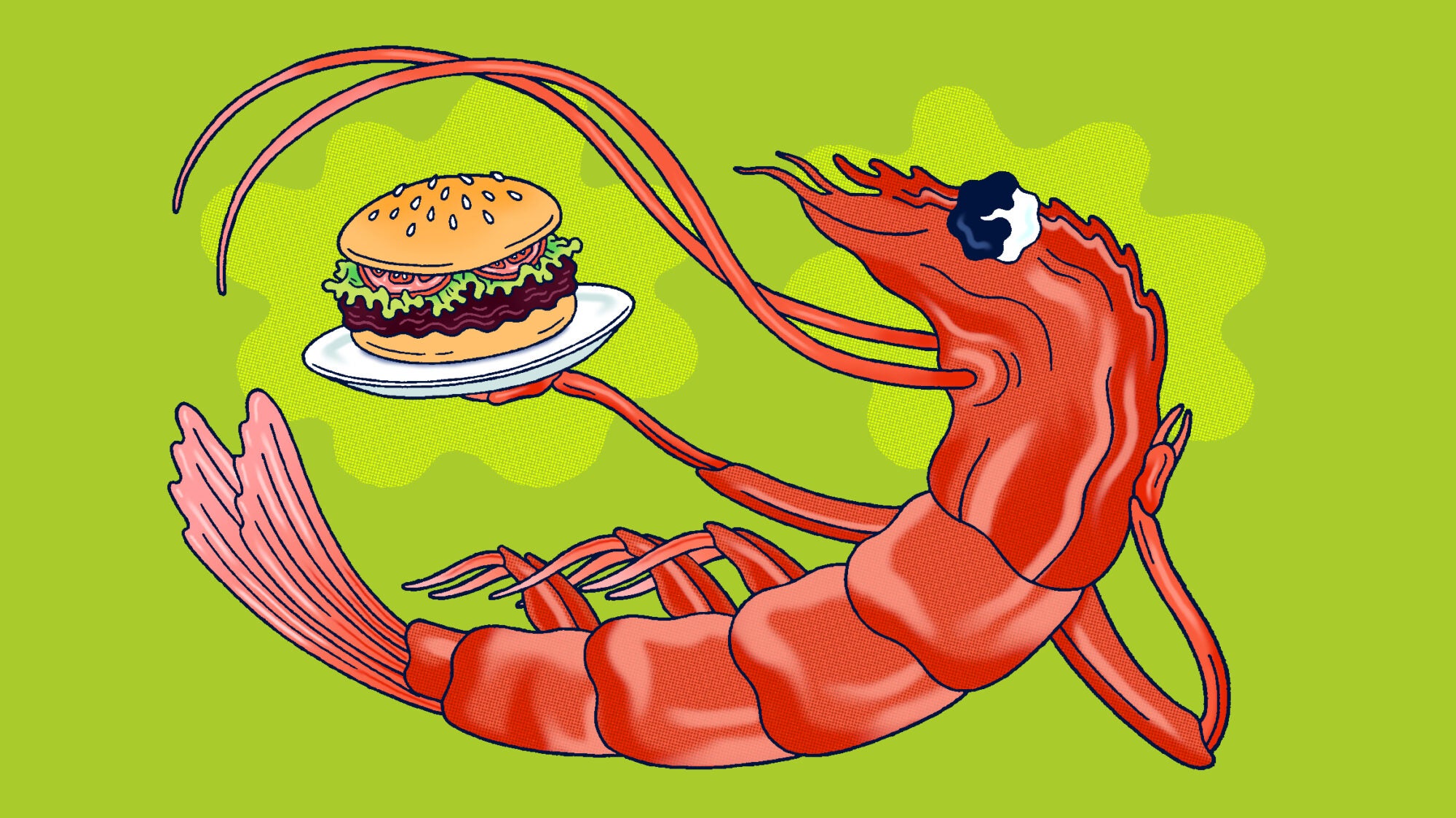 The real happy meal is a bouncy shrimp patty between two squishy buns.
On a brisk spring day in 2021, Julie Yeung stood in a line that arced through Madison Square Park in New York City, waiting to buy a shrimp burger. Yeung was one of hundreds vying for a taste of the collaboration between Shake Shack and chef Junghyun Park of the New York restaurants Atomix and Atoboy. Park's shrimp burger promised to be unique: a minced shrimp patty flecked with scallion, topped with a crunchy nest of golden-fried hash browns and a swipe of fermented pepper sauce.
"I don't think I would have gone if it was just a burger, but this one really stood out to me," says Yeung, who waited for about an hour to be one of the lucky 500 customers to score the limited-edition collab. "It was very unusual and very delicious—and so worth the wait."
On average, Americans eat five pounds of shrimp per person per year, but when it comes to burgers, beef reigns supreme. Still, there's a growing cult obsession over the delightful buoyancy of a minced shrimp patty, especially among—although not limited to—the Asian American diaspora. 
Many shrimp burgers in restaurants today, including the Shake Shack collaboration, are inspired by similar versions at Lotteria, a fast-food chain with outlets concentrated in Japan and South Korea. Lotteria launched its shrimp burger in Japan in 1977, eventually taking it to South Korea after the company expanded there in 1979. "A shrimp burger is definitely a slice of nostalgia for me, as it brings memories of having it growing up," Park, who grew up near Seoul, writes in an email.
The first fast-food restaurants in Asia mixed Western sensibilities with local tastes. The shrimp burger was a prime example. Seafood was far more popular in Asia than beef in the 1970s, so a breaded and fried minced shrimp patty, served with creamy tartar sauce and lettuce inside a squishy bun, would have been particularly enticing to local palates. The patty bears a modest resemblance to korokke, Japanese croquettes, or perhaps draws upon the glories of shrimp paste or fish balls, seen across Southeast and East Asia. Shrimp burgers are also just inherently delicious, with a springy texture that bursts with mildly sweet, irresistible umami flavor. 
Lotteria's shrimp burger kicked off a delicious trend in the Asia-Pacific region. More fast-food restaurants followed suit, with shrimp burger fever reaching new heights in the early aughts. The Japanese chain restaurant MOS Burger launched a version in 2000, now available at many of its 400-plus stores across Asia. In 2005, McDonald's warded off slumping sales in Japan by introducing the Ebi Filet-O, a crispy shrimp burger named after the popular Filet-O-Fish. The new item generated $10 million in sales in just three months. Since then, iterations have popped up at Burger King, Wendy's, and countless home-grown chains (you can find shrimp burgers on fast-food menus from Cyprus to Kuwait).
There's a growing cult obsession over the delightful buoyancy of a minced shrimp patty
"Shrimp is that universal seafood everyone likes. It transcends all cultures," says James Wong, a chef and co-owner of Breadbelly in San Francisco. Wong and his business partners, Kate Campecino-Wong and Clement Hsu, are known for their Asian American–influenced sweets, but their shrimp burger also happens to be a total knockout.  
The shrimp burger at Breadbelly features a panko-crusted quarter-pound Gulf shrimp patty, dressed with remoulade made from pulverized shrimp shells and a house-made citrus kosho. Everything is held together by a pandesal bun, which is a little springier than the bakery's popular milk toast. Wong notes that the patties are a significantly cost- and labor-intensive item. It takes time and effort to peel and clean the shrimp and then shape and bread the patty, which is an 80/20 mix of rough-chopped pieces and a house-made shrimp mousse at Breadbelly. This may generally explain why shrimp—the most popular seafood in America—is not more commonly found in burger form on menus. (Incidentally, shrimp burger patties are well represented at the grocery store; you can find them at both Trader Joe's and Whole Foods.)
Still, Breadbelly isn't the only restaurant deciding that shrimp patties are worth the effort. In New York, chef Esther Choi makes a hefty shrimp burger at the Korean gastropub Ms Yoo, served with kimchi remoulade on a toasted brioche bun. In the San Gabriel Valley in Los Angeles, BOPOMOFO sells a Cantonese-ish honey walnut shrimp burger with honey-sweetened mayo and chopped, candied walnuts.
Asian American appetites for umami-rich shrimp and springy textures aren't the only driving force behind the shrimp burger's popularity. Shrimp are indigenous to North American waters, with long histories of subsistence shrimping found across the South Atlantic and Gulf regions from Maryland to Texas, and shrimp burgers have a deep history in the American South. While the "burgers" made in North Carolina typically feature whole fried shrimp, minced shrimp patties are popular in South Carolina. 
The town of Beaufort on Port Royal Island is particularly famous for shrimp burgers—and not just because the movie Forrest Gump was partially filmed in Beaufort. In that film, Bubba, the fictional character who comes from a shrimping family in Alabama, rattles off a list of tasty shrimp dishes, including a shrimp burger. (Ironically, Bubba Gump Shrimp Company, the restaurant inspired by the movie, does not have a shrimp burger on the menu.) In the 2020 book Shrimp Tales: Small Bites of History, author Beverly Bowers Jennings writes about a Beaufort shrimper called Saxby Stowe "Jack" Chaplin, who was famous for making excellent shrimp burgers on his boat in the 1950s. "He would mash the shrimp with the bottom of a Coke bottle before making them into patties and cooking them," she writes. Today, locals will tell you that the Shrimp Shack, which opened in 1979, is the best place to get one on the island.
Shrimp burgers in and around Beaufort are an uncomplicated food made with local, seasonal ingredients, which makes them a quintessential form of Lowcountry cooking. South Carolina's Sea Islands like Port Royal and St. Helena are where the Gullah Geechee community, as descendants of enslaved Africans, contributed to the prevailing style of down-home comfort food, or Lowcountry cuisine. Shrimp burgers may not be as ubiquitous as, say, shrimp and grits, in Gullah cuisine, but they do appear now and again. Chef and historian BJ Dennis describes the burgers as a special-occasion street food or something you might buy from a local food truck like Gullah Express. 
In Charleston, a two-hour drive north of Beaufort, shrimp burgers are a rarity, but they're not unheard-of. Little Jack's Tavern has had a shrimp burger on its menu since it opened in 2016, though its award-winning beef burger is far more famous. "It's a regional thing," says co-owner Brooks Reitz. At Little Jack's, the shrimp burger is made with small shrimp, which makes the process of turning them into a paste a little easier. Some deseeded jalapeño and fresh herbs are added to the mix, which is shaped, but not breaded, and then panfried. It is a tribute to the fresh shrimp coming out of nearby waters and the mom-and-pop shops specializing in down-home cooking. Reitz calls it an underappreciated gem. "Don't sleep on it."
Considering how popular shrimp is, it's a wonder that shrimp burgers don't show up on more restaurant menus, whether in South Carolina or Southern California. But when they do, they are sure to draw out an eager audience, willing to brave a long wait or even just wax poetic over that inimitable sweet, saline crunch. Because if you know, you know: A shrimp burger really is the best burger.