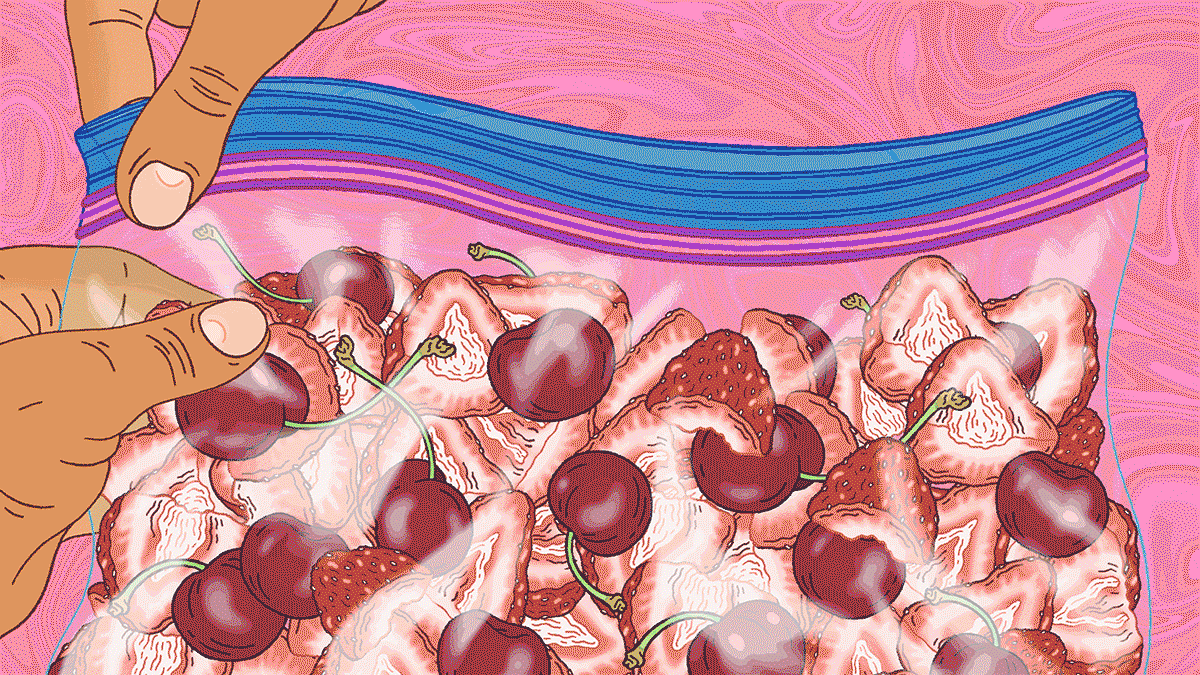 The resealable bag has become a home cooking staple—but the $1.6 billion industry is not without its own big bag of issues.
The flimsy Ziploc bag is a remarkable feat of design. When you pull your thumb and index finger along the strips near the top, a thin ridge on one side magically clicks into the tiniest groove between a pair of ridges on the other side, sealing the halves of the now-watertight bag together. A proprietary chemical recipe keeps out odors and "locks in freshness." That seal will stay firmly shut, unless you lightly tug the two pieces of plastic part from the top. The unthinking ease with which you can open or close the bag to drop in a turkey sandwich or tomato sauce to freeze for another night is the product of concentrated decades of research and development, and the relentless determination of engineers, inventors, and entrepreneurs.
No wonder we can't stop buying them.
Resealable bags comprise a $1.6 billion industry today, and it's growing in size and variety. There are sandwich bags, miniature snack bags, gallon storage bags, and freezer bags. The brand Ziploc has taken out hundreds of patents for bags. Like Kleenex and ChapStick, the name "Ziploc" has become synonymous with resealable plastic bags, but plenty of other brands, like Glad and Hefty, offer them, too. Not all resealable bags perform equally—Ziploc is the winner of Cook's Illustrated's food-storage bag tests for its superior performance in preventing freezer burn, and Good Housekeeping's poll dubbed it a game-changing product readers couldn't live without.
That convenience is not without cost. According to the United Nations Environment Programme's Single-Use Plastics report, between 1 and 5 trillion plastic bags, resealable bags among them, are consumed worldwide each year. Studies on the world's marine ecosystem indicate that the economic damage costs about $13 billion annually; on the coasts and beaches of Europe alone, plastic waste cleanup costs about €630 million each year. As the plastic breaks down into microplastic particles and potentially toxic chemicals, those also enter the food chain. But the story of plastic bags started as one of immigrant innovation and hope.
In the early 1950s, when Danish inventor Borge Madsen created the first plastic zipper, the invention was for invention's sake, so to speak. He didn't have grocery stores in mind. It was Romanian immigrant Steven Ausnit, along with his father, Max, and his uncle Edgar, who purchased the rights to Madsen's zipper design in the United States. But how he even got in the position to consider plastic zipper patents is an epic story in itself.
In Galați, Romania, his father, Max Ausnit (or Auschnitt), known as "the Steel King," once owned one of the largest steel companies in the country, served as a senator, and provided financial backing to the left-leaning agrarian National Peasants' Party. Born to Ukrainian-Jewish parents, the elder Ausnit's heritage, vast wealth, and political prominence, as well as his anti-fascist work, made him a target of Romania's growing far-right movement, and he was subject to vicious anti-Semitic smears charging that he raised iron prices and was the real power behind the throne. As the country descended into political turmoil, he fled Romania twice, first when it allied with Nazi Germany during World War II, and then again when it fell under Soviet communist rule in 1947.
Along the way, he helped Jews escape the Holocaust, sponsored opposition and anti-communist groups, and played a "minor" role in a plotting an anti-fascist coup. During World War II, he was tried in absentia on politically motivated charges of defection to the enemy and instigating desertion, and he was sentenced to death. He eventually escaped to a lavish Park Avenue apartment in Manhattan, settling in New York City.
Max Ausnit sent his son Steven, who was born on March 21, 1924, in Galați, Romania, to the United States as a teenager in 1941, escaping a Holocaust that claimed 270,000 Romanian lives. Four years after arriving in the United States, Steven graduated from Harvard, after which he joined the US Army, rising through the ranks to become staff sergeant. In 1951, he and his father, who had long been stripped of his Romanian properties and investments, decided to dive into a burgeoning plastics industry.
Resealable bags comprise a $1.6 billion industry today, and it's growing in size and variety.
"One day, a friend of our family came to show us this newfangled device," Ausnit, who passed away in 2019, said in a speaker series at Marquette University's business school. "Two plastic strips with a slider you could open and close. No teeth to catch or snag. Dust-proof, moisture-proof. And, best of all, you could make it by the mile. It was very intriguing."
Steven Ausnit's father told him to go out and see what kind of market there was for the product—originally targeting garment bags, pillow or mattress covers, toiletry bags—any kind of plastic product that could use a zipper. Their business, a company then called Flexigrip, got off to a rocky start. The first zipper was made out of PVC, which became too stiff when it was cold and too soft when it was hot. A deal fell through with a manufacturer so that they had to make the zipper bags themselves, first renting a small 5,000-square-foot space in Manhattan—but the slider was too expensive to manufacture, so they made a press-and-seal zipper instead. And hiring a public relations company, placing an article in the then-prestigious Life magazine, "didn't do zilch" for the business. Worst of all, people didn't know how to use "this newfangled device"—the sealing and unsealing that seems so intuitive to those of us who grew up with it had to be taught, just like a toddler swiping through an iPhone.
A Japanese company, Seisan Nihon Sha, was making a better zipper bag, engineered by inventor Kakuji Naito, one that incorporated the zipper into the bag itself at half the cost of their method of attaching zippers to bags with a heat press, so the Ausnits contacted them and got an exclusive license, forming a second company called Minigrip.
In a stroke of luck, Dow Chemical Company discovered their own zippered bag in Europe and asked the Ausnits for exclusive rights to grocery store bags in supermarkets, introducing the newly christened Ziploc bag in 1968 and, just as important, coinciding with a big marketing campaign to teach consumers how to use it. It arrived in the same time period, just after Saran Wrap (1953) and the countertop microwave oven (1967), a post-industrialization era when convenience eating—and storing—was on the rise.
Ziploc didn't stop tweaking the design. In 1978, it debuted the sandwich size of its bag. It swapped in wide-track ribs in 1982, a clicking zipper nine years later, and added color to the zippers four years after that, according to Wired. In 1997, Dow Chemical sold the rights to Ziploc, along with its portfolio of DowBrands, to SC Johnson. (The company is now based in Racine, Wisconsin.) In 2006, the seal was reinforced by a double zipper, also intended to increase the sound of the zipper clicking to approximately 50 decibels, so that customers acquired a Pavlovian sense of when it was closed. Microscopic grooves and teeth make the tracks interlock easily and allow your fingers to press for the right alignment, and a tab on one side of the bag makes it easy to pull the two sides apart.
For his part, Ausnit never stopped inventing, holding more than 140 patents at the time of his death, the latest filed in 2017. Later in life, he devoted himself to philanthropic works, joining the board of directors of the Olga Lengyel Institute for Holocaust Studies and Human Rights and bringing Holocaust education programs to Europe, including his native Romania.
All those tiny design improvements—dreamed up by engineers, tested in computer-aided design models, and scaled on molded steel plates—make Ziploc a habit that's hard to kick. The smaller snack bags are perfect for dog treats snuck in a coat pocket, and the freezer bags, with their extra thick walls that can seal out air, are just right for that extra bit of tomato paste. Eco-friendly wax bags—which are actually the rediscovered predecessor to plastic sandwich bags—often only fold shut, letting crumbs fly loose, and freezing half a package of bacon in a reusable glass container is usually an awkward fit.
Now, as SC Johnson attempts a more eco-friendly approach—creating a new Windex bottle from ocean plastic, supporting recycling in Bali—it is practically a victim of its own success. When an intrepid reporter tried to buy SC Johnson's compostable Ziplocs, invented as far back as 2013, she found out that the company was no longer distributing them after poor sales: no one wanted them.
What We Talk About When We Talk About American Food. In this column, Mari Uyehara covers American food at unique cultural moments and historical turns, great and small.