We All Scream for Asian American Ice Cream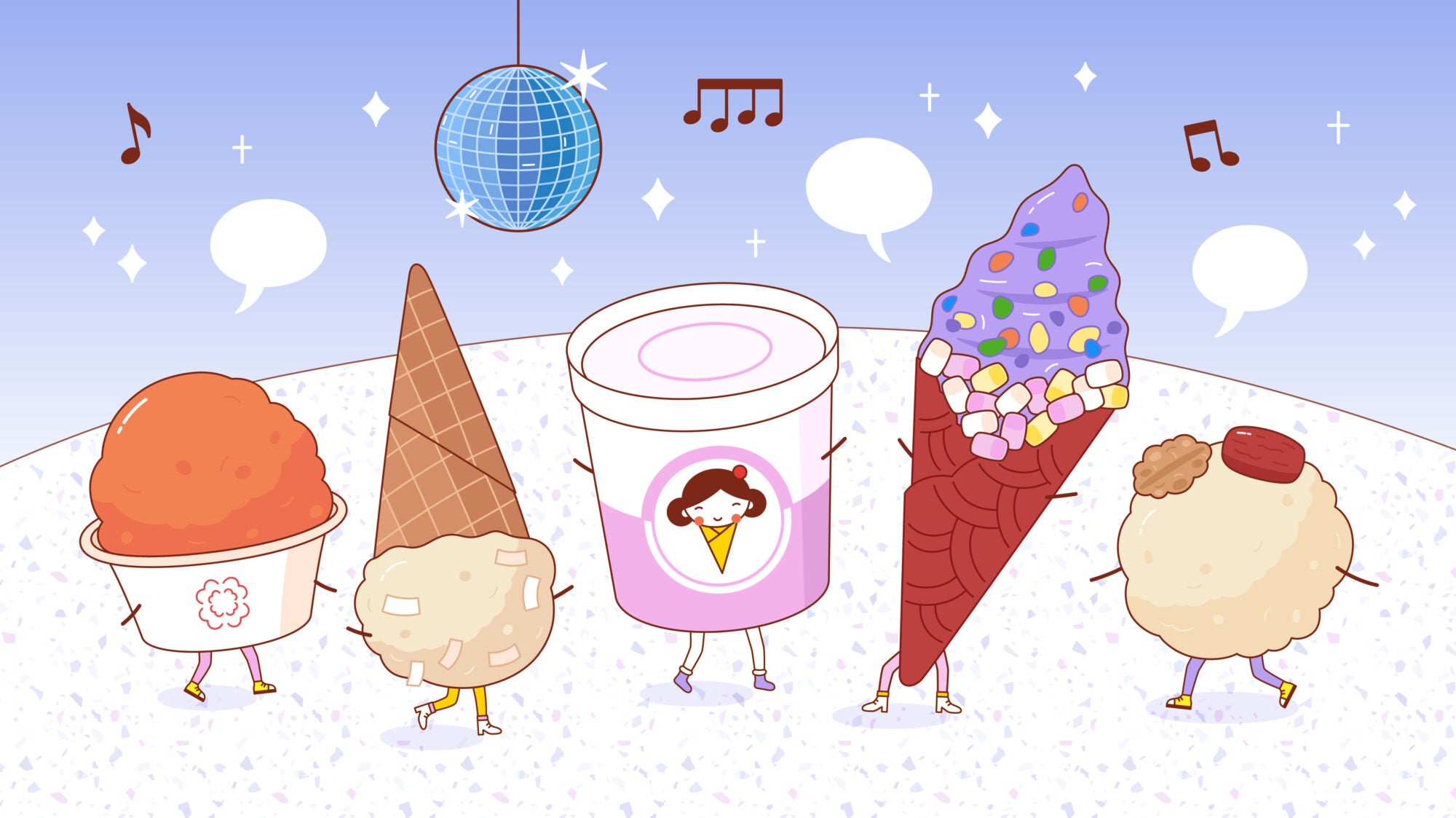 A wave of AAPI-led businesses are putting flavors like carrot halwa and toasted rice into pints.
In 2014, Pooja Bavishi attended a Friendsgiving celebration in New York City. She brought two homemade desserts—an apple crostata and a sticky toffee pudding—along with two homemade ice creams to serve alongside them. Her friends had become accustomed to receiving all sorts of baked goods from Bavishi, who was in her last year of business school at NYU "studying things like gaps in markets," she says, but ice cream was a new twist. The flavors themselves were even more novel: gingerroot and star anise. 
"I flavored them pretty robustly, the way I would flavor an Indian dish," Bavishi recalls of her homemade scoops. The spices were infused into the rich butterfat of the cream, creating a pronounced flavor, silky-smooth and icy-cool. They were a big hit. 
Growing up in Charlotte, North Carolina, summers and parties were always punctuated with ice cream, Bavishi remembers. Her family regularly stocked cartons of Breyers cookies and cream or coffee ice cream in their freezer. When they went to the Indian grocery store, they'd often come back with rose, coconut, or mango ice cream. There was no distinction between these flavors as either "American" or "Indian" at the time for her, says Bavishi—they were all just a part of her life. 
But the ice cream Bavishi wanted to make was not standard at either type of grocery store. As a first-generation Indian American, she was inspired by the intersection of those two cultures' desserts—like the way her dad always ate carrot halwa, an Indian dessert of sweetened shredded carrots, with a scoop of vanilla ice cream on top. 
Soon after graduating with her MBA in 2015, Bavishi launched her brand Malai at Hester Street Fair, a pop-up market in New York City. Today, Malai ships flavors like Coconut Tahini with Date Caramel, Pumpkin Garam Masala Crumble, and Orange Blossom Pinenut Blondie nationwide, and they're also available in stores, mostly in the New York tri-state area. Through her business, Bavishi says she has been able to better connect to her Indian culture. Malai recently hosted a Diwali party in its retail store in Carroll Gardens, Brooklyn, offering cocktails, henna, and, of course, new ice cream flavors: a frozen incarnation of puran poli, the sweetened lentil flatbread dessert that was a staple at her family's Diwali celebrations. The event also showcased other South Asian woman-owned food brands, like Kola Goodies tea and Diaspora Co. spices.
"It almost felt like me in a product," says Bavishi of her first forays in ice cream making. "You can't get more Americana than ice cream. And these Indian spices were such a mainstay of my childhood."
Bavishi is not alone in expressing her Asian American identity through ice cream. The frozen dairy dessert has been warmly embraced by cooks and entrepreneurs around the world, eager to craft it to their own tastes. Indian brands add rose, and Chinese brands reach for red bean, creating staple Asian flavors that people all over have grown up "screaming for," as the childish wordplay goes. But another bracket has emerged in recent years: Asian American–owned ice cream brands, with attitudes and standards all their own. These are reflected not only in creative flavors that nod to Asian desserts like halwa, injeolmi, and Yakult, but also in business practices and values. And they're transforming the category of ice cream in America as we know it. 
All of the entrepreneurs I spoke with for this story support charitable causes through their ice cream—not since Ben and Jerry has ice cream had such a strong social conscience. They are keen to collaborate with other AAPI businesses, artists, and organizations, and they showcase grassroots initiatives like Census participation on their social media accounts. Many were just as particular about sourcing fair trade ingredients, local dairy, and environmentally friendly packaging materials such as cardboard pints made from recycled fibers as they were about crafting flavors. And the flavors they sell are not just your typical black sesame or mango—they're inventive and often deeply personal to their creators.
"We're all about storytelling through flavors and highlighting specific ingredients that you would typically find in an Asian American household," says Hannah Bae, founder of Noona's ice cream, based in New York City. 
With a colorful illustrated logo of a girl wearing a hanbok turned ice cream cone, Noona's churns out flavors like Makgeolli Blues, which features the slightly fermented funk of its namesake Korean rice liquor; Bae also says its flavor is reminiscent of White Rabbit Creamy Candy, a popular Chinese candy that inspires nostalgia for many East Asians. This is the kind of Asian Americana that Noona's celebrates. Their first flavor, the brand's flagship, is Toasted Rice—a simple, creamy concoction that recalls nurungji, a toasted Korean rice snack. Bae eschews the entrenched conventional wisdom among American ice cream brands of offering at least some "standard" flavors like vanilla and strawberry.
"For us, there is no vanilla, no sweet milk ice cream, no plain chocolate. Our Toasted Rice is our vanilla," says Bae.   
Bae launched the business in 2016, after spending nearly a decade as a social worker, and calls it "a personal journey of healing and finding joy within myself." She attributes some of the difficulties she's dealt with growing up in America—in Queens, New York—to being Korean American and being othered due to her race. Ice cream was a constant source of joy throughout her life, present at every birthday via a Carvel cake. The idea for Noona's was born during a time when Bae was feeling lost and considering a master's degree in social work. Like Bavishi, Bae was a passionate hobbyist dessert maker—she'd picked up baking at an early age from her sweets-loving father through cake mixes—who tried forging connections to her culture through food. So she turned to ice cream: "I wanted to create a business that makes me smile but also makes other people happy," she says.
Since founding Noona's, Bae has learned a lot more about her Korean heritage as well as her family's history. While experimenting with Korean perilla leaf in an ice cream flavor, for instance, she learned about how her grandfather escaped North Korea by hiding in perilla leaf paddies; he couldn't stand the smell of perilla afterward because of those traumatic memories, and it was never cooked in the household Bae's mother grew up in as a result.
"I don't think I would know those stories without wanting to use that ingredient in ice cream," says Bae. 
Others have found launching an ice cream business to be a fortuitous way of strengthening bonds with their family, friends, and community. When Debbie Tanudirjo and her sister, Elizabeth Margaretha, were stuck in their small apartment in New York City during the pandemic lockdown in 2020, bored and craving sweets, they began creating ice cream flavors with their Cuisinart machine. After giving some pints away to friends, they decided to launch a business through Instagram, taking orders through DMs and delivering pints to customers themselves.
"We're Indonesian, and back home, it's very common to start random food projects from your home kitchen," says Tanudirjo, thinking of friends back home in Surabaya, where she grew up and where the rest of her family still lives, who launched a small-scale business selling banana bread pudding. 
The sisters' brand, Sundae Service, is now available in stores and for delivery and pickup in New York City. Several of its flavors riff on Asian desserts, such as nastar, an Indonesian pastry with a jammy pineapple filling that Tanudirjo says is similar to Taiwanese pineapple cake, or fung li su (the ice cream flavor, named Pineapple Cookie, cites both Asian desserts as inspiration). Earl Grey Strawberry Cheesecake takes inspiration from strawberry milk tea with cheese foam, a trendy beverage the sisters enjoyed from boba shops in the neighborhood around NYU, which they both attended. Limited-edition flavors include a recent batch based on Nestlé Milo, a chocolate malt powder that is endeared to many Southeast Asians. Sundae Service is currently donating 30 percent of proceeds for that flavor to the National Network of Abortion Funds. They also donate 5 percent of their entire profits to a different charity each quarter. 
Soft Swerve, another New York City–based ice cream business, was founded in 2016 by two friends who grew up Manhattan's Chinatown together. Michael Tsang and Jason Liu had known each other for 20 years before deciding to tool around with ice cream flavors in their Cuisinart machine. Tsang had been working in nonprofits and Liu in finance for a few years when Liu suggested starting a venture of their own. Tsang says that his father, who immigrated to the United States from China and has worked as a chef in several Chinese restaurants, inspired him to do something in food. The market gap they identified was in soft serve—a staple of the all-American ice cream truck—made with the Asian flavors they loved. 
"Black sesame, green tea, taro—we've seen this in other things like popsicles, too, but never in the form of soft serve," says Tsang. 
One flavor they've lovingly brought to soft serve is Yakult, based on the titular Japanese probiotic beverage that's a childhood touchstone for many Asian Americans. The duo buys 50 pounds of fresh ube per week for their Ube Purple Yam flavor, available in their retail locations in both Chinatown and Kips Bay. The tubers are boiled for an hour before removing their skins and blending the flesh into a thick paste. The formula is often tweaked depending on the size of the yams or the season—sometimes the color is much darker or the flavor is much more nutty and sweet. The result is a swirled dome of hyacinth-purple cream with an utterly smooth and custardy texture. Optional toppings include cereal marshmallows, mochi, toasted coconut, and crushed almond cookies.
Like other brands, Soft Swerve is also a vehicle for supporting causes other than simply making ice cream that Asian Americans can take pride in. They partnered with the nonprofit Welcome to Chinatown on initiatives such as encouraging locals to participate in the 2020 Census by dangling free ice cream cones. 
Ice cream is commonly thought of as European in culinary tradition; in fact, its history is blurry, with some attesting it derived from Marco Polo's imports from the East. According to the food historian Mark Kurlansky in Milk! A 10,000-Year Food Fracas, "There was ice cream or an ice-cream-like frozen desert in the Tang Dynasty (618 to 907), and ice cream probably originated in the eighth century, a golden age of Chinese culture." In the 17th century, ice cream and frozen desserts were in vogue among aristocrats and royalty in Italy and France. From there on, shops and cafés that opened in the following centuries serving ice cream helped popularize the dessert in Europe.    
But while not exactly ice cream, creamy frozen desserts have been enjoyed in other parts of the world. For example, kulfi has been eaten in South Asia since the 16th century, during the Mughal Empire. An early recipe from a 1590 book, Ain-i-Akbari, adds chopped pistachios and saffron to heavy cream; other traditional variations have cardamom, rose, or dried fruit. The mixture is frozen into a metal cone to form a sort of ice cream popsicle and served on a stick—it's still enjoyed that way throughout South Asia today.
Paul Nasrani had been in the ice cream business for five years before he introduced a flavor called Kulfi-Pistachio Cardamom from his brand Adirondack Creamery in 2009. It's based on kulfi recipes he gleaned while cooking with members of his wife, Simi's family in Kashmir. 
"At the beginning, no one would buy it because no one knew what cardamom was," says Nasrani. But then sometime around the early 2010s, as food media proselytized America about cuisines around the world, that equation flipped on its head. "I would be sampling this flavor, and people who were not Asian were like, 'Oh my god, it has cardamom, I wanna buy that!'" 
Kulfi-Pistachio Cardamom is now one of Adirondack Creamery's top three or four best-selling flavors, alongside standard American flavors like chocolate and vanilla, which make up the bulk of their roster. Nasrani is currently tinkering with a new flavor based on carrot halwa, which hearkens to his father's Punjabi heritage.   
Nasrani had left a career as a CFO in Manhattan to make ice cream, eventually opening a shop in Lake George, New York, in 2004. He'd grown up spending a week of every August with his family in Silver Bay, a popular retreat in the Adirondacks. The rest of the year, they lived in the small town of Hazleton, Pennsylvania, where Nasrani describes his childhood as a half-Indian, half-white kid with zero other Asian Americans around as "challenging and interesting."    
He recalls that his father was once asked to speak at a Columbus Day event because his last name was mistaken as Italian. There were no Indian restaurants around, and his father didn't really cook. But he relished eating everything on trips to India, surrounded by aunts and uncles all cooking together.
Nasrani learned to make ice cream from an old-fashioned hand-cranked machine while working at a nearby farm. He'd work the field during the day, picking vegetables, then help make ice cream, marveling at how the cream, milk, and eggs were transformed into the coveted product before his eyes. (Earl Whitebread, the owner of the farm, is commemorated with the Adirondack Creamery flavor Earl's Chocolate Peanut Butter.) 
Adirondack Creamery has always had a strong mission to support its local foodshed by working directly with small, family-owned dairy farms. But its Syrian Date and Walnut flavor was developed in 2017 with another mission—to support Syrian refugees and combat hateful, anti-immigrant rhetoric that was spreading across America. The flavor is based on ma'amoul, a Middle Eastern dessert with crushed nuts and date paste. Adirondack Creamery donates 50 percent of the proceeds for this flavor to the nonprofits International Rescue Committee and CanDo Action; to date, they have donated over $30,000. The tagline "We are all immigrants" is displayed prominently on each pint.
Ice cream is an apt vehicle for experimentation and conversation, say many of its makers. The churned dessert has a long-established vibe that is cheerful, lighthearted, and youthful. It all makes the storytelling, political messaging, and creative flavors based on Asian ingredients and dessert traditions a lot easier for everyone to swallow. "I think it's a friendly medium," says Nasrani. "It's ice cream, so people know it's going to have milk and sugar and be sweet and cold." 
In some ways, these Asian American entrepreneurs are not doing anything radical: they're selling a product that has enjoyed steady commercial success in the United States for nearly a century for profit. But for a category whose biggest changes in decades might otherwise be an ever-increasing amount of chunks of stuff in the cream, these AAPI-owned ice cream brands are making a game-changing impact in freezer aisles, shops, and Instagram. And by sharing their backgrounds, perspectives, and flavors through this beloved medium, they're helping create a new generation of Americans who will grow up craving cardamom-scented ice cream along with chocolate and vanilla. 
"People are all more similar than we are different, even if we look different," says Nasrani. "If we can all eat this ice cream and agree it's really good, maybe we don't agree on anything else. But at least we can agree on that." 
THE BEST OF AAPI ICE CREAM, AND HOW TO BUY IT:
Malai: Pooja Bavishi's inventive Indian American ice cream flavors can be shipped nationwide and found in select grocery stores in the New York tri-state area and at Malai's retail shop in Brooklyn, where they're also available for local pickup and delivery. Ice cream cakes and other desserts—as well as a limited-edition Diwali celebration box—are available as well. 
Noona's: Pints are available for shipping nationwide, with a rotating selection of whimsical flavors that nod to founder Hannah Bae's Korean American upbringing and the broader Asian American community. Local delivery in New York City is available as well.
Sundae Service: Sisters Debbie Tanudirjo and Elizabeth Margaretha founded this line of small-batch ice cream flavors nodding to their Indonesian roots and American lives. Flavors are available for New York City pickup and delivery through their website and through delivery apps like Postmates, Grubhub, and DoorDash. 
Soft Swerve: Childhood friends Jason Liu and Michael Tsang grew up in Manhattan's Chinatown and opened their first business together with a storefront ice cream shop there in 2016. They formulate Asian American flavors like matcha and ube as Mister Softee–style soft serve, offered in colorful cones with toppings like mochi and cereal marshmallows. 
Adirondack Creamery: Founded in 2004 in Lake George, New York, this brand is available in grocery stores throughout the Northeast and through local delivery in New York City, DC, and Baltimore. Although not overtly branded as Asian American, founder Paul Nasrani and his family nod to their Indian and American heritage with several flavors and embrace the motto "we are all immigrants."