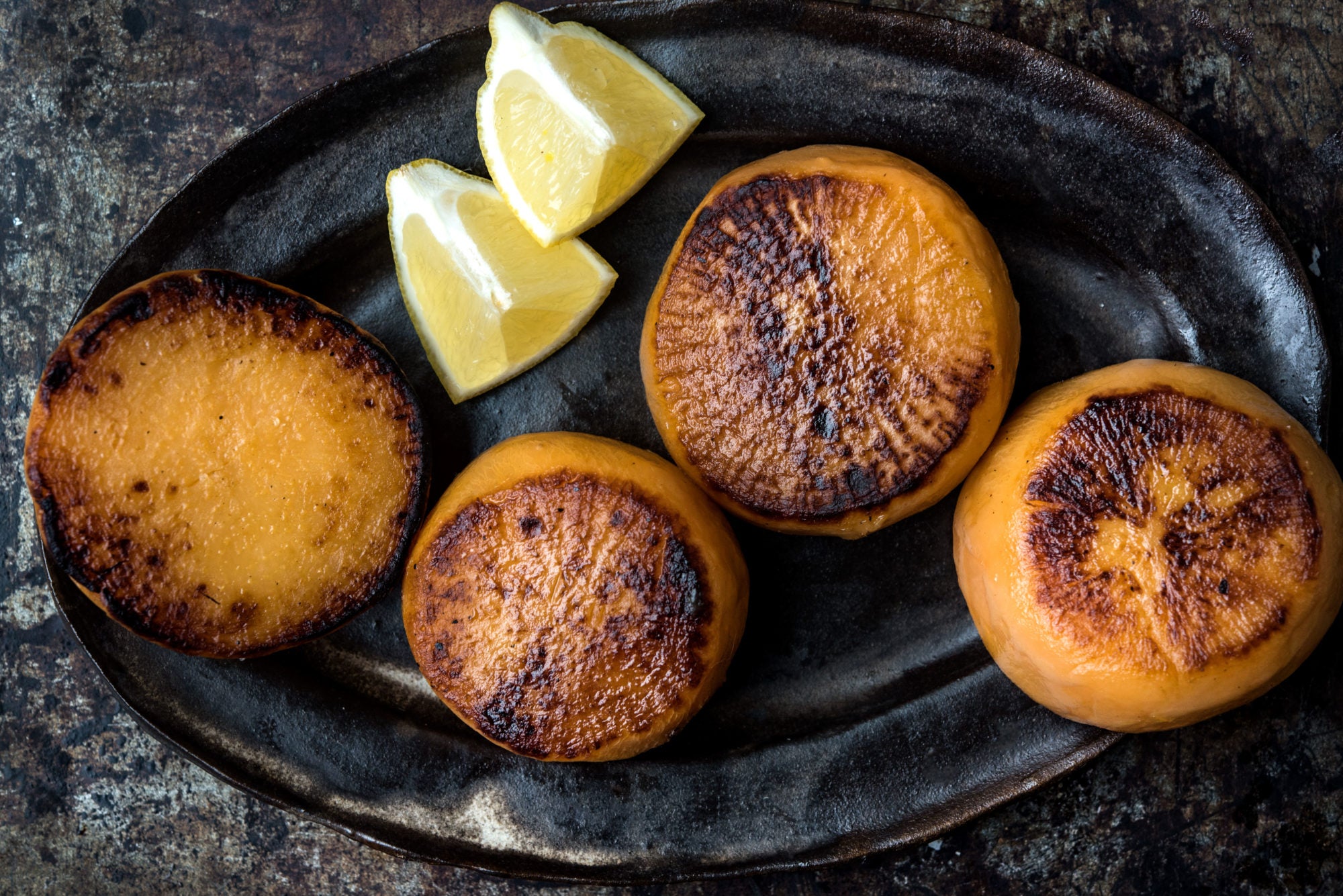 Wait, is that pork belly? A few restaurant tricks can turn this unglamorous root vegetable into a rich, caramelized porcine imposter.
The rutabaga gets little respect. When I mention the vegetable to fellow writer Von Diaz, she tells me she's been following the saga of a lone orb at a Brooklyn intersection she passes on the way to the subway that must have fallen from a produce truck or grocery bag. It's gotten kicked around for days, she says. This is very rutabaga—a fitting fate for a famously resilient, famously austere winter root vegetable.
Roast it, we're told, or boil and mash it, or maybe blend it into a soup to give it body and stretch it into a few more servings. Diaz likes them steamed with melted butter—a traditional Southern preparation. Yet none of these ideas suggest why one might reach for a big, brown 'baga over, say, some potatoes or turnips.
But in reality, this slightly starchy, slightly sweet root vegetable can be treated as the centerpiece of a meal. Unlike potatoes and turnips, one is big enough on its own to feed a few people, and the structure holds up to all kinds of cooking techniques—from grilling to searing to steaming to sous vide.
Admittedly, I don't remember any rutabaga I tasted more than five years ago, when I sat down for a vegan tasting menu at Chicago restaurant Alinea. The rutabaga was the tenth course of 16 and sat in the center of the table aflame, cooking within a Japanese seaweed wrap. The waiter removed the fiery logs from the center of the table and out came the beautifully browned twin strips, mine served with parsnips and black trumpet mushrooms. When I took my first bite, which collapsed to cream in my mouth, I worriedly called the waiter back over. "Are you sure this isn't meat?" I asked, concerned both that I'd eaten pig and that I'd now never be able to stop. It was rutabaga, as my menu said, he assured me, yet the caramelization, smoke, and fattiness confused all my senses in a way no meat facsimile had before or has since.
Alinea executive chef Simon Davies, who was chef de cuisine at the time, recalls the dish, in which rutabaga gets the same treatment as pork belly. "We choose vegetables that are going to closely resemble the protein that we're using for that course," he says. "It's a very heavy root vegetable, very dense, and has a lot of rich flavor. It matched well."
At Alinea, the rutabaga is cooked sous vide, vacuum-sealed in a plastic bag with grapeseed oil and cooked in an 85° Celsius water bath. This has the effect of tenderizing the rutabaga while maintaining its structure and giving it a completely uniform texture throughout—a little like the low-and-slow roast a pork belly often gets before it's crisped in the broiler or on a grill. Sometimes the chefs add aromatics like rosemary, thyme, and garlic, or cure the vegetable in salt for a bit before vacuum-sealing to ensure even flavor. "Oftentimes, we'll finish it in a ripping-hot pan, sear it off in a little bit of oil, and finish it with aromatics," just as they would a piece of meat, Davies says.
The chefs at Alinea have also given the rutabaga a ceviche treatment, slicing it thin and marinating it in acid. They're not the first to treat the vegetable like an animal protein. In Karen Hubert Allison's 1997 book The Vegetarian Compass: New Directions in Vegetarian Cooking, the former New York restaurant chef's posthumous ode to vegetable-centered cuisine, rutabaga is transformed into barbecued steak. After setting half-inch-thick rounds flat in a steamer basket over boiling water and cooking just until the surface can be pierced with a fork, they're marinated in barbecue sauce with chopped red onion and then go onto a hot grill. She also recommends cutting steamed rutabaga into thick sticks, tossing them in a sweet beer batter, and deep-frying.
Like the cauliflower before it, the rutabaga is ready for new life in the center of a meal. With a salad of hearty winter greens and a helping of mashed potatoes, this economical root provides a canvas ready for a bright chimichurri or a simple dressing of lemon and garlic. While it might not be mistaken for pork belly when prepared at home, the rutabaga is not something to be kicked around.