The War Against the War on Plates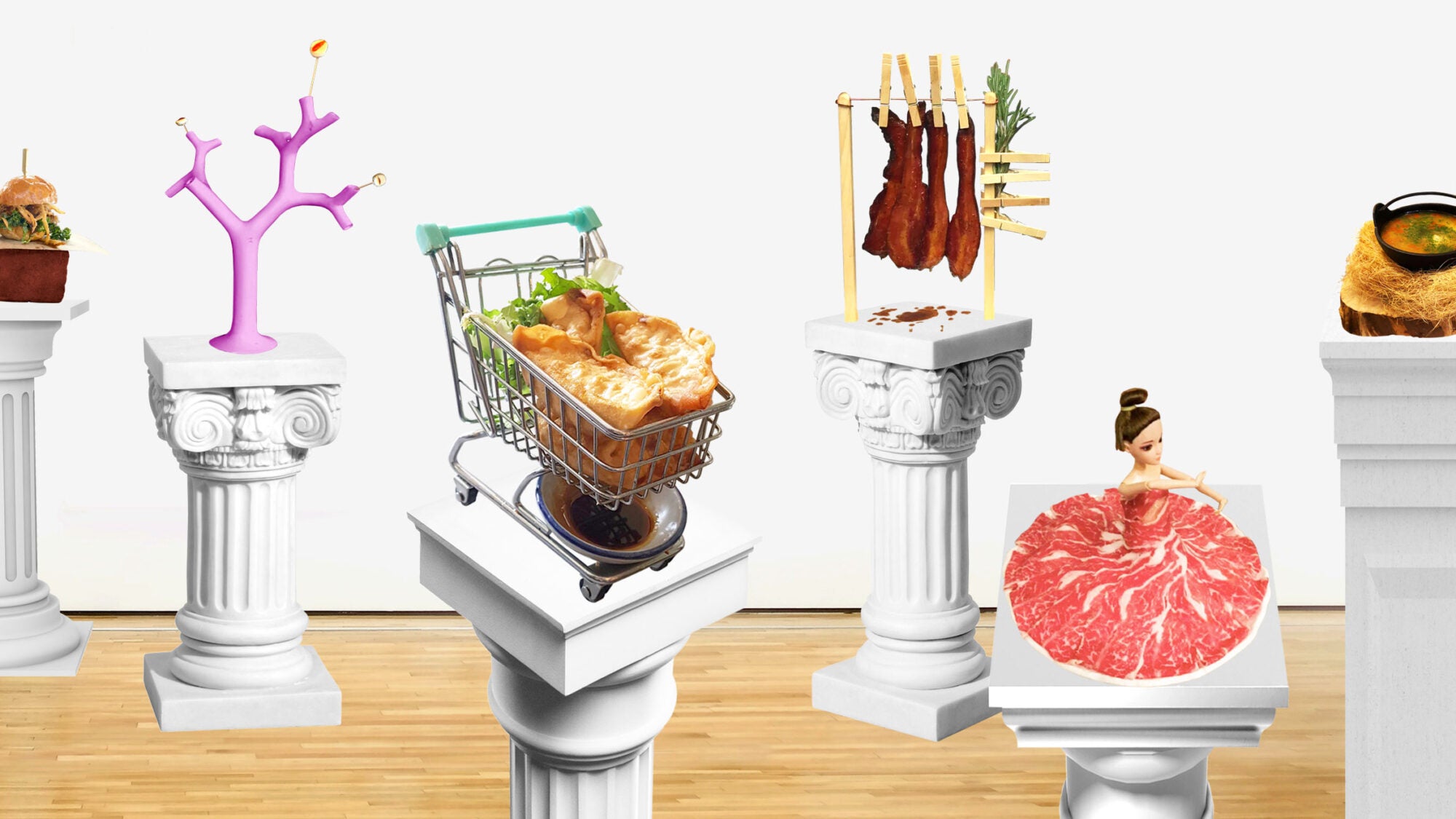 Who needs fine china when you can eat calamari from a clog?
"The hanging is everything in this dish," says David Burke, the celebrity chef behind restaurant chainlet BLT Prime. In late October, when Republican representative Kevin McCarthy tweeted a photo of himself dining at the Prime location in the Trump International Hotel in Washington, DC, with the caption "Great night with the President," the first thing that most people noticed about the photo was four strips of bacon, dangling from wooden clothespins on a miniature clothesline. "The concept is inspired by Peking ducks hanging in Chinatown windows," says Burke, who insists that a clothesline is the best way to serve his bacon, which drips its own rendered fat onto a single flaccid pickle spear. He advises eating the bacon by using a provided pair of scissors to snip off bites, before finishing with the pickle for digestive aid.
Though Burke calls the entire production "a work of art," it's still enough to make any art lover long for the grounded simplicity of a plate.
The Trump incident was quickly posted to "WeWantPlates," a subreddit that has been around since 2015, cataloging the list of crimes against restaurant plating (or lack thereof). A pizza pie acting as the 26-inch rims on a tire. A shovel's worth of mixed grill. Breakfast served on a literal bookcase. All no doubt envisioned by chefs who watched a few too many episodes of Iron Chef and suddenly thought the key to haute cuisine was not in the food, but in how flamboyantly it's presented to the customer.
"Problems occur when restaurants push the envelope too far," says Ross McGinnes, author of We Want Plates: The Crusade Against Food on Slates, Chips in Mugs, and Drinks in Jam Jars. (He actually copyrighted the term "We Want Plates" and started posting plateless content on Twitter in March 2015, a few months before the subreddit was spawned.) "I'm not talking about 'fine dining,' but more the try-hards."
But is there ever a case when a plate or a bowl just won't do a food justice? Maybe.
McGinnes says seafood seems to work for some reason. He cites sushi served in hulking wooden boats and prawns peeking out of a pint glass, shrimp cocktail style. ("But not a pint of bacon, or peas, or spaghetti [we've seen them all]," he says.) Burke's plating stunts, likewise, have often revolved around seafood. He's served angry lobster on a bed of nails at davidburke & donatella in the mid-aughts, sashimi on salt blocks at David Burke's Primehouse in the late aughts, and tuna poke in a can, which is currently available at New York's David Burke Tavern.
If the majority of these seem silly today, the occasional clothesline actually does have a place on modern restaurant tables. At Szechuan Mountain House in Manhattan's East Village, pork belly is featured in a dish called Liang Yi, literally "hanging clothes" in Chinese. Strips of pork and translucently thin slices of cucumber are hung on a little dowel, which causes the food to tent over a bowl of minced garlic and chile oil—the pork's fat drippings eventually create a silky, spicy dipping sauce below. It's simple, elegant, and delicious.
"[A]lthough the portion was considerably smaller than usual in this fancified iteration," wrote The New Yorker's Jiayang Fan, "the crunch of the cucumber had been preserved, pairing more effectively with the marbled, gamy meat."
Still, for the most part, we've aged out of the era of non-plates that plagued the mid-aughts. A bacon clothesline or a salad placed atop a goldfish bowl or an apple crumble served on an iPad (depicting a plate image, natch) is a sure sign these days of an outdated restaurant trying too hard to impress and overly concerned with making it to Instagram. (In 2018, Burke bragged that his bacon clothesline was the most copied dish in America.)
But at the Michelin three-star restaurant DiverXO in Madrid, Mohawked chef David Muñoz is keeping the plateless dream alive. Maintaining the restaurant's theme of street food (to the tune of €250 for 19 bites), his Pekingese dumplings are served on a sheet of greaseproof paper splattered with strawberry hoisin sauce. His chile king crab is served on the half shell, no plate underneath. Most dishes are served on what Muñoz calls "canvases," believing that to eat his food is to enter his art.
With what he describes as an "avant-garde or die" menu that started this October, Muñoz has scrapped not just plates but serving vessels altogether, as he has begun plating dishes directly into the palms of people's hands. For a "dish" he calls Hedgehog in Hand, a pile of spongy sea urchin are added to the center of the palm, followed by a flourish of sea grape, a toasted annatto veil, and a dab of Palo Cortado sauce.
Just last month, a WeWantPlates commenter posted an image of his palm plate at DiverXO, setting off a frenzy of amused, if not stupefied, replies. "This is like the absolute meta of this sub, the final boss, just giving you nothing at all," wrote one person. "I know where my hands have been. No way would I be eating anything off them," remarked someone else. It quickly became the subreddit's top post of all time, with more than 69,000 upvotes and 3,300 comments.
"I think this is the end. Nothing tops this. Mods shut this sub down, we're done here," said another commenter. Another Redditor proposed that this wasn't the end, just time to create another subreddit: "r/WeWantLiterallyAnything."