The Salty, Savory Side of Soy Milk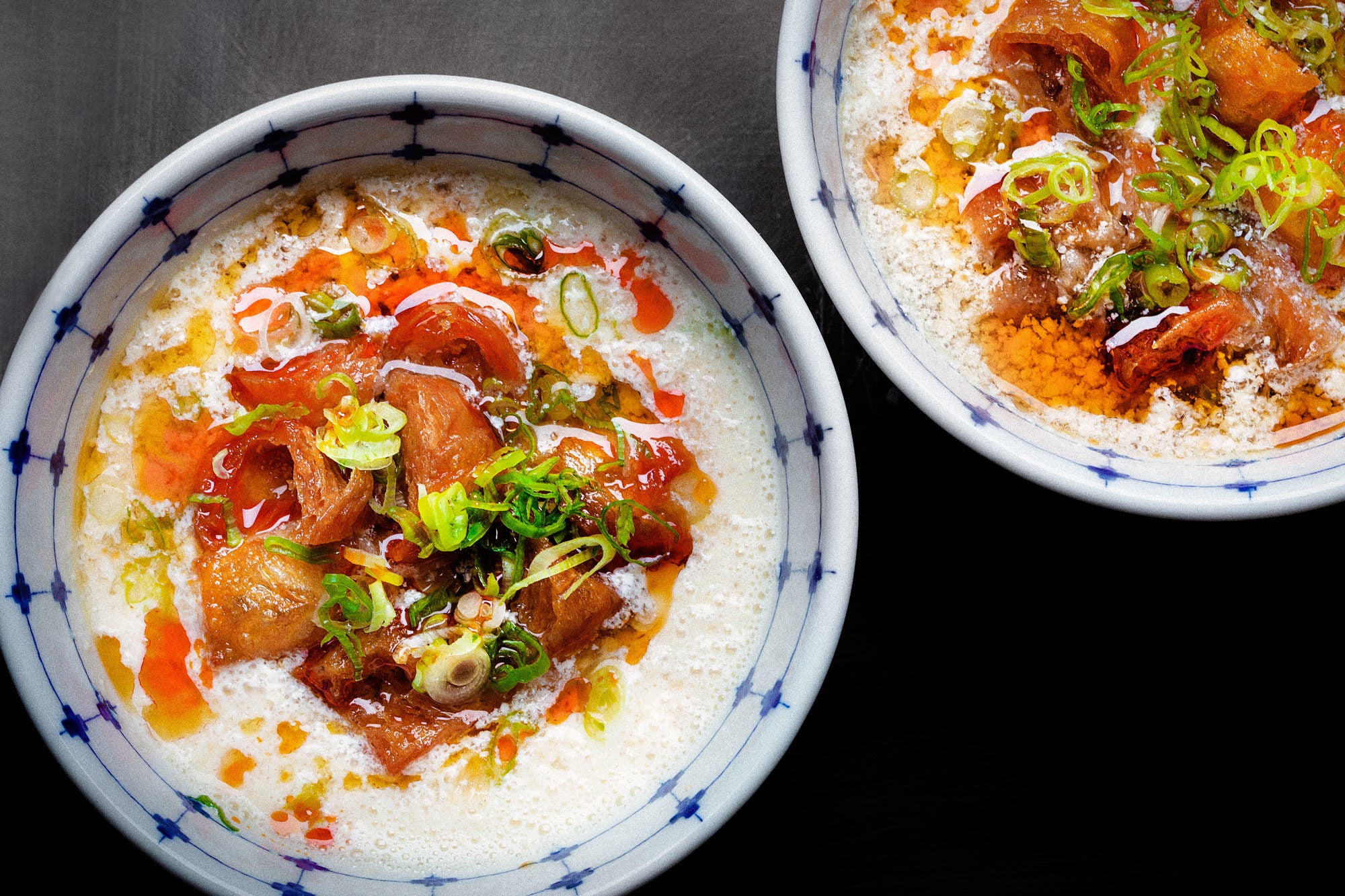 This Taiwanese approach to breakfast will sell you on homemade soy milk.
I am a firm believer that eaters can be divided into two groups: sweet people and salty people. In many parts of China, and especially in Taiwan, there is equal opportunity for both persuasions in one's choice of soy milk at breakfast. Do you want your doujiang—that's soy milk—tian (sweetened with sugar) or xian (salty, with savory additions)?
"I remember going to Taiwan and every time, my aunt would just buy a ton of breakfast for everyone, and there would always be salty or sweet soy milk . . . and there was always one uncle who was like, 'I get the salty, you get the sweet.' And people would be, like, fighting," recalls Richard Ho, chef-owner of the Taiwanese restaurant Ho Foods in New York City, who makes soy milk in-house, both salty and sweet, for his brunch menu.
In English, the term "sweet tooth" neatly sums up those who crave candy corn and desserts. For salty people, it's a little more complicated, because we don't just prefer salt (and I am self-identifying here as a salt head); we want more of a balanced sense of saltiness or savoriness. Hence, a proper bowl of hot xian doujiang in Taiwan is not just seasoned with soy sauce or salt, but vinegar, which slightly curdles the soy milk, sesame oil, and chile oil, and it's often mixed with salt-cured daikon radish bits, pickled mustard greens, and dried baby shrimp and topped with scallions. While sweetened soy milk can be served hot or cold, xian doujiang (salty soy milk) is always hot, served in a bowl with a spoon, like a soup. A youtiao—a Chinese stick of fried dough—is typical for dipping into or floating atop either sweet or savory hot soy milk, however.
"It kind of has that spicy, sour, salty thing going on that I think American palates are into, too," says Ho of xian doujiang.
"My dad loves the xian doujiang. He's like, Oh, I want to add all of these toppings," says Judy Ni, co-owner of the Taiwanese restaurant Baology in Philadelphia and self-confessed sweet person. "My husband likes the savory version, too," she adds.
Josh Ku, co-owner of the Taiwanese American restaurant Win Son in Brooklyn, is a sweet person. But "Josh's mom wants [soy milk] cold or warm, but she doesn't want it sweetened," says Trigg Brown, the chef and other co-owner of Win Son, who's concocted versions for both palates on their brunch menu.
He thought that the literal translation of "salty soy milk" for xian doujiang didn't translate too well with American audiences.
"The spots that were selling salty soy milk in Flushing or Chinatown—we thought a lot of people were going to misunderstand that. So we called it savory soy milk, because I think that's a natural thing for people to understand," says Brown of Win Son's naming strategy, which Ho uses as well.
Whether you serve it sweetened or savory, the one (and only) key to making a superlative breakfast of doujiang youtiao (soy milk and youtiao) is using a fresh batch of homemade soy milk. It's sort of like the difference between a freshly baked peasant loaf and a bag of Wonder Bread. Shelf-stable, store-bought soy milk—sold under brand names like Silk and Vitasoy, and often flavored with vanilla to mask the flavor of beans—have their place, but they are entirely different from the frothy, beany soy milk that's freshly made. And these two drinks do not even share the same word in China and Taiwan. According to Clarissa Wei, a food writer based in Hong Kong, the type of soy milk you'll find in an American coffee shop is called dou nai.
"Dou nai is watery and devoid of the natural flavor of true soy milk," says Wei. "When I first had dou nai as a teen, I didn't even recognize it, even though I grew up drinking doujiang."
"Most of the soy milk I've purchased at Chinese markets are thin and watery, and they taste like a low-fat milk rather than whole milk," says Andrea Nguyen, the author of several cookbooks, including Asian Tofu, which offers a recipe for homemade soy milk, the building block for tofu. That's why many home cooks, as well as restaurant chefs, often make soy milk from scratch. Also, you want a high-protein, thick soy milk for making tofu or for xian doujiang that curdles well when mixed with vinegar.
"Unless I find really good soy milk at a market, I'm going to make it myself," says Nguyen. "And it's just amazing to be squeezing the beans to get milk out of it."
Growing up, my mom preferred sweetened soy milk. But she would just buy cartons of it from the refrigerated aisle of an Asian supermarket and would often eat it with a store-bought youtiao that she would reheat in the toaster oven. When I lived in Taiwan, freshly made soy milk from a small local maker was everywhere—hot, cold, sweet, unsweetened, and savory. Today, living in Brooklyn, I have a soy milk machine, which works beautifully; just add presoaked soybeans, water, and press a button (it also works for any nut milk). But when I discovered I had lost a crucial piece of my SoyaJoy 3 maker and it didn't work without it, I hit the books as well as the stove. (Meanwhile, I called the phone number for SoyaJoy and was connected to a real person in less than a minute; I explained the part I was missing and was told it would be $9.99 plus shipping and I would receive it by the end of the week.)
Fresh soy milk has just two ingredients: soybeans and water, so the quality also depends on the beans. Nearly all the chefs and experts I spoke with recently cited Laura beans as the best for soy milk.
"It's just a really good, handsome bean," says Nguyen. "If you single-source them from a family that's been growing them for generations, then you're really assured of getting a good product."
Norman Chambers started growing high-protein soybeans for the East Asian market in the 1980s, but with the advent of cheap tofu and soy milk you could buy at supermarkets soon after, business began to dry up.
"That whole business kind of changed, and in the meantime I was thinking there might be a small little market in the U.S.," says his son Jonathan Chambers, who decided to continue growing his family's proprietary bean—Laura Soybeans—for the United States in the 1990s. The bean is named after Jonathan's sister, who passed away in a car accident in 1989.
"She was a food developer and pastry chef, and once we got into this, we all thought that she would have been a big part of it because she loved food," Chambers recalls.
Chambers says that weather is a big threat; flooding had greatly affected recent years' yields of soybeans in Iowa, but this year's crop is looking good so far, and he's surprised to hear that chefs and authors like Nguyen recommended their beans.
Just like there are many ways to cook ricotta, there are as many theories behind making the perfect batch of soy milk. The chefs I spoke with had their own ways of making large batches of homemade soy milk suitable for serving customers throughout a brunch service—and they also disagreed wildly on the length of cooking time, soaking time, and almost every aspect of soy-milk-making. This all goes to say that the best recipe for soy milk is a matter of preference—"I'm just trying to re-create the texture and quality that my dad made for me," says Ni, adding that her dad used rice bowls for measuring. So the recipe I've shared can always be tweaked—for instance, with more beans for a thicker consistency. I leaned into Nguyen's Master Soy Milk recipe from Asian Tofu, but I decided on a consistency that was between her formulations for "rich" and "medium," and I simplified some of the steps around water usage. When I received my replacement part for the SoyaJoy 3 in the mail, I could find no difference between this cheesecloth method and its results.