Wait, Canned Salmon Is Good?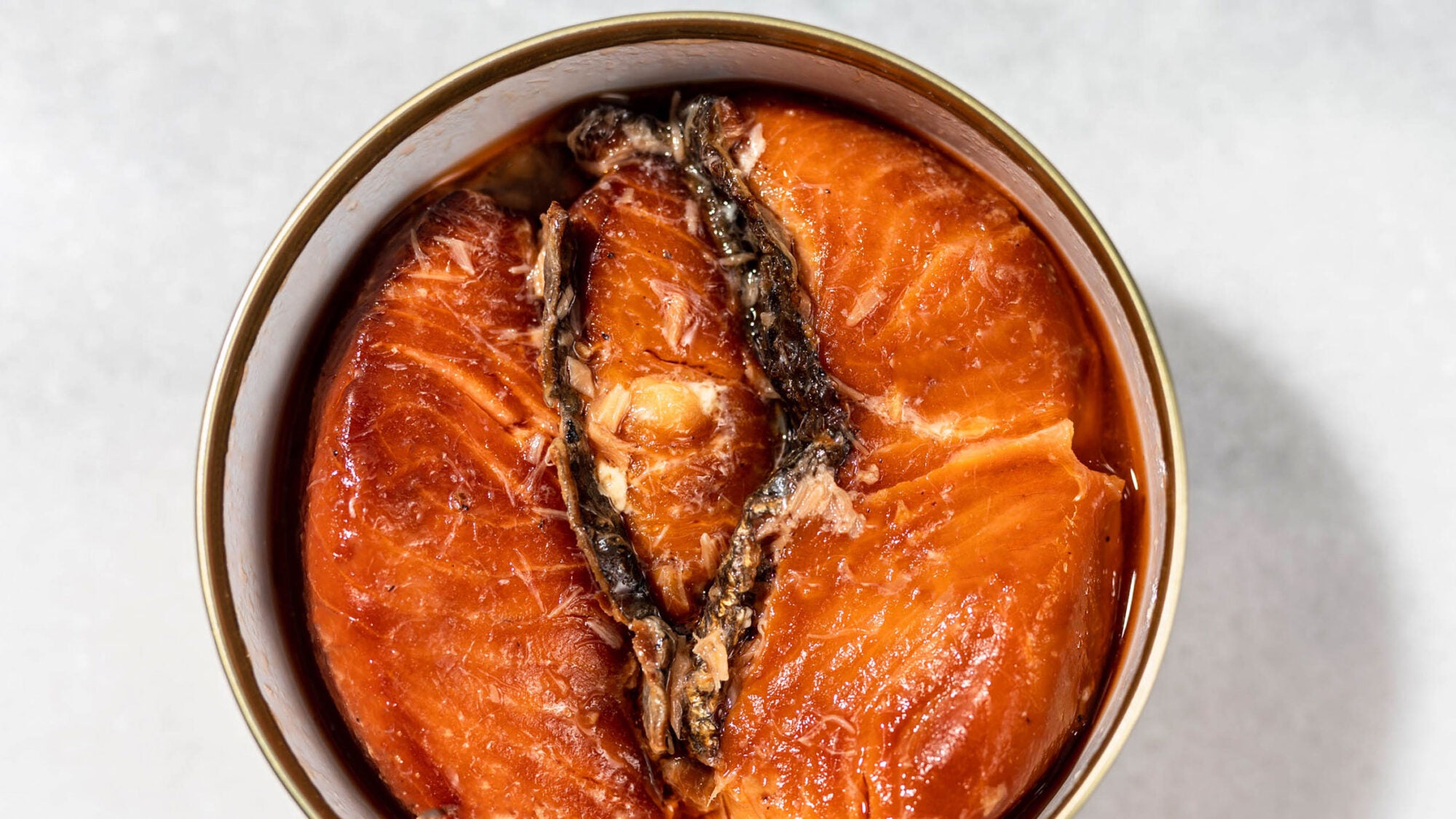 A crop of new producers are starting to give this very American fish a very European conserva treatment.
There's a subtext built into the steady glamorization of canned fish over the course of the past five years: Europe does it better. Don't like anchovies? Try Agostino Recca anchovies from Sicily. Don't like the watery tuna that constituted all of those soggy childhood sandwiches? Upgrade to Ortiz from the Basque region of Spain. A bit apprehensive about digging into a can of sardines? You just haven't encountered the French sophistication of Rödel.
But when tinned seafood company Fishwife launched their online store in December, they chose two American-produced cans as their inaugural products—a smoked Albacore tuna and a smoked wild Alaskan salmon. "The salmon flew," says cofounder Becca Millstein. "We sold out in two and a half days." Since those first 720 cans were snapped up, they've received hundreds of requests and are hurrying to restock by March.
Fishwife is just one example of a company that's trying to make home cooks think about canned salmon as a product with a provenance and a craft to it, and even as one that's worth spending $7 to $15 on (compared to, say, $4 for a can of Bumble Bee Pink Salmon). In contrast to the cans of flabby, pale, grayish-pink meat that I tend to imagine when I think about industrial canned salmon, products from companies like Fishwife, Wildfish Cannery, and Salmon Sisters look recognizably like fish that's been carefully filleted and turned a rusty amber color. The meat is firm, salty, rich, and scented with alder wood smoke. It's the kind of fish that you want to flake into warm steamed rice, or mash into crème fraîche for a smoky dip, or eat with your fingers straight from the tin with a cold bottle of beer.
And the dense little jewel-like fillets of bronzed fish look like they've been delivered straight from the smokehouse. "It really looks like salmon that you've just cooked in your kitchen, in a way that, with traditional canned salmon, there's just no resemblance," says Millstein.
Now, if you want to sell someone a can of salmon, it's not enough to offer simple convenience. You have to overcome canned salmon's reputation as a 1960s casserole ingredient and as an industrial dilution of the real thing.
The canned salmon industry has existed, and thrived, in the United States since the mid-1800s, even before the canned tuna industry. For a few generations, canned was the only form in which most Americans had ever tasted salmon. Almost 200 years later, we can pick up a salmon avocado roll for lunch at the pharmacy and a fillet to cook for dinner at our local grocery store. Now, if you want to sell someone a can of salmon, it's not enough to offer simple convenience. You have to overcome canned salmon's reputation as a 1960s casserole ingredient and as an industrial dilution of the real thing.
Mathew Scaletta, owner of Alaska-based Wildfish Cannery, tells me, "A lot of this stuff really isn't bad, for what it is. But, of course, with production at that scale, it's all about producing as many cans as cheaply as possible, so the small details that can make good food great are going to be overlooked for the sake of profit." By contrast, the smoked king, coho, and pink salmon that Wildfish sells is hand-harvested in Alaska, hand-cut, and hand-packed. As Scaletta explains, canned salmon doesn't have to be smoked in order to taste great but smoking and canning happen to complement each other really well. "The canning process applies a long period of high heat and high pressure to the product, and smoke flavor deepens and develops nicely under those conditions," he says.
When I ask Chris Zabriskie, a former Whole Foods employee who founded Rhode Island–based Cole's Seafood in 2008, if he grew up eating canned salmon, his response is, "Not if I could avoid it." Now it's part of his family's regular rotation, as an add-on to leftover herby rice, or as a salty snack to have with a sleeve of crackers.
Zabriskie has some theories about why Americans have been snobbish toward the idea of canned salmon, even while they've embraced the fishy, oily world of sardines and mackerel. "I think it's the fact that it was for so long associated with being used as baitfish." But when Cole's introduced a canned salmon in 2014, it was a success, part of which Zabriskie credits to consumers getting burnt out on the ubiquitous tuna and looking for a more sustainable option (Cole's is produced by an Aquaculture Stewardship Council–certified farm in Chile), and part of which he attributes to a product that just tastes good—one that's been smoked and packed in extra virgin olive oil and can be scooped out and eaten straight from the can.
Kat Murphy, the founder of Washington-based Katfish Salmon Co. and the producer of Fishwife's smoked salmon, has seen a real shift in how consumers think about canned salmon. For some shoppers, she says, it's just a matter of tasting a really good one. She's met people at holiday fairs who have bought one can of her salmon and then returned the following year to buy a whole case. "All of a sudden, there's been this weird revolution, and it's become really popular."
Caroline Goldfarb, one of Fishwife's cofounders, says, "When I typically think 'canned salmon,' it was never really my favorite tinned seafood product. Kat's was unlike anything I had seen or tasted before." Since then, Goldfarb has taken to eating it out of the can with a squeeze of lemon, and Millstein has turned cans of Fishwife's salmon into off-the-cuff salmon spread by mashing it into cream cheese. Millstein has even riffed on David Tanis's Midnight Pasta recipe, swapping the salmon in for anchovies.
Murphy and Scaletta are both quick to point out that plain canned salmon can be delicious even without any smoking. It has a beloved spot in the Alaskan pantry, where a lot of people in and adjacent to the fishing industry do their own small-scale canning to supply themselves with protein between fishing seasons. Murphy holds out hope that the rest of the country will catch on to how great it can be. "I would love for people to get back on the canned salmon train," she says. "It's amazing food. I eat it all winter long." In the meantime, it might take a little smoke to convince them.
Where to Buy Canned Salmon