Vinaigrette, Beyond the Salad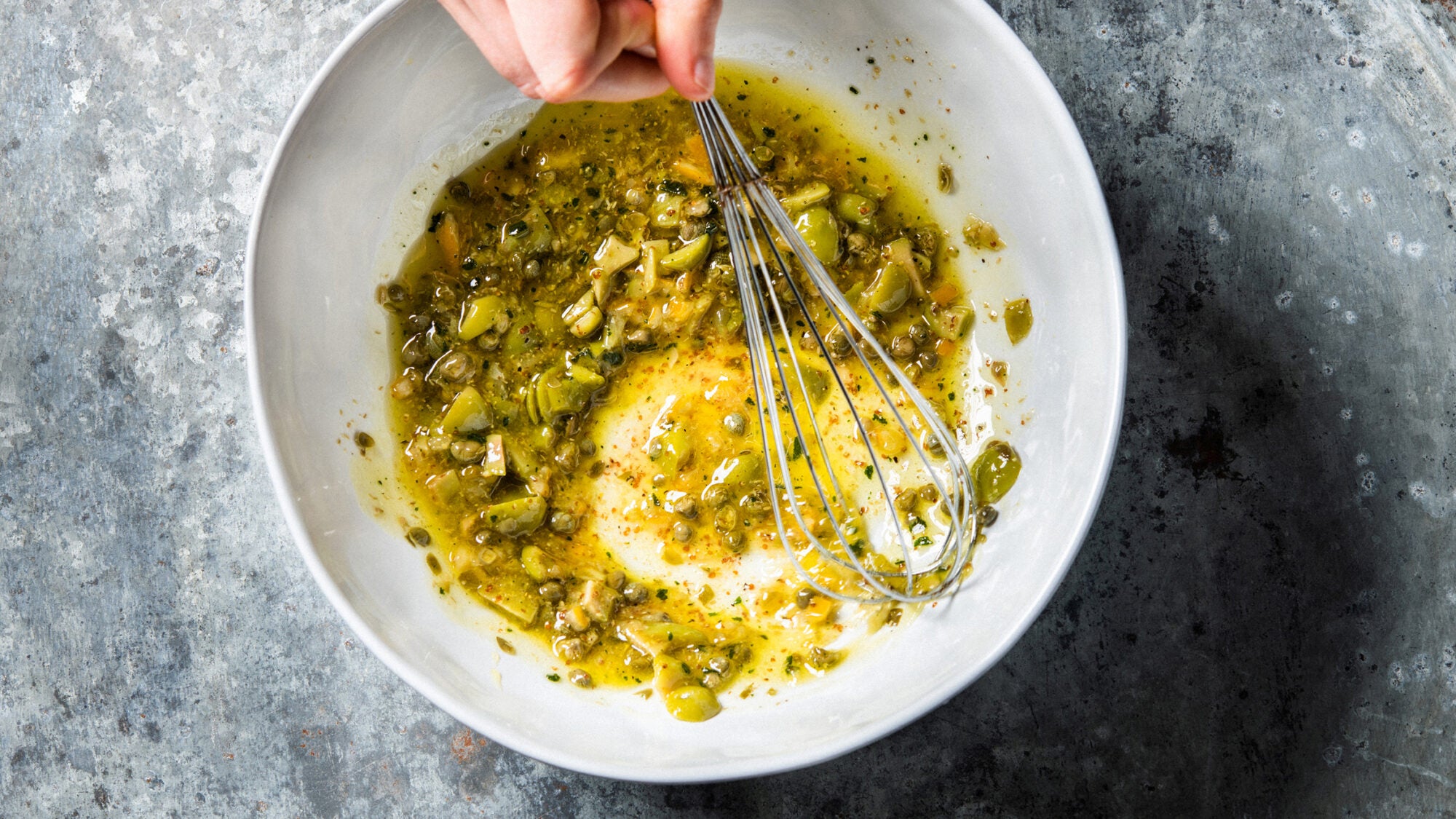 Warm your oil and vinegar over the stove, and treat it like a marinade, finishing sauce, and everything in between.
Vinaigrettes were destined for more than just glazing salad greens with fuchsia drops of raspberry or inky blots of balsamic. But to relegate this emulsion of vinegar and oil to leafy greens Siberia ignores the rest of vinaigrette's potential. The real move is to add capers, bacon, and preserved lemon to the mix—and serve it warm, right off of the stove, topping braised brisket or seared tofu. The two recipes below, by Laurie Ellen Pellicano, treat vinaigrettes as the all-purpose sauces they truly are.
For something light and bright, look to a warm green vinaigrette. It gets its color from lightly fried capers and juicy Castelvetrano olives in oregano-infused oil before a trio of acids get whisked in: Dijon mustard, biting preserved lemons, and white wine vinegar. Tart and savory, it feels right at home poured over delicate, flaky white fish, like a trout baked en papillote or silky steamed sea bass. It will also hold its own atop a meatier slow-roasted pork shoulder. And if there is leftover sauce, it's great spooned over creamy mounds of ricotta.
Warm vinaigrette is commonly used in Salade Lyonnaise (complete with frisée, slices of crisped-up lardon, and a poached egg), and our take brings in softened slivers of red onion for a bit of sweet subtlety. In lieu of mustard, this recipe doubles down on the vinegar, calling for both balsamic and apple cider to cut the richness of bacon bits with fruity undertones. It's a surefire way to amp up your arsenal of roasting vegetables, from brussels sprouts to broccoli or a beans-and-greens routine, especially with a sprinkle of crispy shallots or toasted bread crumbs on top.
Whether it's the main event of your entrée or a player on the sidelines, there's a vinaigrette for that.