Why Is Vietnamese Food in America Frozen in the 1970s?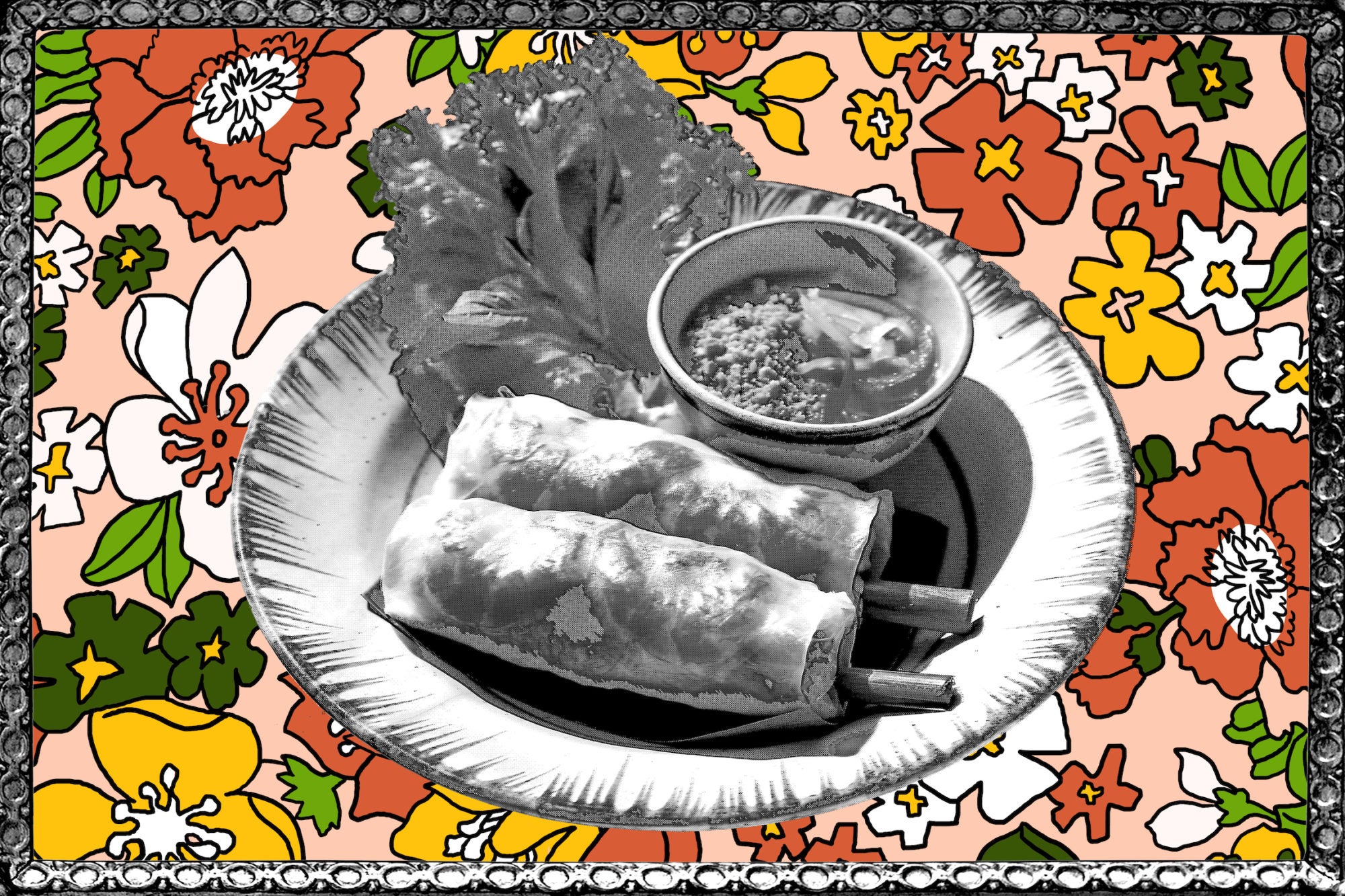 Forty years after the Vietnam War, many Vietnamese restaurants in America are still a tribute to a time and a place that no longer exists: 1970s Saigon.
I thought I knew Vietnamese food until I met the dish banh trang nuong. As a Vietnamese-American, I've always clung to the nostalgic idea of Vietnamese food as a way to connect with folks back home. But when I first saw banh trang nuong in a YouTube video documenting street food, and then in real life at Brooklyn restaurant Di An Di, I faced a moment of crisis. The dish, dubbed "Vietnamese Pizza" on the menu, consists of a circle of rice paper crisped up on a grill and topped with cooked egg, shrimp powder, pickled chiles, ground pork, and hot sauce. The idea of there being a Vietnamese dish that I didn't know about was distressing, to say the least.
I can't speak Vietnamese. I can't fit into any off-the-rack ao dai. But at the very least I can taste for good flavor balance in any pho broth, or assemble a bite of banh xeo, lettuce, and herbs without explanation. Very few Vietnamese menus have ever thrown me a curveball. I know that when I see hu tieu on a menu, I can expect a brothy pork soup with whole shrimp arranged neatly on top of rice noodles. But the banh trang nuong made me realize just how much my knowledge of Vietnamese food relied on a static, South Vietnam–leaning snapshot of the cuisine from 1975, when most of our folks left the country.
You can see it in the way pho is almost universally expressed in the United States: It's the South Vietnamese style, which includes tableside garnishes like basil, sliced chiles, and hoisin sauce. In the North, they prefer their pho without such last-minute additions. Though pho only came to the South in 1954, when Northerners migrated that way en masse in response to the country's partition, Southern chefs used the soup as a base to showcase the flagrant potency of their region's herbs and chiles. Like any other cuisine, food in Vietnam has evolved and expanded in the last four decades—banh trang nuong was only one example of the myriad innovations and trends that have arisen from street vendors and chefs since the 1970s.
Nevertheless, the enduring image I have of Vietnamese food is only what my parents and grandparents could piece together in their own kitchens. My grandparents and their children cook what is nostalgic for them; in turn, their memories of the past are what I myself crave. The mom-and-pop restaurants I frequent as an adult have rarely challenged this narrative: We all remember and fill in the gaps together.
So what dishes did Vietnamese restaurant owners bring to the U.S. with them, and why did they choose them? I asked Barbara Tran and Anna Pham, whose families opened some of the first Vietnamese restaurants in the States (in Queens and Houston, respectively), to share their elder family members' thought processes with me.
"In short, yes, the menus had everything to do with nostalgia," Tran, a poet who resides in Toronto, told me via email. Cementing that point, the front of every menu of hers featured a map of Vietnam, hand-traced by her father, who had previously been secretary to the South Vietnamese ambassador to the United States. Sensing that the situation back home was getting dire, he'd sent for his wife and children to join him here just before Saigon fell. "I imagine that my father had this idea that he could educate people about his home country," she wrote. But Tran's mother, Marie, was the principal guiding force at the restaurant in Queens, serving as the chef there and, later, at Cuisine de Saigon, the spot Barbara's elder sister Khanh opened in Greenwich Village in the mid-'80s after the Queens location closed. It was Marie who scoured the city's markets for the ingredients she needed for a Vietnamese menu.
"Over the years, she was constantly searching for rice paper that met her standards," Tran explained. "She missed herbs as well. I recall her saying dishes weren't quite right because they were missing certain herbs. She also missed things like mắm nêm, not something you could just pick up at the store." The ultra-fermented fish sauce Marie missed is still a rarity on restaurant menus in the United States, though it's much easier to get at your average Vietnamese grocery nowadays. In the '80s, Craig Claiborne, similarly stricken with nostalgia for Vietnamese meals he'd had decades prior in Paris, lamented the lack of options in New York City while praising Cuisine de Saigon's chao tom (sugarcane shrimp). He wrote, in the New York Times, "This specialty was prepared to perfection, broiled and served with rice paper and fresh coriander." The dish continues to be ubiquitous on Vietnamese-American menus.
Nostalgia was also a factor at Anna Pham's family's restaurant, Mai's, which opened in 1978 as a 24-hour pool hall. Mai's served as a means for Pham's grandparents to provide for their eight children as well as serve a community center for Houston's growing Vietnamese population. All of their children and grandchildren, including Pham, have worked there in some capacity since childhood. The food at this venue was simple family fare. "My grandma had recipes from her parents that were meant to feed your kids, spouses, and your kids' kids, so they were easy and scaleable," Pham, who now owns the restaurant, told me during our phone conversation. That mostly meant things that could be assembled efficiently in a small kitchen for a lively crowd, like banh mi, pho, and hu tieu.
Soon enough, the family realized that food was a bigger draw than pool, and they relocated within Houston's downtown and expanded the menu to include more Vietnamese dishes, like goi cuon and cha gio, as well as more rare dishes—the deep cuts—like lau ech, or frog leg hot pot. "The restaurant originally wasn't intended for anyone beyond the Viet community," Pham admitted. In the '80s, an experimental and short-lived Chinese food buffet that featured a $2.90 price tag and free iced tea did bring some non-Viets in, but they only rarely dug into the extensive Vietnamese food options. "We'd get some Anglos coming in rarely, and I'm sure it was all really new to them. But after a while, my grandma and mom developed a sense of pride in showing them how to eat banh xeo and cha gio."
Still, Pham is proud of the notion that Mai's has never truly Westernized—preserving, as best it could, versions of what her family ate in Saigon in the '70s, before the war ended and the city became Ho Chi Minh City. Through food, they could, like many Vietnamese restaurant owners, remember Saigon, even if maps didn't show it.
When Anthony Bourdain visited the restaurant back in 2002 for an interview with the Houston Chronicle, Mai Nguyen, who inherited the restaurant from her parents, concluded his meal by brandishing a whole, fresh durian at the table. Bourdain picked up his spoon and went to town. Afterward, he declared that Mai's "will always be the taste of Houston—the first really authentic, just-like-Saigon Vietnamese I'd had in America."