Vichyssoise: Potatoes, Cream, Cold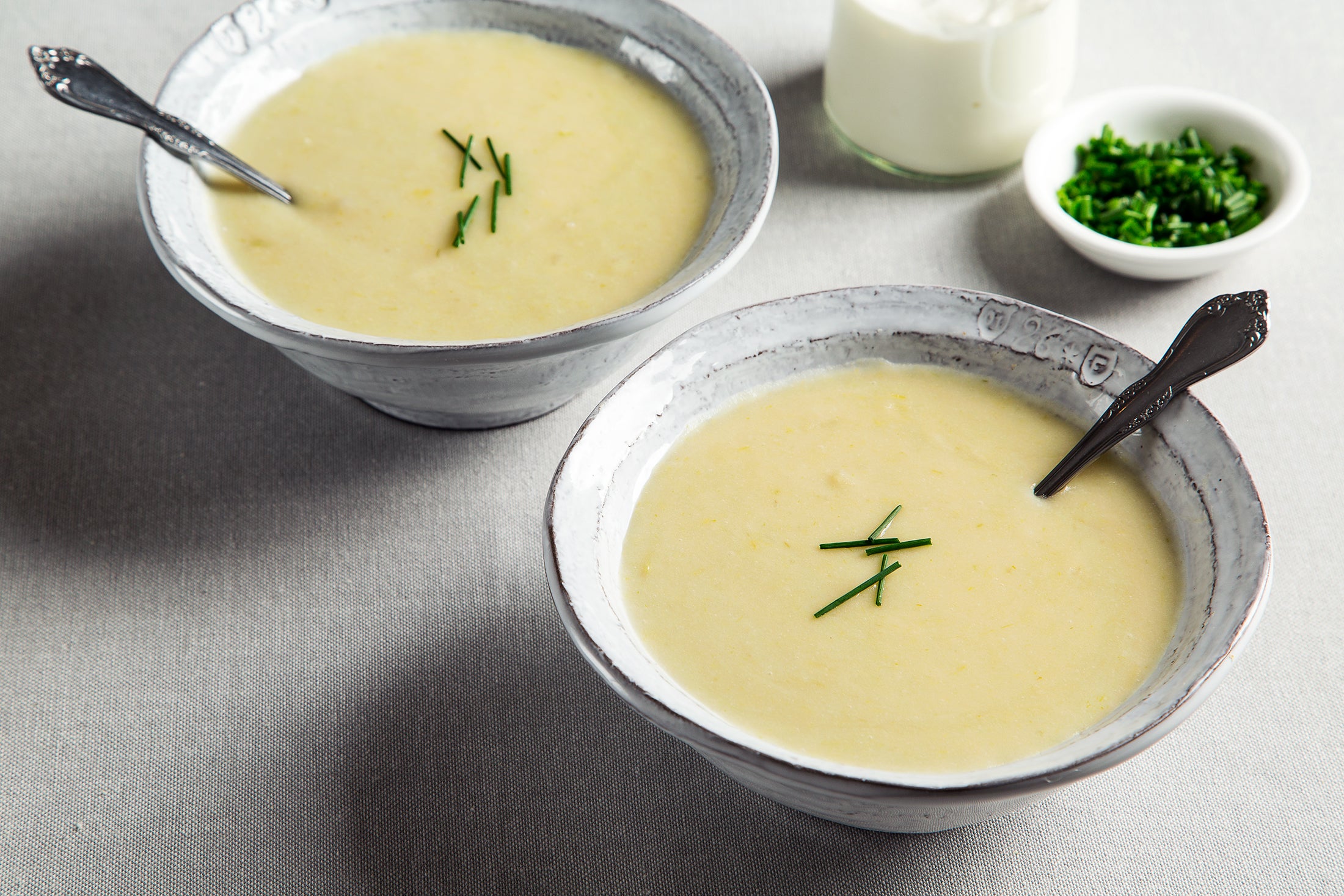 A cheap soup, with ritzy New York City roots.
Hands down, the most refreshing way to eat a potato—assuming vodka from the freezer doesn't count—is vichyssoise. Vichyssoise is a cold and deeply savory soup, like a smoother, creamier distant cousin of gazpacho or borscht. The thick, cold soup remarkably manages to be salty and thirst quenching at the same time. And contrary to its presumed Frenchness, the soup is completely American.
The story goes that a chef named Louis Diat "invented" the soup in 1917 at the Ritz-Carlton in New York. According to a New Yorker interview from 1950, Diat came up with the soup after remembering his mother's potato leek soup, which is served hot. He added milk and heavy cream and served his version chilled, renaming it Crème Vichyssoise Glacee, after the spa town near where he grew up in France.
The soup may only have passed for spa food in the first half of the last century, with the leeks first sautéed in butter, the potatoes simmered in chicken stock, and that milk and heavy cream, but it was a huge hit nevertheless. Diat tried to take it off the menu in cooler months, but customers requested it so often that it became a staple of the Ritz-Carlton. He went on to write several books and come up with many dishes that would become standards of the hotel menu (Chicken Gloria Swanson, Lobster Albert, and Fillet of Sole Lincoln, to name a few), but it was the recipe for vichyssoise that appeared in his New York Times obituary in 1957.
Many recipes for vichyssoise have since been printed in magazines and cookbooks, and the soup was wildly popular through the 20th century. My grandparents in rural Indiana made vichyssoise for their sons from the leeks, onions, and potatoes they grew in their garden in the 1950s and '60s. Most home cooks, until the age of the Vita Prep, could not achieve the silky consistency of soups and sauces found in fine restaurants. But since leeks and potatoes are naturally silky smooth when pureed and do not require straining through a chinois to achieve a uniform consistency, vichyssoise was a fancy soup that any home cook could make.
Even with a lighter type of dairy, or none at all, the soup has all the qualities of a modern summer staple. Julia Child's version simply simmers the vegetables in water and makes the cream optional. Her soup is very lean; I find a happy medium, sweating the leeks in butter or olive oil, cooking the vegetables in water, and using a little half-and-half to finish the soup.
I love serving vichyssoise at lunchtime or at early, sunlit dinners, preferably on a porch. If you're at the beach, serve it with some chilled shrimp or lobster salad. Crumbled bacon, snipped chives, and sour cream or crème fraîche are all good toppings, too. On the Fourth of July, top with stripes of blue cheese and tomatoes, as this is an American creation, after all.