The Vegetable Shop Around the Corner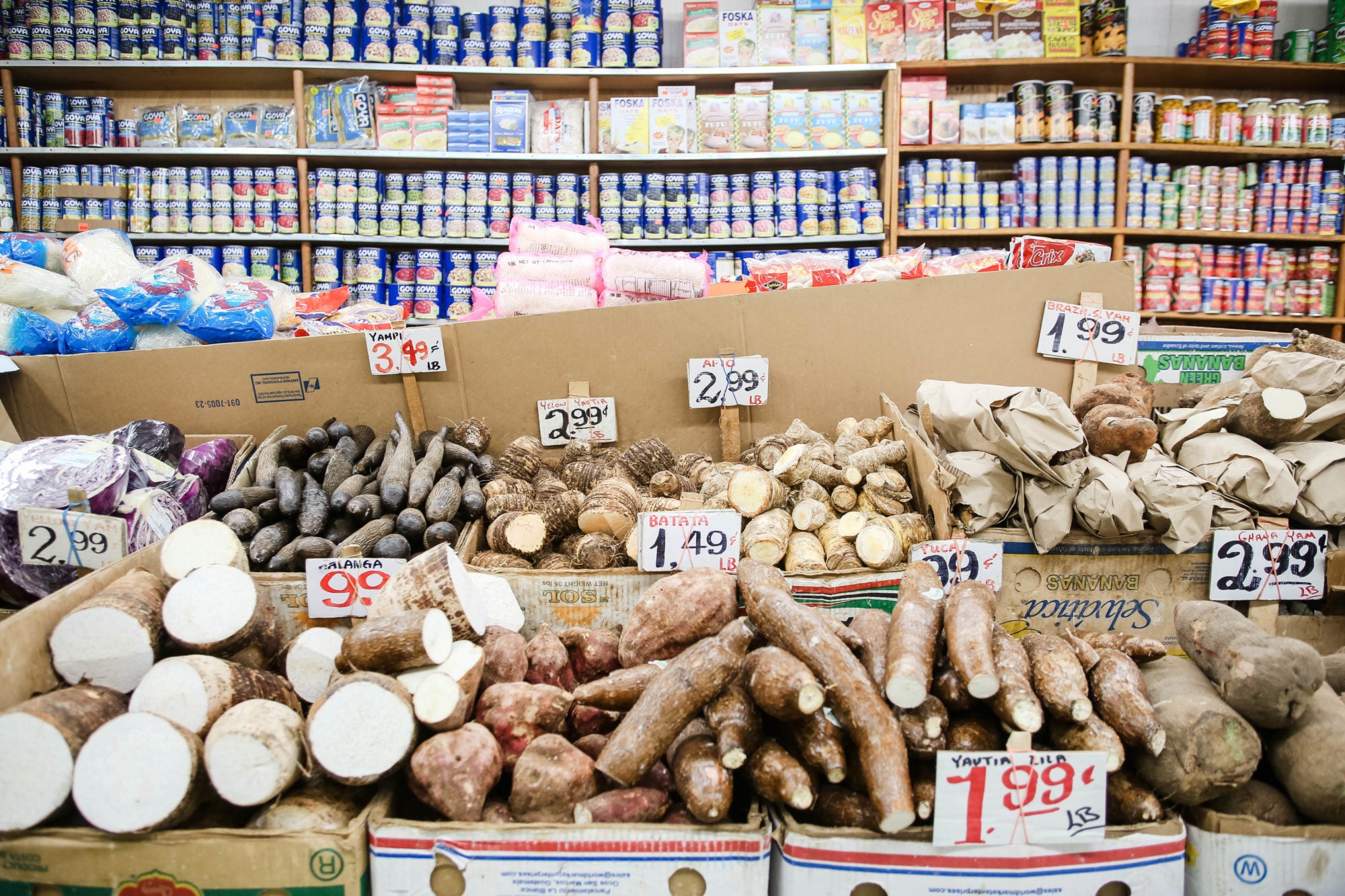 A tour of New York City produce markets reveals the connective tissue for a city of 8 million home cooks.
Every New Yorker has a favorite slice. A beloved bar. A routine coffee stop. Less talked about, but no less important to our daily lives, are New York's neighborhood fruit and vegetable shops, beckoning with their fluorescent glow and neatly stacked piles of colorful produce–bright orange persimmons, bulbous grapes, bouquets of herbs, and sliced melons in clamshells on ice.
Accessible prices, seasonal produce, pantry staples, and difficult-to-source Asian, Mexican, and South Asian ingredients are hallmarks of these family-run neighborhood markets. These markets often sell items representative of the neighborhood, but most small grocers in NYC are actually Korean-owned. After the Immigration and Nationality Act of 1965, many South Koreans emigrated to the U.S. and seized on the opportunity to open greengrocers and fish markets (stores with relatively low overhead costs) in neighborhoods without much access to fresh food. To compete with neighboring stores, Korean stores are often open long hours, some 24 hours a day. But as second and third generations gain prosperity and neighborhoods gentrify, these "stoop line" stands are either closing or appealing to new clientele alongside the immigrants they initially aimed to serve.
With produce and shoppers as diverse as the city itself, neighborhood greengrocers tell the stories of the food and people that make up New York.
K&Y Produce, Carroll Gardens, Brooklyn
In the traditionally Italian neighborhood of Carroll Gardens, Brooklyn, a small produce market sits on Court Street across from Union Market. But owner Seuk Hokand doesn't see the artisanal grocer as competition; he says Union Market draws the shoppers to Court, and they end up coming to shop at his store, too.
Seuk bought K&Y Fruit and Vegetable from his brother four years ago, who also owns a similar shop on Atlantic Avenue. They still purchase product together from Hunts Point Market every morning. K&Y sells mostly what you'd find at other grocers (hand-cut fruit, greens, potatoes) but an especially generous selection of herbs like Thai basil, cilantro, and garlic scapes. Seuk says he's gradually added more Asian pantry staples, like vinegars, dried seaweed, and noodles. Hiding in the back corner of the coolers sit 32-ounce jars of kimchi, which Seuk's family makes fresh on Sundays and sells for $6.99 per jar.
Street carts on Grand Street, Chinatown, Manhattan
Walk on Grand Street towards Bowery and you'll spot dozens of street carts selling a small selection of produce and nuts (and sometimes live fish). Yvonne, who declined to give her last name, has operated two street carts for 23 years with her brother. Her selection at the stand varies daily depending on availability—one fall day in October she sold red and green grapes, dragon fruit, hazelnuts, avocados, and pomegranates. The stands are open as long as it isn't too cold–even in the rain, with an umbrella and plastic tarps keeping the fruit dry. Yvonne isn't overly chatty, but she clearly has her regulars. She says over the years the community has changed and her "customer has moved out."
Durian NYC, Chinatown, Manhattan
Durian NYC on Bowery and Grand in Manhattan's expansive Chinatown specializes in Thai and Malaysian durian, soursop, and other seasonal tropical fruits. Durian, also called "king of fruits," is known for its fragrant, polarizing odor—in some public places in Southeast Asia, the sickly-sweet-smelling fruit is forbidden.
Jay Fan has operated Durian NYC for over a decade, selling durian (weather permitting) at his produce stand outside the Tu Quynh Pharmacy. Durian fruits are large, about the size of a cantaloupe, and range from $4 to $18 per pound. Jay Fan sells durian whole or freshly cut, where the pale, custardy flesh is gently scooped out in wedges and wrapped tightly in plastic.
Fresh Kim Market, East Harlem, Manhattan
George Kim, second-generation owner of Fresh Kim Market in East Harlem, emerges from the back of the store after doing inventory. "The store was my father's originally, about 40 years ago," he recalls. "As a little kid I was running around this place. Now I get to run the place." The Kim family owns the building, which George says has allowed them to stay open. The clientele has remained the same over the years, mainly Hispanic and Caribbean. The most popular products are root vegetables like yams, plantains, and avocados—plus Spanish ingredients for sofrito: cilantro, ajicito peppers, onions, and garlic. "I know what the customers need here; I know what they want. There are some customers who come in who say they remember my father. It's a mainstay in the community."

Mr. Melon, Clinton Hill, Brooklyn
Perhaps the most easily recognizable produce shops in Brooklyn are named after fruit. Misters Melon, Coco, Pina, Lime, Berry, Mango, and Lemon are owned and operated by five Korean brothers. After 10 years working in the grocery business, they started opening shops of their own in 2007. Most are open 24/7, feature a well-stocked juice bar, and carry a variety of local and organic items, too (Terra chips, Bob's Red Mill dry goods, GMO-free Masienda tortillas), appealing to younger, more food-conscious shoppers.
At one of the smaller shops, Mr. Melon in Clinton Hill, fresh fruits like grapes, kiwi, apples, and blood oranges are stacked in neat pyramids, marked by handwritten signs in the store's signature style. A new employee, who declined to give his name, said customers come because the prices are low, but they keep coming back because of the customer service.
On a typical weekend day, it seems like the whole neighborhood makes a visit to the juice bar–Africans from the Masjid Al Ihsaan mosque next door are in line behind new parents with strollers and kids in tow. The employee manning the juicer quickly chops fruit and vegetables to order, puts them through the machine, and offers the extra before snapping the lid on the plastic cup.
Markets on 37th Street, Jackson Heights, Queens

Jackson Heights is one of America's most diverse neighborhoods, home to active communities of South American, South Asian, and, more recently, Mexican immigrants.
Subzi Mandi (which translates to "produce market" in Hindi), owned by Queens resident Mina Reja, has one location in Jackson Heights and one in New Jersey. Open 24/7, Subzi Mandi's narrow aisles are crowded, and the lines are long. Like many nearby grocers, Subzi Mandi sells large bags of rice, lentils, and Indian groceries with not-so-locally-grown fruits and vegetables that may offer a taste of home for Bangladeshi, Indian, and Pakistani shoppers. Twenty-five-year-old young professional Samantha Habib says every South Asian family she knows shops there. Samantha was born in Bangladesh and now lives in Bay Ridge, Brooklyn, but she still drives 15 miles with her family to shop at Subzi Mandi for bulk spices, root vegetables, squash, and chiles, all at affordable prices.

Carib Market, Bed Stuy, Brooklyn
Hannah (who declined to give her last name), a Filipina and 12-year veteran cashier of Korean produce markets, talks about her experience in between ringing up customers at Carib Market in Bed Stuy, asking "Credit or debit?" and punching in prices without skipping a beat.
Echoing what other employees at produce markets have mentioned, Hannah says people keep shopping at neighborhood markets because of their quality, flexibility, and customer service: "We are special because we give special treatment to the customer."
Carib Market specializes in Caribbean foods like yams, peppers, Chief brand curry powders, and salt fish, plus fresh-cut fruit and flowers (chopped right before your eyes at all hours of the day on Fulton Street). It's telling that Hannah says she only shops for produce at Carib Market, even though she lives 25 minutes away in Ozone Park, Queens. "I don't buy fruits from outside–my produce is coming from here. I trust them."