Veganistan Isn't a Vegan Bible—It's Better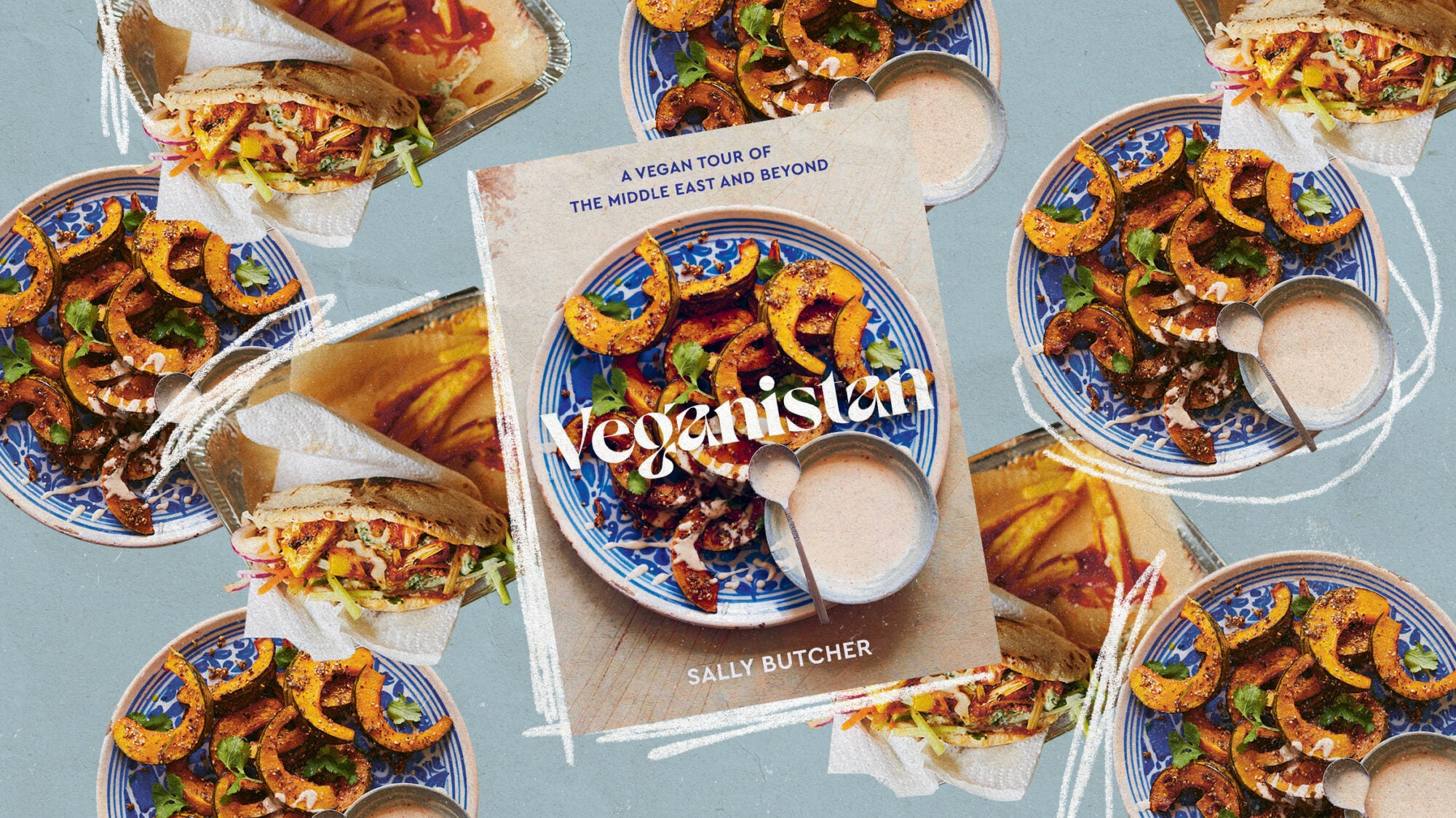 Meet Sally Butcher, the fiery London chef bringing plant-based Persian food into focus.
On a street corner in the South London neighborhood of Peckham stands Persepolis, a Middle Eastern foods shop painted canary yellow. Peer through the big front windows, and you'll find a pastry case filled with Turkish delight and crisp paklava, shelves stocked with dried barberries and jarred mango pickle, and a few tables and chairs occupied by happy diners. Back in the kitchen is Sally Butcher, recognizable by her signature halo of red curls, who runs the shop with her husband, Jamshid. 
"I had the advantage of spending a lot of time with my [Persian] mother-in-law, who is an excellent cook," Sally told me. "I learned Farsi and cooking simultaneously—food is an excellent way to communicate." 
Sally and Jamshid have been together for almost thirty years. They met while working at a small catering company and originally opened Persepolis as a grocery store in 2001, with the intention of moving on from cooking for strangers. It didn't last. "When you like hospitality, you like hospitality," says Sally, noting that Persepolis started serving food in 2012. 
Since then, "Mr. and Mrs. Shopkeeper" (as Sally refers to herself and her husband) have kept busy serving their corner of London. Peckham has historically been home to immigrants from many parts of the world while recently experiencing rapid gentrification. Over the years, Persepolis has become an integral part of that local community. It's hard to separate Sally from Persepolis, or Persepolis from Peckham. In Sally's words, "It's a bit cheesy, but living in Peckham is like living inside one big group hug. It's the most friendly and the most cosmopolitan neighborhood in the world."
The menu at Persepolis is packed with vegetarian dishes and peppered with Sally's wit—from mezze platters filled with falafel, spreads, and a surprise cheese puff ("enough for two normal mortals or one Mr. Shopkeeper") to drinks like a strong brew of Afghan green tea, which "separates the men from the boys."
It comes as no surprise that Sally has put her voice and her culinary prowess to good use in writing several cookbooks. Her first book, Persia in Peckham, featured recipes from Persepolis, and she has since published five more featuring Middle Eastern cuisine—in fact, the walls of Persepolis are plastered with their pages. I got in touch with Sally to speak about the US release of Veganistan, her first collection of exclusively vegan recipes.
For those who are unfamiliar with your work, who is Sally Butcher, in a nutshell?
Ditsy British girl falls in love with sensible Iranian dude and becomes fascinated by his culture—especially the cuisine. Together they open, first, a shop purveying the pick of Persia to the unsuspecting people of Peckham, and later, a restaurant. The books were a natural step—after writing newsletters about Persian and Peckham food for a number of years, it seemed logical to collate them all into a volume or two.
What compelled you to write a vegan cookbook?
I am not vegetarian—I am married to an inveterate carnivore—but I prefer vegetarian food, and we are serving more and more vegans in the restaurant. I felt so bad when they went to buy one of our cookbooks and they had to ask which one had the most vegan food in it. It must be pretty rough buying a cookbook where you can only cook half the food or have to adapt most of the recipes! So I decided that our vegan friends deserved a book of their own. Middle Eastern cuisine is all about the vegetables, beans, spices, and herbs, with the meat often being quite irrelevant to the overall flavor, so it is very easy to re-create vegan versions of many classic dishes.
Are there any recipes in the book that you want to specifically cite as translating well from meat-based to vegan?
I am particularly proud of the dizzee recipe. It's traditionally a chickpea stew that is all about the lamb. I have had a couple of comments from die-hard vegans along the lines of "Why do [you] mention the meat in the original recipes, as it is offensive?" My answer is that this is a book celebrating food, not a vegan bible!
What have you learned from developing plant-based recipes?
I've never really supported the idea of fake meat, but the idea of using vegan alternatives to showcase the amazing flavors of the Middle East was very alluring, so there is a whole chapter about seitan and vegan cheese and tempeh. All I can say is that tempeh is my absolute favorite protein these days—it has amazing texture, flavor, and marinade potential.
What kind of food did you cook and eat growing up, and does it inform how you cook for yourself?
I was never very domestic as a teenager—my family just laughed when I said I was dropping out of [university] to cook for a living. But my grandmother was a very good cook and made her own brawn (head cheese), pickles, and pressed tongue, so I learned a lot from her. If I am cooking for myself, I always end up cooking brown rice with some sort of vegetable combo and an insane amount of garlic.
Why are you so passionate about food?
Two things: First, I was anorexic when I was a teenager. Now I really appreciate the value of good food and feeding people and nurturing them. Second, my affiliation with Persian culture via Mr. Shopkeeper has made me even more passionate about hospitality. We pretty much treat the restaurant as our own dining room and the guests as guests in our home, so food is our way of expressing ourselves.
Cooking, running a shop, and writing books must keep you very busy. What do you enjoy in your free time?
I do work a ninety-hour week, but I also play hard. Mr. S. and I like to travel and eat out. I also enjoy exercise and am at my most motivated when training for something. Team Persepolis is currently training for a marathon (as in a proper twenty-six-mile) walk on the first of April in aid of the Alzheimer's Society.