The Vegan Jerky Industrial Complex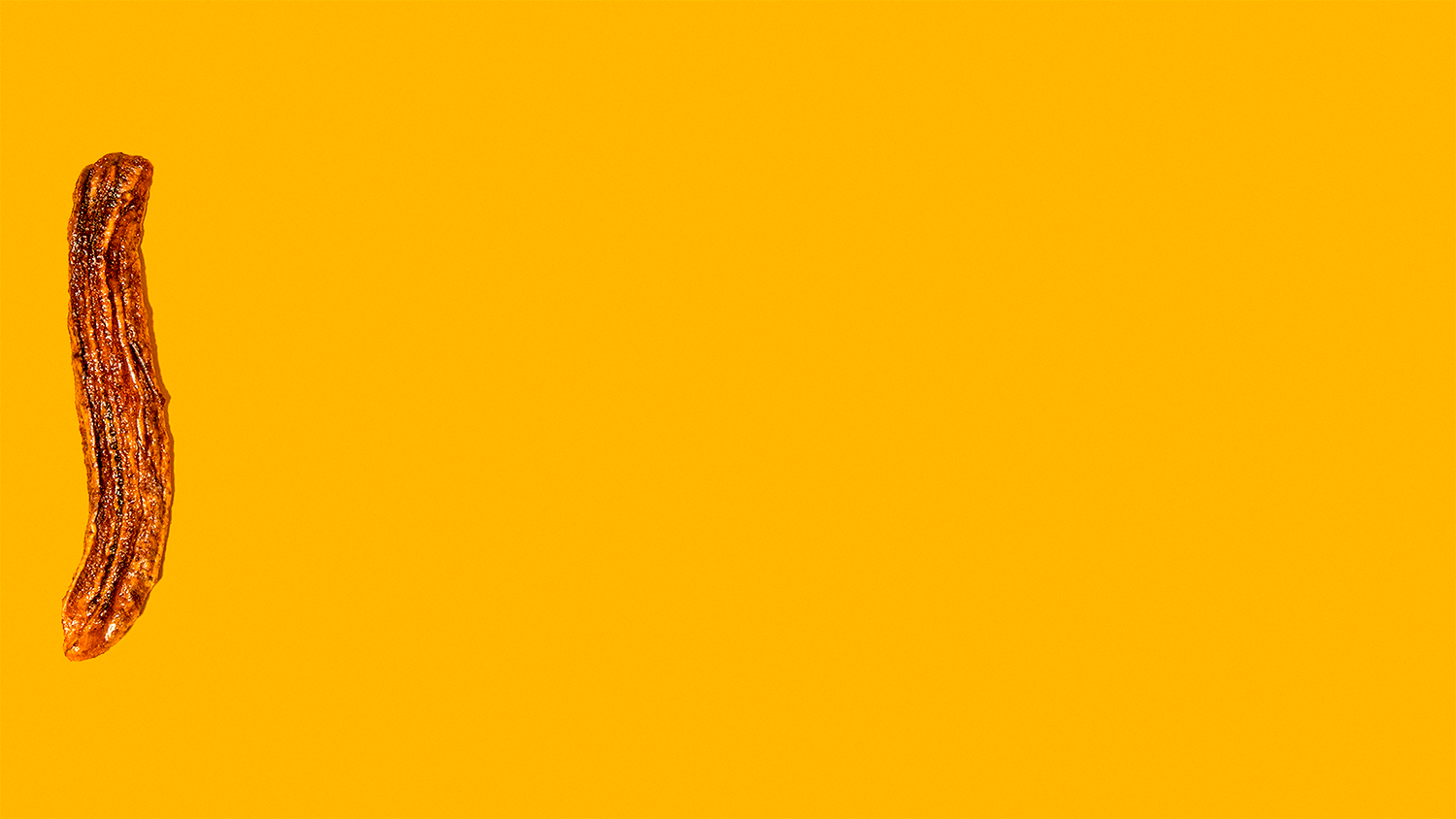 In an era of beef cynicism, every plant has jerky potential.
Gas station food. That's how jerky, for most of its life as a packaged snack, has been pegged. Skinny, plastic-wrapped sticks of mystery meat you grab at the nearest Mobil off the highway to fight off hunger during road trips.
But jerky is now something else entirely. It's culinary-forward and environmentally friendly. And as of late, it's not even meat! Glance at any higher-end grocery-store snack shelf, and you'll find jerky made of watermelon, mushrooms, coconut, and…kelp.
The great jerky boom of the past decade can largely be traced back to one company: Krave. Founded in 2009 by a California winemaker, Krave transformed jerky into a healthy, high-protein, and artisanal meat snack (made from grass-fed cows, baby!) at a time when people had never been more interested in eating in a way that ticked those specific boxes. Also, instead of marketing only to men, as most jerky companies had in the past, Krave included men and women in its ads. 
"Krave opened the door for jerky in the mainstream," says Seth Syberg, who founded Foreal Foods, purveyors of coconut jerky. "It wasn't just something you ate on a road trip. It was part of an active, healthy lifestyle."
As handcrafted beef jerky was rising, so, too, was the plant-based movement—with popular companies like Beyond Meat and Impossible Foods growing into billion-dollar businesses. By the 2010s, plant-based snacks were everywhere. Veganism was hardly a fleeting fad; it was here to stay, as more studies were showing that eating meat was a large contributor to not only animal cruelty, but also heart disease and climate change. A new division of snacks emerged that sought to blend the wokeness of the plant-based category with the sporty lifestyle promoted by the jerky category. Entering the center of the Venn diagram: plant-based jerky.
Syberg found coconut jerky when he decided to go vegan and was experimenting with dehydrating various non-meat ingredients. He was looking for a vegetarian, gluten-free, and soy-free snack that mimicked the "satisfying chewing sensation and the combination of fat and salt" that he loved in meat jerky, and he knew of others who had successfully dehydrated young coconut meat. In 2014, he created a very basic Kickstarter page to see if there might be any interest in his coconut-based product, made the exact same way as meat jerky—and within a week, he had easily hit his goal of $10,000.
Michael Pan first encountered mushroom jerky in 2008, when he was visiting family in Malaysia. His cousin made him a snack of marinated, dehydrated mushrooms that closely mimicked a meaty texture; mock meat culture has been around for centuries in Asia, he says. He saw the word "jerky" as defined less by meat and more by a mentality—something "that fits the need when you need something quick on the go, when you are doing something exciting or strenuous." His cousin's dehydrated mushrooms fit perfectly into that category. He launched his company, Pan's Mushroom Jerky, a year later.
Courtney Boyd Myers, the chief executive of Akua, which sells kelp jerky, says she specifically associates jerky with protein; kelp is one of the few high-protein plant alternatives that isn't soy-based—and it's sustainably farmed. "That story wasn't as compelling if we called it 'kelp leather,'" she jokes.
When these products first launched under the name "jerky," much confusion ensued. Syberg remembers posting up at vegetarian food festivals and encountering customers who saw the "vegan coconut jerky" sign at his booth and still asked if there was meat in his product. Boyd Myers always sees comments on her company's Instagram posts that read, "It's not jerky unless it is a dead animal."
But as so many more of these companies have emerged, the market has educated itself. Pan's Mushroom Jerky is now sold in 700 stores. Visit any airport kiosk or magazine shop—big jerky sellers—and you will spot multiple varieties of plant-based jerky. Trader Joe's, one of the most beloved grocery stores in the country, introduced its own private-label watermelon jerky earlier this year. There are so many plant-based jerky companies that there's now a WhatsApp group for all the founders to chat and commiserate, Boyd Myers says.
Jerky ties neatly into a lot of popular diets—paleo, low-carb, vegan, gluten-free, soy-free. But what these company founders have learned is that they don't need to go after niche sectors as they once did when they first started out. They can think more broadly.
"There is a larger segment of people who are just willing to reduce their meat intake more often and eat sustainably," says Pan. "Our core customer used to be vegans. These people are not vegans." Case in point, a few of them note: You can now find plant-based burgers in Burger King. This kind of eating is no longer a fringe movement, or only popular in California and New York—it's been normalized, and it's everywhere.
So if vegan jerky has entered the mainstream, the question, then, is about placement. If jerky and plant-based eating are both trendy in different ways, in which category does plant-based jerky belong?
Syberg admits this is one of biggest challenges: figuring out which section of the grocery store should stock his jerky. It used to be placed in the raw section, "and then the raw diet fell out of favor." When moved next to traditional meat-based jerky, "that is where we did the worst," he recalls. Now that there are so many plant-based jerky products, he's hopeful that there will soon be a whole section for them. It'll become an entirely separate division, for health-conscious, snack-seeking omnivores.
It's evidence of where things are headed, says Maya Feller, a registered dietitian and nutritionist: a world where there's not a single non-plant-based food product that you can't find a plant-based version of in your average grocery store. Even for meat.
"It's all fair game," she says. "I don't think that's necessarily a bad thing."