Vanilla's Savory Star Turn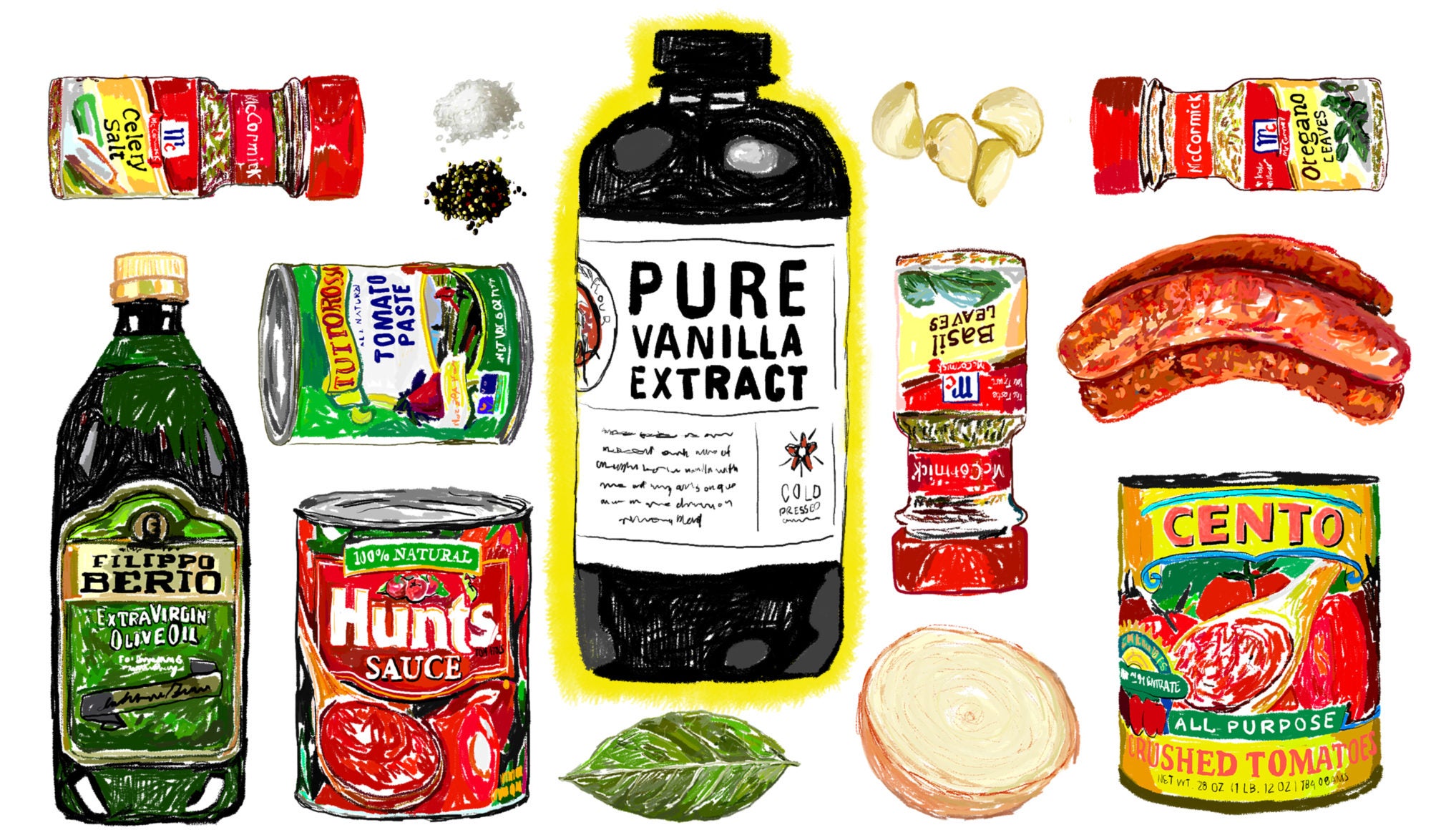 We eat it in ice cream and birthday cakes so much we hardly notice it, but vanilla is massively underrated as a savory flavor enhancer.
As any seasoned baker will attest, adding vanilla extract to pastries and desserts lends a rounder, softer sweetness than sugar alone, and—much like salt—acts like a flavor enhancer. But what fewer people might know is that vanilla has the same abilities to bring out savory flavors.
At the Walrus and the Carpenter in Seattle, executive chef Bobby Palmquist has long served a deceptively simple sliced tomato salad, slicked with vanilla-infused olive oil and sprinkled with salt. More recently, he flavored a spot prawn crudo with vanilla fleur de sel and coffee oil, and glazed baby beets with vanilla before tossing them with blue cheese and walnuts. At Bellemore in Chicago, chef/partner Jimmy Papadopoulos caramelized salt-baked celery root with fresh celery root juice before emulsifying it with butter and vanilla, which he paired with roasted venison and a tart summer-berry preserve on the winter menu.
Beth Nielsen, a third-generation vanilla maker, has tried adding vanilla to just about everything she bakes, braises, and stir-frys—entering both sweet and savory territory. You might expect that as someone who has spent a lifetime cooking with the ingredient, she would have some grueling tales of experiments gone awry. But when I ask the co-owner of Nielsen-Massey, a Chicago company that makes vanilla extract, about this, she pauses for a good 30 seconds to search her mind, then says, "Maybe once I put a little too much vanilla in a fish marinade and overpowered it."
In home cooking applications, the use of vanilla in savory dishes most often results from someone seeking a sugar substitute in a pinch. Yet Nielsen maintains that vanilla lends flavor-boosting sweetness to low-and-slow braises like spicy pork carnitas and wine-braised short ribs, and it rounds out the saccharine elements of smoky-sweet chipotle-apricot BBQ sauce. "I call vanilla Mother Nature's MSG," she says. "With pasta sauce, vanilla amplifies the oregano, basil, and everything else in the sauce without people saying, 'Oh, there's definitely vanilla in here.'"  
Because of the sugar content and high concentration of alcohol (35 percent minimum), adding a teaspoon or two of vanilla extract to an oil-and-vinegar marinade for flank steak doesn't just meld all the flavors. "That little bit of sugar and alcohol in the extract adds a touch of caramelization—almost encapsulating the protein and holding in the juices," says Nielsen.
Although Nielsen claims to rarely measure out vanilla in any form, she's a bit more exacting when using extract in raw or cold savory recipes, when the alcohol can come off as harsh or bitter. Just a half teaspoon goes into her cider vinegar– and Dijon-based coleslaw dressing, its acidic companions tempering the alcohol's bitterness. Or she'll mix one part vanilla to three parts balsamic vinegar in salad dressing or in a spicy, cumin-scented gazpacho with roasted vegetables.
In more delicate dishes, like raw zucchini salad with blackberries, mango, and feta, she'll whisk vanilla bean paste into a tangy-sweet vinaigrette with honey, Dijon, and white wine vinegar. Or slather it on smoked salmon, which she nestles into egg tartlets with crème fraiche, dill and green onion. And in the other 99 out of 100 times in which she correctly measured the vanilla in the marinade for a delicate piece of fish along with garlic, olive oil, salt, and pepper, then slid it under the broiler, it's resulted in a buttery, dulcet Mediterranean-inspired dinner.
If you use vanilla beans rather than extract, you can chop up the spent pods as Nielsen does and toss them into the garden to keep spiders and feral cats away, and to attract honeybees.
"It's funny—I'll see people through my kitchen window walking by stop, pick up my mulch and put it to their noses," she says. "I assumed everyone had vanilla bean mulch, just like I thought everyone put vanilla in their tomato sauce."