Uri Scheft Wants You to Bake More Bourekas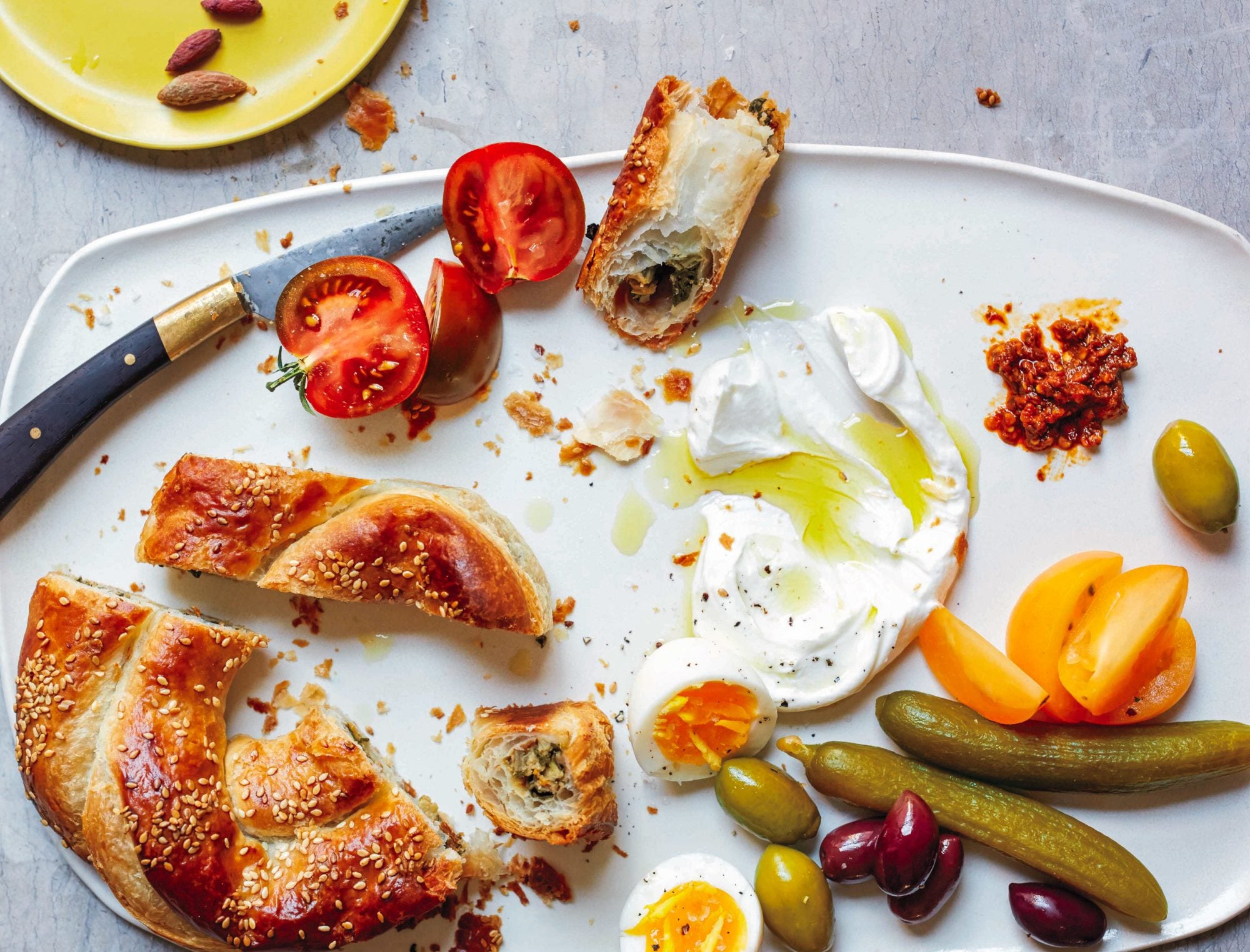 Baker Uri Scheft is one ballsy guy. And right now, for the Israeli-turned-New Yorker, that means challenging the bagel head on. That's right: If Scheft had his way, the people of New York would be eating bourekas by the dozen instead.
That's the case Scheft makes in his new baking book, Breaking Breads (Artisan). In Breads, a colorful collection that contains recipes for Israeli braided challah and French-inspired stuffed brioche buns, Scheft writes that the flaky puff pastry pockets have historically been a popular food for those on the go—beloved by workers looking for a midmorning snack and kids hungry after school.
Scheft is a famous baker in both his native Israel and his adopted homeland of New York: The almond croissant at his Lehamim Bakery in Tel Aviv has a very loyal following, and his chocolate babka at New York City's Breads Bakery is a thing of legend. Before meeting me on a recent fall day, Scheft had just eaten the warmed cheese bourekas. He loves them with all types of fillings, he says, but it is his feta, sour cream, and cream cheese version that is his favorite.
"If you understand the recipe's concept, then you can play around with it."
Shaped according to their filling and stuffed with everything from mashed potatoes and spinach to mixtures of salty-firm and mild-soft cheese, Scheft thinks that bourekas best reflect Israel's changing attitudes toward food. In the past few decades, they have become increasingly mass-produced and made of poor-quality ingredients. In Israel, you'd describe a cheap movie as a "boureka film." But recently, as Israeli chefs and food writers have looked inward and a movement to revitalize food traditions has gathered steam, there's been a push to Make Bourekas Great Again. Scheft originally didn't sell them at his Tel Aviv bakery when he opened it in 2002, but when customers began asking for them, he realized he had an opportunity to rescue the baked good from its industrialized past.
"I thought, bourekas don't have to be cheap," he says. "Puff pastry with good cheese filling can be good, and I realized I could bring back the original way they were made."
In his book, he includes a handful of boureka recipes, all of which feature store-bought puff pastry (a decision he explains by reasoning that there are many quality prepackaged brands on the market) and relatively simple fillings. There are the classics, like cheese or spinach, as well as one with Swiss chard and sharp Kashkaval cheese (recipe below). Sheft wants to speak to home bakers who are excited to play with recipes, he says—he isn't out to intimidate or preach formulas.
"If you understand the recipe's concept, then you can play around with it," he says. "If you want to make a boureka with Gouda, you can. A lot of great things happen by mistake."
SWISS CHARD AND KASHKAVAL BUREKAS
Makes 5 burekas
Kashkaval is a semi-hard sheep's-milk cheese that has an assertive, sharp flavor. It is common to Romania, Greece, Turkey, and other Balkan countries; if you can't find it, substitute a young pecorino-style cheese instead. These burekas are formed into large oval-shaped snails; however, you can make them into rectangles or triangles if you prefer smaller burekas.
INGREDIENTS
1 bunch Swiss chard (preferably rainbow chard)
3½ ounces fresh spinach leaves
1 tablespoon extra-virgin olive oil
½ yellow onion, finely chopped
1½ celery ribs with leaves, thinly sliced
½ tomato, chopped
2 garlic cloves, minced
Zest and juice of ½ of lemon
⅛ teaspoon dried red pepper flakes
Freshly ground black pepper
¾ teaspoon fine salt, plus a pinch for the egg wash
1 large egg
1 tablespoon water
All-purpose flour for rolling the puff pastry
1 pound store-bought puff pastry
1⅓ cup Kashkaval cheese
DIRECTIONS
1. Separate the chard stems from the leaves. Trim off and discard the tough ends of the stems. Cut the remaining stems in half crosswise, and then thinly slice them lengthwise to make thin matchsticks. Stack the Swiss chard leaves and slice them into 1-inch-wide ribbons. Repeat with the spinach leaves.
2. Heat the olive oil in a large skillet over medium heat. Add the onion, celery ribs, and leaves, and the chard stems and cook, stirring often, until the onion and celery are very soft, 5 to 8 minutes (if the onion starts to brown, reduce the heat to medium-low).
3. Stir in the tomato, garlic, lemon zest, red pepper flakes, and black pepper and cook, stirring often, until the tomatoes become juicy and are starting to break down, 2 to 3 minutes. Add half the chard leaves and cook, stirring, until they begin to wilt, then add the remaining chard leaves. Repeat with the spinach leaves, and once they wilt, stir in the lemon juice and the salt (see Note). Transfer the mixture to a medium bowl and let it cool completely (you can refrigerate the mixture for a few hours to get it extra-cold). Note: Taste your cheese for saltiness before salting the filling. Some types of Kashkaval (like feta) are saltier than others, so keep this in mind when seasoning the sautéed vegetables. You can always add more salt, but it's difficult to take it away.
4. Place the cooled filling in a sieve and drain off any extra liquid, lightly pressing down on the vegetables to extract even more moisture (but don't mash them). In a small bowl, beat the egg with the water and a pinch of salt to make an egg wash. Lightly flour your work surface and set the puff pastry on top. Lightly flour the top of the pastry, and then roll it into a rectangle approximately 20 by 12 inches and 1/16 inch thick, with a long side facing you. Working quickly so the dough doesn't warm up, divide it lengthwise into 5 equal strips (each about 4 inches wide). Brush the strips of pastry with some of the egg wash. Spoon about ½ cup of the filling down the center of each strip, and top the vegetables with a generous ¼ cup of the crumbled Kashkaval. Reserve the remaining egg wash.
5. Fold the right edge of each strip over the filling to meet the left edge, and press the edges together to seal. If the dough starts to become sticky or difficult to work with, place it on a sheet of parchment paper and chill it until it firms up. Turn each filled strip over, seam-side down. Shape each strip into a U-shaped spiral, and place them on a parchment paper–lined rimmed sheet pan (leave space between the spirals so the sides can brown). Refrigerate the burekas until they are chilled.
6. Preheat the oven to 400°F.
7. Brush the burekas with the remaining egg wash and bake until they are golden brown, 30 to 35 minutes. Remove from the oven and serve warm or at room temperature.
Recipe excerpted from Breaking Breads by Uri Scheft (Artisan Books). Copyright © 2016. Photographs by Con Poulos.