For Unusually Good Butter, Just Add Skyr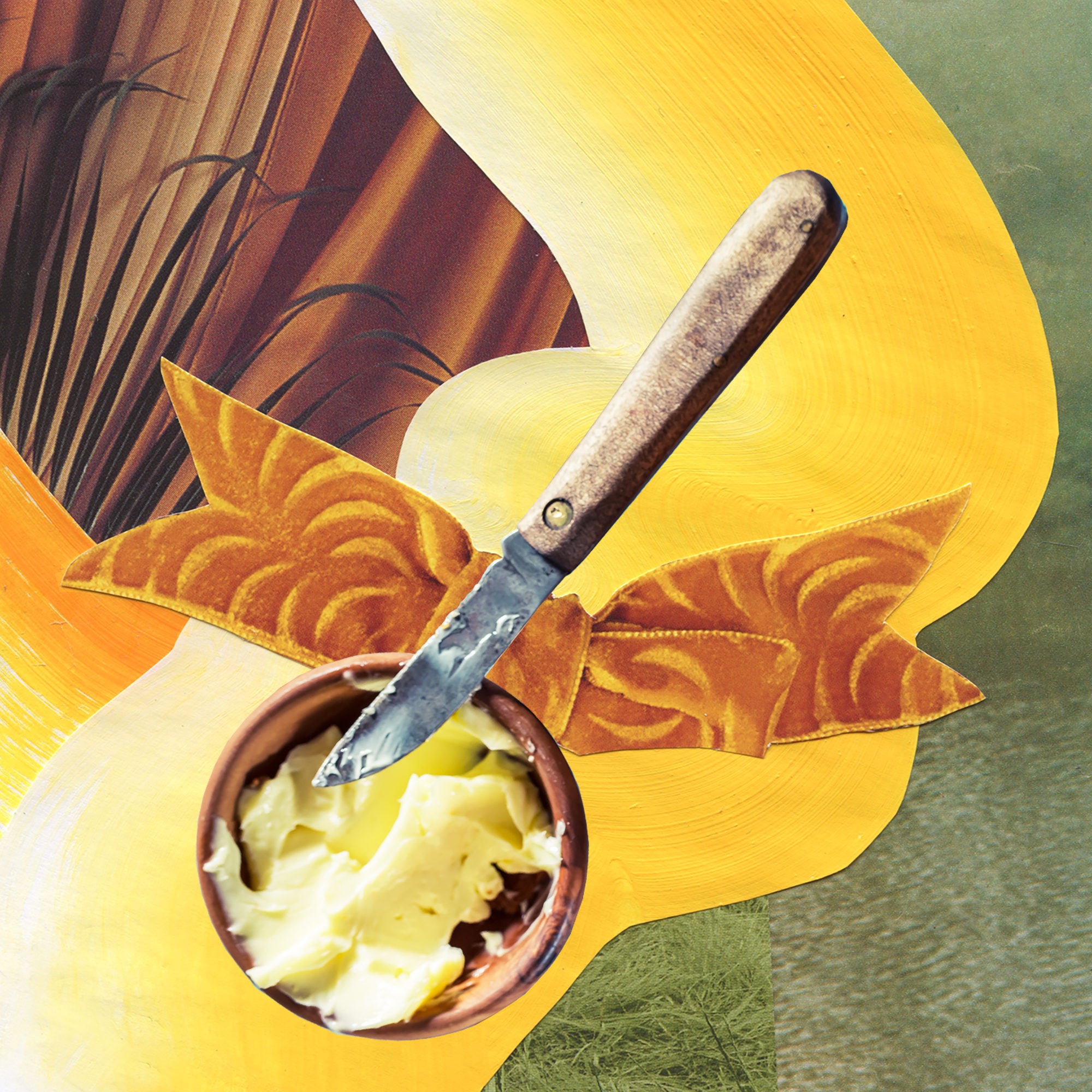 Making cultured butter at home is a three-ingredient party trick.
Sure, I've always known that you can beat heavy cream until it turns into butter. But I've never really understood the point, aside from entertaining small children at living-history museums, or reenacting a kitchen scene from a Laura Ingalls Wilder book.
Then I learned to make cultured butter—and its by-product, buttermilk—and now can think of few other cooking projects that require so little work for such an enormous payoff in flavor. Several hours of mostly passive time and a few messy minutes gets you gloriously tangy, creamy butter that will turn your morning toast into a luxury—as well as homemade buttermilk that you can use to perk up pancakes, biscuits, smoothies, and more.
Unlike most mildly flavored American butter, which is made from simply churning cream, the higher-fat cultured butter is made from adding live bacteria to cream—as easy as hitting the yogurt aisle for a tub of skyr, a thick Icelandic yogurt that has taken American grocery stores by storm in recent years.
Then just wait: The mixture will ferment until it thickens and develops that tang. After fermenting, you pour the whole thing into a food processor and whip until it thickens into butter, separating out the excess liquid.
Cultured butter has long been popular in European countries like France, but more American creameries, home cooks, and restaurant chefs are now embracing it. One of them is chef Dan Richer, a multiple James Beard semifinalist. The New York Times recently bestowed a rare three-star review on his Razza Pizza Artigianale in Jersey City, asking, "Is New York's Best Pizza in New Jersey?" But before that, Richer was known in the business as the "Jiro of breadmaking and butter."
His butter at Razza is magical—yellow as a daffodil and tangy as a good cheese, served in a soft dollop under a shower of sea salt. But when asked about his process, Richer simply sent me to buy skyr and the best heavy cream I could find.
While you can culture cream using most yogurts or buttermilks, Richer likes to start with an heirloom bacteria culture, which can remain active for as long as it is fed, even for multiple batches of butter. Several types of powdered, dehydrated heirloom starters are available on Amazon and other web sites, but Richer recommends the more accessible skyr for first-timers.
If conventional cream is all you can find, Richer says the culturing process is still worth the trouble. When I gave the skyr-cultured butter a try with conventional cream, the flavor still far outshined the store-bought sticks in my fridge. The resulting butter beautifully gilded bread and made outrageous cookies.
But when I tried the process with grass-fed cream from a local creamery, the result was even better. I mixed a carton of skyr into the cream and let the mixture sit overnight. The next day, I dumped it into a food processor and watched it churn into whipped cream, then separate into buttermilk and a glorious butter that was just as brightly colored and cheese-like as Razza's.
Kneading and washing the remaining buttermilk out of the butter may be messy, but it takes only a few minutes with cheesecloth or a fine-mesh strainer, ice water, and a spatula. After using a little bit of cheesecloth to strain off as much liquid as possible, you submerge the butter in a big bowl of ice-cold water, and knead it for a few minutes, until any remaining buttermilk has been squeezed out. You can skip some of the washing process for a uniquely milky butter, but unwashed butter will go rancid quickly, so you have a shorter window of time to eat it.
And even if it weren't for the great butter, it's all worth it just to get the pungent buttermilk. It packs far more punch than the buttermilk you can buy in grocery stores—which is made by adding cultures to regular milk—and it's an important tool in Richer's kitchen. He uses it to soak leftover bread before mixing it into his delicate meatballs. I used mine in cake, pancakes, chia-seed pudding, and smoothies, all with thrilling results.