Ube Halaya: Spread It, Mix It, Eat It by the Spoonful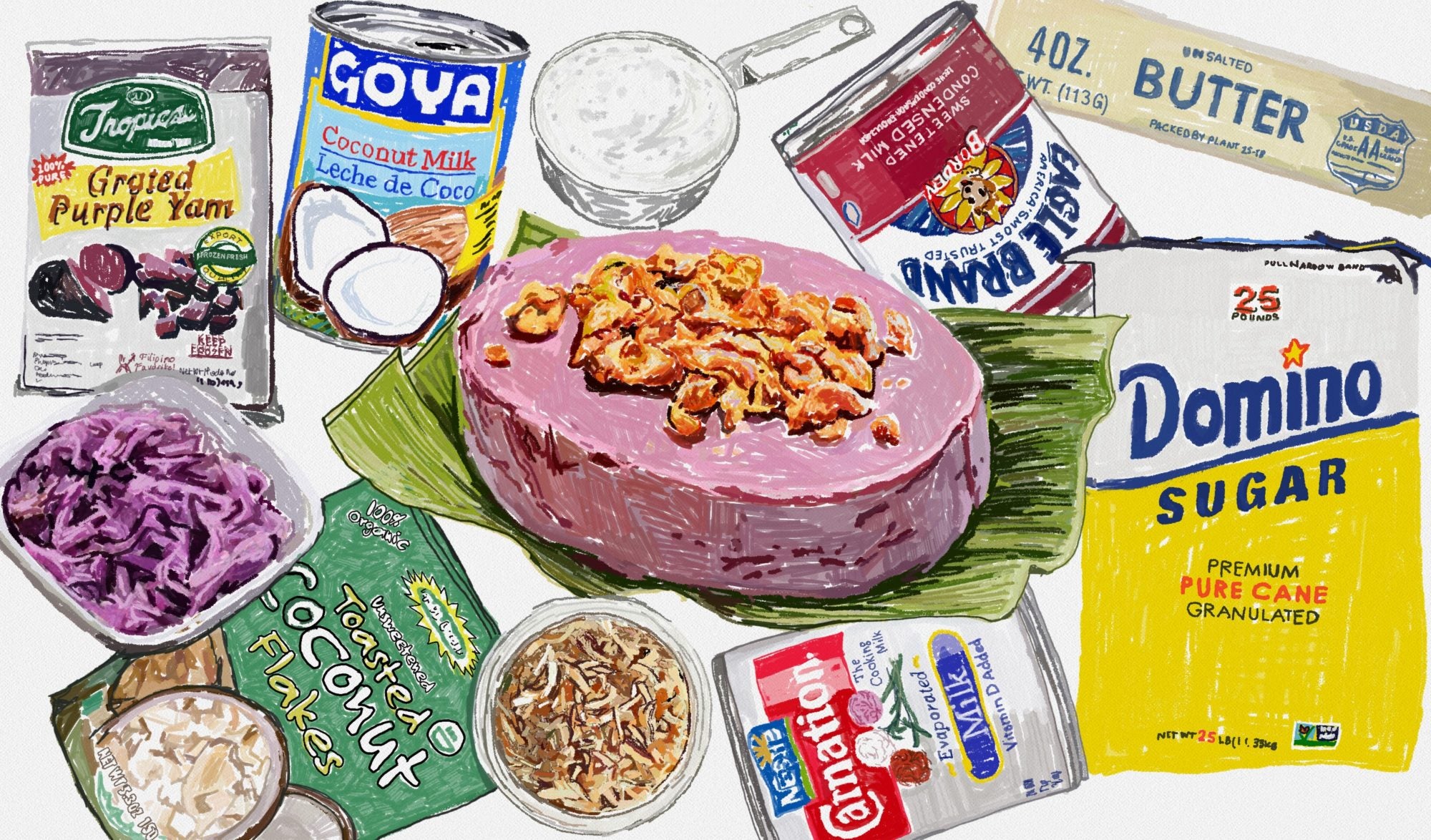 It's impossible to talk about Filipino desserts without bringing up ube, the starchy, can't-believe-that's-not-food-coloring purple yam.
Walk into any Filipino market and the unmistakable ube violet pops up at every corner. Plastic square tubs of ube ice cream emblazoned with "Best of the Philippines" sit in a freezer case, baskets are filled with ube ensaymada—a sweet bread roll topped with cheese and filled with the yam paste—and purple-frosted chiffon cakes adorned with jewels of glistening macapuno are perched behind a pastry case. But while its appearance is loud, its flavor is quite gentle, often likened to an earthier vanilla or less saccharine version of white chocolate.
Sadly, my trips to Filipino markets are few and far between (I split the blame between laziness and bad MTA weekend service). So when I do make the trek to Woodside, a neighborhood in Queens home to a Jollibee and countless rows of Filipino markets, restaurants, and bakeries, stocking up on fresh links of longanisa and ube-stained cakes is a given. But when that supply eventually runs dry, I depend on the cans sitting on my kitchen rack and frozen packet of ube in my freezer to make ube halaya.
Ube halaya is the purple yam in its most versatile form: a thick, spreadable jam. It's ready to spread on golden rolls of pan de sal, dress up a drab scoop of vanilla ice cream, or just be eaten by the spoonful.
Like most fussy Filipino titas would insist, a proper ube halaya should be homemade. Premade jars are shelf-stable and use a pared-down mix of ingredients—just ube, sugar, and water. Homemade integrates canned milk and butter, which give the ube halaya a creamier consistency and deeper flavor. The ube is still front and center but gets amplified by its foundation of rich dairy products.
Sourcing fresh ube can be finicky even at Filipino markets, so buying a packet of frozen grated ube gives you both leniency and time saved on boiling the fresh yam down to mash it. The rest comes down to having a supply of easily accessible items: cans of coconut milk, evaporated milk, and condensed milk, plus butter and sugar. Once mixed together, this watery blend gets thickened over heat for about 30 minutes, then cooled in a shallow dish. It can be eaten by itself, just like a super-rich pudding, topped with latik (crisped-up coconut milk curds) or a packet of toasted coconut flakes, or scooped into glass jars to sit alongside other jellies and infused butters in the fridge. From there, you can use it as a spread, filling, or topping for virtually any dessert, from an icy tower of halo halo to the custardy inside of doughnuts to an empty pie crust's blank slate.
While ube isn't considered a "speciality" ingredient to me, the lengths I go to find it make it seem that way. But taking that one harder-to-find ingredient and mixing it with items found at nearly any corner shop or grocery store is not only rewarding but feels like a simple luxury, often savored by the spoonful.