Turning the Upside-Down Cake on Its Head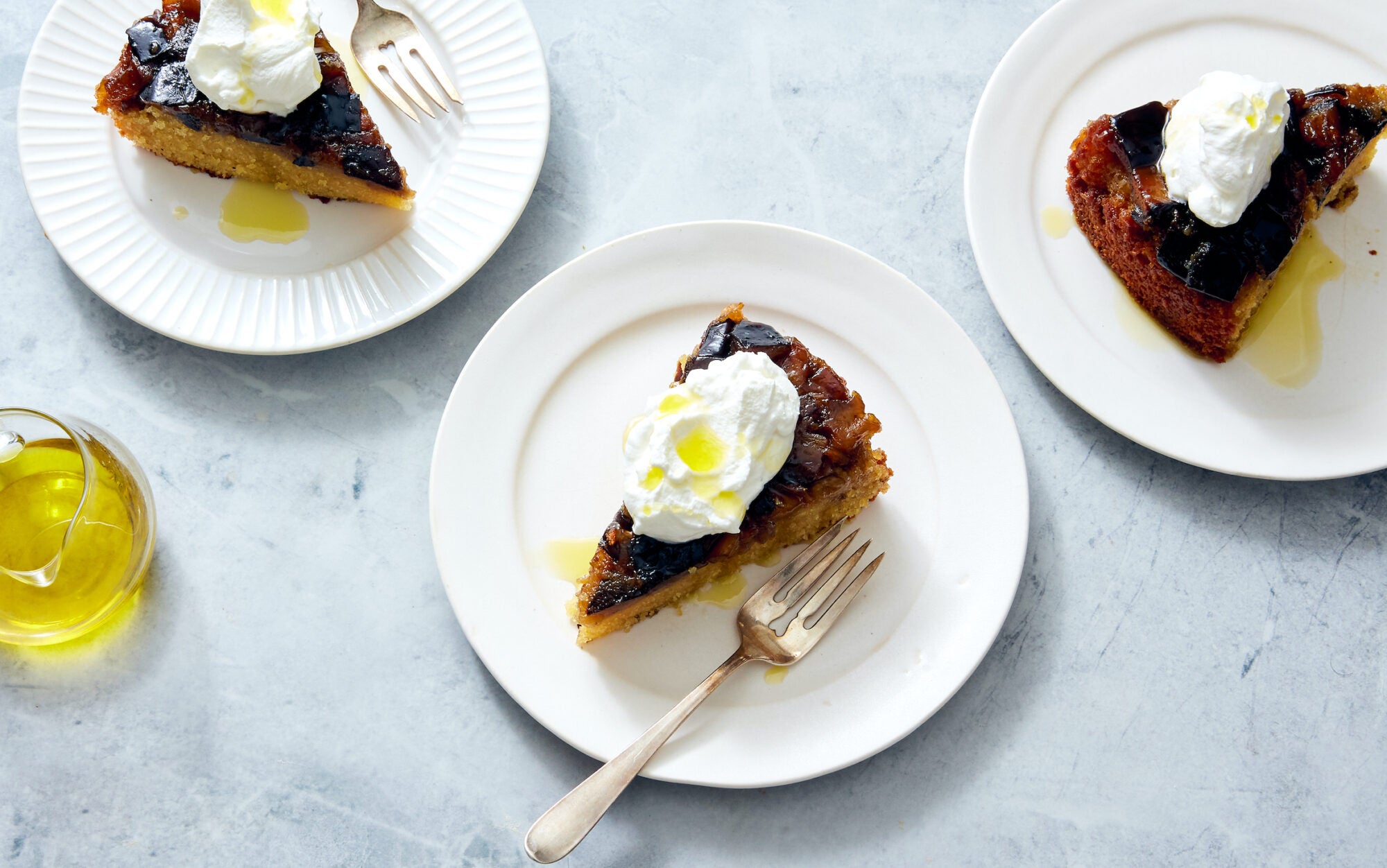 Caramelized and coffee-infused, eggplant makes a perfectly sticky topping for olive oil cake.
It's rare that the vegetable in a vegetable baked good steals the show. Carrots are usually shredded and folded into batter, as are zucchini; pumpkin is pureed and showered with cinnamon and clove before being made into breads, pies, and cakes. By contrast, the eggplant upside-down cake served at Jesse Martinez's Portland restaurant, Gumba, displays the formidable nightshade front and center. However startling it may be, the recipe isn't so much a case of getting away with eggplant as dessert but of pulling it off. The eggplant, in fact, steals the show.
Rich, caramel-coated cubes of eggplant make a jammy layer across the cake's surface, covering a moist olive oil cake below. Curious and a bit skeptical, I brought a slice home after a visit to the restaurant, then immediately devoured it. As I scoured the crimped-edge to-go tin for hidden crumbs and licked the whipped cream from my fingers, I began to wonder why more desserts aren't made with eggplant.
The idea came to Martinez while sautéing eggplant for caponata, the sweet-and-sour Sicilian cousin to ratatouille. Roughly five years ago, when his pasta-focused restaurant was still a food cart looking to carve out its place in the world, he noticed the sweet caramel aroma coming off the roasting eggplant and filling his tight-quartered truck. The bouquet lingered, and his mind raced with ideas for eggplant desserts. He's held strong to the concept ever since; in fact, the outré dessert has become a signature of the restaurant—one of his most requested recipes.
Generally, upside-down cakes don't feature eggplant. They're not historically vegetable-laden, but they do accommodate pretty much anything you can think of throwing at them. The most classic is pineapple, an icon of 1920s Americana that flaunts (usually) boxed cake mix, canned pineapple rings, and a literal cherry on top—the edible representation of a Wayne Thiebaud painting. Rhubarb versions haunt Instagram every spring with their braid of fuchsia spears. And sticky wheels of winter citrus crown the Italian variety: a turned-out olive oil cake that sports a built-in marmalade.
Martinez's recipe swaps those orange slices for a sticky crown of diced eggplant. He leans into the molasses notes evoked by the roasted vegetable and substitutes the deep caramel character of brown sugar for some of the white sugar in the cake's batter. To offset the richness and balance the flavors, he spikes the cake with tangy buttermilk and the eggplant with a hint of coffee.
Eggplant for dessert is admittedly a tough sell, but it's not an entirely new concept. In 2018, coauthor of The Farm Cooking School Ian Knauer created a recipe for chocolate eggplant cake to use up an abundance of eggplant from his farm after a particularly good season. And during the mid-August harvest holiday of Ferragosto, on the Amalfi coast, melanzane al cioccolato, or "chocolate eggplant," is all the rage. Essentially, melanzane al cioccolato is an eggplant parmesan that swaps chocolate sauce for tomato and candied fruits and nuts for parmesan cheese and parsley.
Martinez wasn't familiar with the chocolate-enriched eggplant parm—I imagine many aren't—but, like its creators (Augustinian nuns or either Atrani or Tramonti monks, depending on who you ask), he wanted to showcase the tender vegetable's custardy texture, which he finds "perfect for dessert." He wants you to know you're eating an eggplant dessert, not to sneak one past you.
Smuggling in an extra helping of vegetables is a common motivator for pastry chefs taking on the nutritional irony of vegetable cakes. Classics like sweet potato pie are turned into carrot pie, swapping one vegetable for another; the drama of a beet's intrinsic dye lends itself to health-forward takes on red velvet cake. Vegetables can serve as a foil to offset the guilt of an indulgent dessert, perhaps to use up an abundance of produce like Knauer's recipe or, as Martinez points out, as a novelty: "to have something provocative to share at a dinner party."
The cognitive dissonance of staring down an amber-hued cube of eggplant on the end of my fork and feeling the warm satisfaction of dessert in my stomach lasted only a bite. I wasn't duped ("You'd never know it was eggplant!"), but rather enamored ("An earnest vegetable cake!"). The eggplant wasn't shredded, pureed, or folded in any which way, yet still—it was dessert. The sweet aroma Martinez had first noticed was present. The edges were rounded, but I knew I was eating eggplant for dessert—and it wasn't for novelty's sake.