Turn Your Tomatoes Into Tomato Salt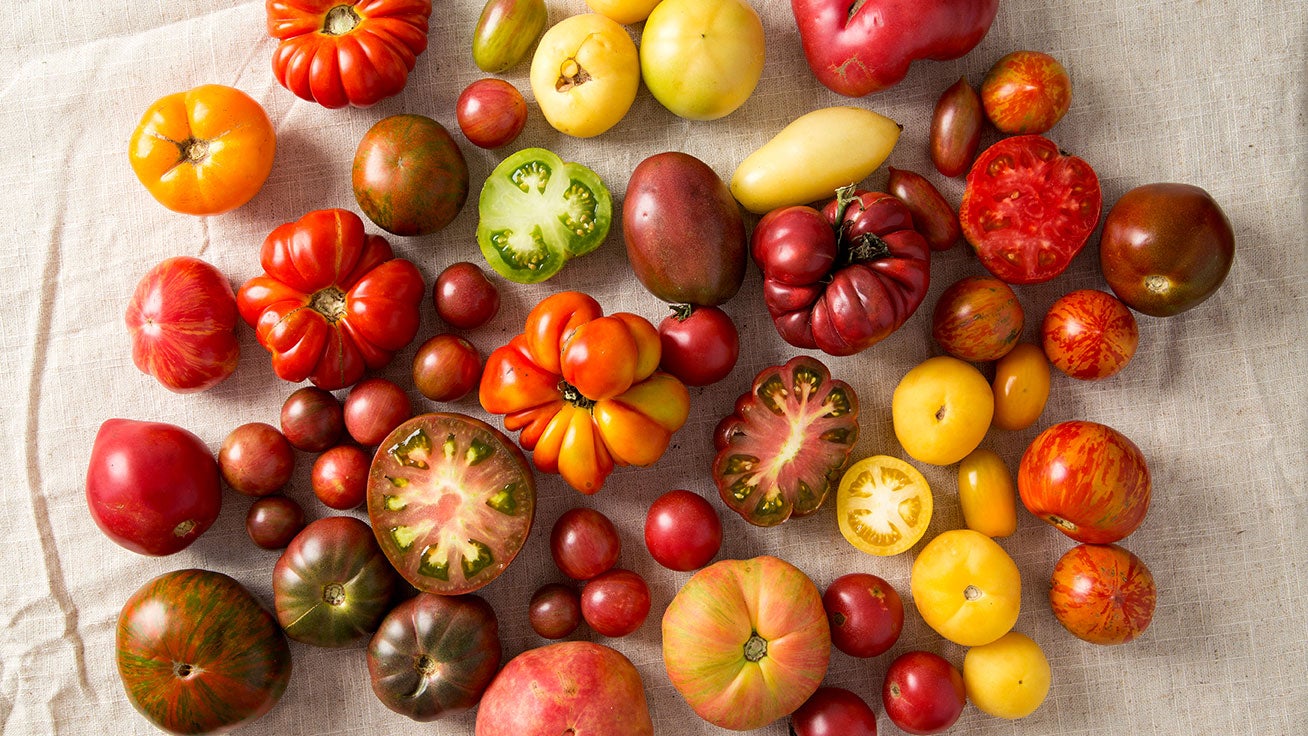 There's more than one way to make your summer tomatoes last all year long.
Anyone who tells you that canning tomatoes is easy is, frankly, lying. There's a reason the process has been largely outsourced to industrial operations. It requires a significant amount of planning, it's labor-intensive, and, done improperly, it could kill your unsuspecting friends. But, without fail, it's one of the best investments I make in my future self. Every September, as summer begins to melt into fall, I spend an evening elbow deep in tomatoes, dutifully blanching, cooling, peeling, blending, jarring, and sealing my way through 40 pounds of Jersey's finest. By the time I have a few dozen jars cooling, my kitchen usually looks like a scene you'd hear about on a murder podcast, and I'm ready to pass out. I'm also proud as hell.
You may be thinking this sounds like a whole lot of work for something that is cheap and easily store-bought—and you would not be wrong. But if you sneak a bite directly from the jar before dumping them into a pot for a sauce or braise, I think you'll be converted. Homemade canned tomatoes are just different. Preserved with a pinch of salt and citric acid, they taste like a sweet, unfiltered jolt of summer. It's hard to explain without sounding a little deranged, the amount of comfort a pantry full of jarred tomatoes gives me, but it's more than my weighted blanket has ever delivered. Over the course of the year, I'll slowly deplete my stock to make pizza sauce, beans, and braises, to use as a poaching liquid, and to gift to a small subset of friends who are excited by this sort of thing.
Of course, there are other ways to turn those green zebras and black brandywines into a year-round affair—ones that don't involve sterilization. Some are less labor-intensive than others. PUNCH features editor Leslie Pariseau snags battered and bruised heirlooms and transforms them into a luxe tomato jam. Depending how you season it, the preserve can be spicy and warm or light and bright. Dollop it into savory porridges, melt it under roasted veggies, and sandwich it into BLTs all winter long.
New York city chef and author Gabrielle Hamilton extends the tomato's life even longer by repurposing the skins. Outlined in the Garbage section of her cookbook Prune, she dries out leftover skins in a low-temp oven. Four or so hours later, the skins take on a papery texture and can be pulverized into an umami-rich powder. Lindsay-Jean Hard, author of Cooking With Scraps, takes this technique a step further and blends the skins with coarse salt to sprinkle over eggs, buttered radishes, Bloody Marys, and more.
If you're less concerned with longevity, you can't go wrong with Deb Perelman's slow-roasted tomatoes. Wrinkly and jewel-toned, they make for an addictive, savory snack, pasta, or sandwich topper, or you could marinate them in a jar of olive oil, with a bit of garlic and rosemary. Recipe developer Grant Melton has a similar slow-and-low cooking approach and a technique for freezing them.
Alternatively, if you have a dehydrator, you can go a little retro and make sun-dried tomatoes. Despite going out of style in the '90s, as Priya Krishna reported for TASTE, the sweet, juicy, nonindustrial ones kind of rule.
Finally, just in case you're not in the mood for cooking anything right now, there's a shortcut to bringing big tomato flavor to your table year-round. Estratto di pomodoro, a Sicilian specialty, is traditionally made by drying crushed tomatoes on large boards under the Mediterranean sun. A jar of this luxe version of tomato paste will set you back $30, but just a spoonful will add an unparalleled richness to stews, soups, sauces, and more. Need something new to daydream about? Head to Pasta Grannies to see how it's done.
4 RECIPES TO KEEP TOMATO SEASON STRONG
Quick Sweet Heat Tomato Jam
A little sweet and a little spicy, this jam will vastly improve your next BLT.
Simple Red Sauce
Missy Robbins's go-to red sauce is all your handmade gnocchi needs.
Charred Tomato Chile Sauce
A sauce for your crudités, made from fresh tomatoes, cilantro, and green chiles.
Pesto Trapanese
Proof that not all pesto needs to be green.