Tunisia Eats A Lot of Pasta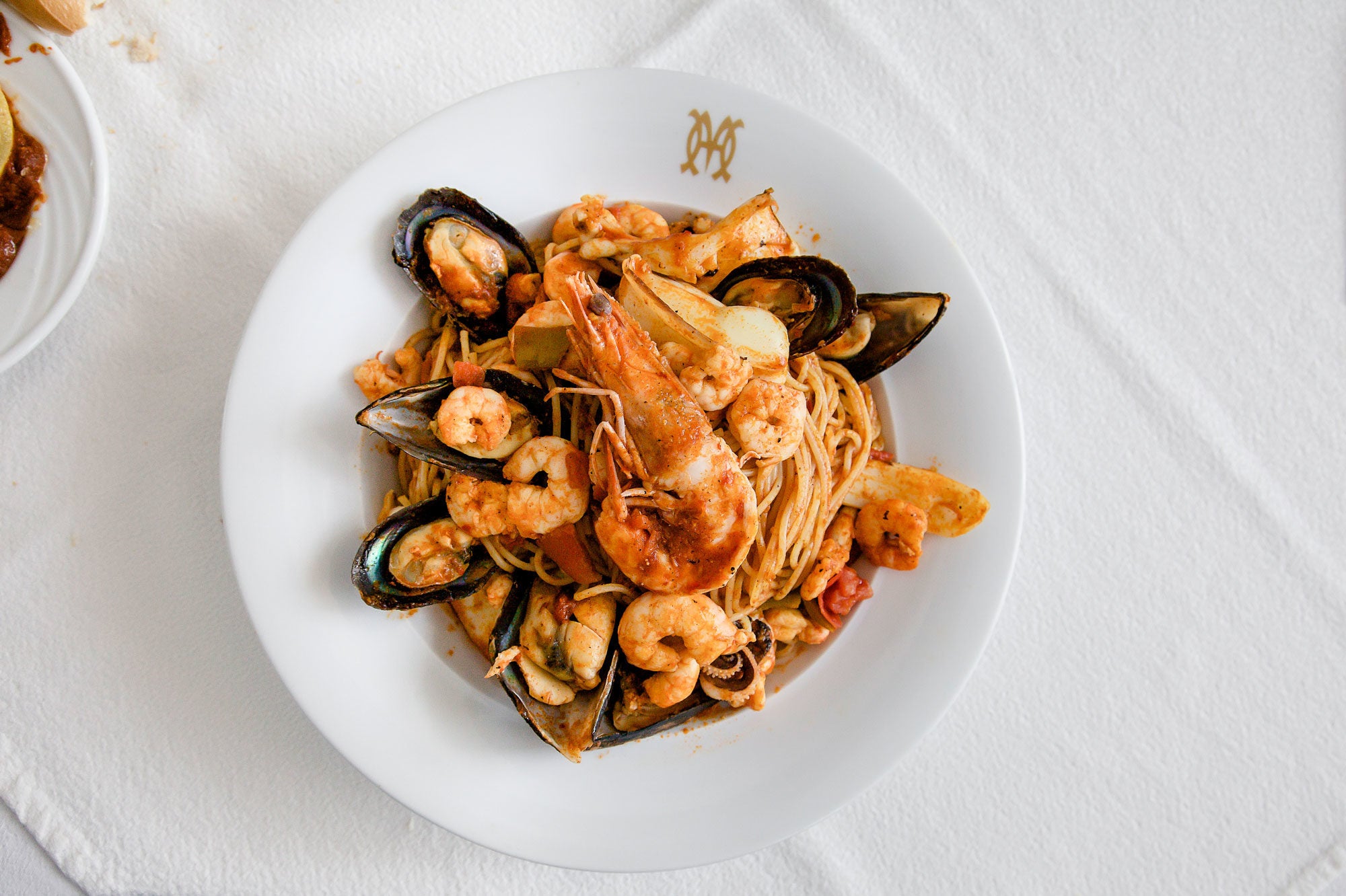 The North African nation consumes almost as much pasta as Italy, but it isn't just a facsimile. Tunisian pasta has an identity of its own.
Couscous is Tunisia's iconic culinary staple. Mounds of steamed semolina moistened with a spicy red broth and topped with vegetables and pieces of lamb, beef, chicken, or, along the coast, fish are devoured from the country's Mediterranean shoreline down to its Saharan oases.
But it is pasta that Tunisians from every level of society prepare in far greater quantities, consuming amounts surpassed only by pasta-obsessed neighbors in Italy, just a short distance across the Mediterranean. According to the International Pasta Organisation (IPO), Tunisia is the second largest consumer of pasta in the world, devouring 35 pounds per person a year. (That's nearly twice as much as the United States.)
"We eat a lot of pasta. A lot," says Myriam Ben Farhat, until recently a proprietor of the popular Tam Tam restaurant in Sidi Bou Saïd, the picturesque blue-and-white hilltop town outside the capital of Tunis. "In my family we ate it nearly five times a week, but other families ate it every day." At Tam Tam, pasta dishes are the most sold items on the menu.
Wedged between Algeria and Libya, halfway across Africa's Mediterranean crown, Tunisia—by far the smallest country in North Africa—has long functioned as a culinary crossroads, with influences and ingredients arriving by sea, over land, and on caravans across the Sahara.
"Tunisia is just 40 miles from Italy and located in the heart of the Mediterranean," says Mounir Arem, owner and executive chef of Tunis's celebrated Restaurant Le Baroque.
Even though Tunisia was technically a French protectorate from 1881 to 1956, at the beginning of the 20th century, the 100,000-plus Italian residents outnumbered the French nearly three to one. Three-quarters were Sicilians.
"They brought several gastronomic specialties, such as spaghetti and different other kinds of pasta," explains Arem, who is president of the Académie Nationale de Cuisine and a founding member of the Association Tunisienne Professionnels de l'Art Culinaire (ATPAC). "Pasta, which is easier and, above all, faster to cook than couscous, quickly seduced Tunisians." While couscous remained—and remains—a beloved cultural touchstone, eaten for the week's most important meal during the weekend with family, pasta began to replace it on the daily table.
No matter that Sicily is just 85 miles away, and the volcanic island of Pantelleria just half that, these are not copies of Italian dishes. That is clear with the first bite. Rather than al dente, Arem admits, "Tunisians prefer the pasta overcooked."
While standing on Tunisian soil, the closest point to Italy is the Cap Bon Peninsula, which juts out from Tunis like a hitchhiker's thumb toward Sicily. At its extreme tip, along a dramatic stretch of coast where Carthaginians and Romans quarried yellow sandstone, sits Restaurant La Daurade. The specialties here are pasta and seafood, and many of its signature dishes are a combination of the two, including spaghetti tossed with preserved tuna, black olives, and red peppers; a particularly divine seafood spaghetti; and fell à la tunisienne piquant au merou—short tubes of pasta with a spicy sauce and chunks of grouper.
A number of differences make pasta dishes in Tunisia uniquely Tunisian, and it starts with the sauce. Makrouna bel salsa literally means "pasta with sauce"; makarouna, the generic name in Tunisia for all shapes of pasta, is normally not made with fresh tomatoes or even jars of tomato sauce, but concentrated tomato paste diluted with water.
Then there is the spicing. Along with an abundant quantity of garlic, pasta sauces usually include the spice blend tabil, made from ground coriander, caraway, cumin seeds, red pepper flakes, and sometimes dried garlic powder and dried onions.
Even more prominent is harissa, the country's signature seasoning, a robust chile-based paste that has, behind its heat, a nutty, pungent earthiness from caraway, coriander, and garlic.
For those accustomed to Italian-style pasta, even more startling is the trio of ingredients that go into the country's favorite tomato sauce for pasta: chicken, potatoes, and chickpeas. This is makarouna arbi. The name, Ben Farhat explains, "literally means 'Arabic pasta.' It is a way of saying it is ours and not coming from Italy." The combination is homey and filling, and loved by kids and adults alike. It is pure Tunisian comfort food.
Sometimes the uniqueness of Tunisia's pasta traditions are the pastas themselves. Nwassar are thumbnails of flat pasta about the size of a postage stamp. Rather than boiling, cooks steam them in a two-tiered couscoussier: The top level holds the pasta, while the bottom level holds a thin stew of chicken and chickpeas. Markets sell both fresh and dried nwassar, though some Tunisians make them fresh at home. Another unique pasta is mhammas, peppercorn-size pellets added to soups or potages. The pasta cooks in—and absorbs—the broth, making the pasta itself far more flavorful than the standard boil-and-sauce method of preparation.
"It is our way of preparing pasta," Ben Farhat says with a proud smile.