The Truth About Israeli Couscous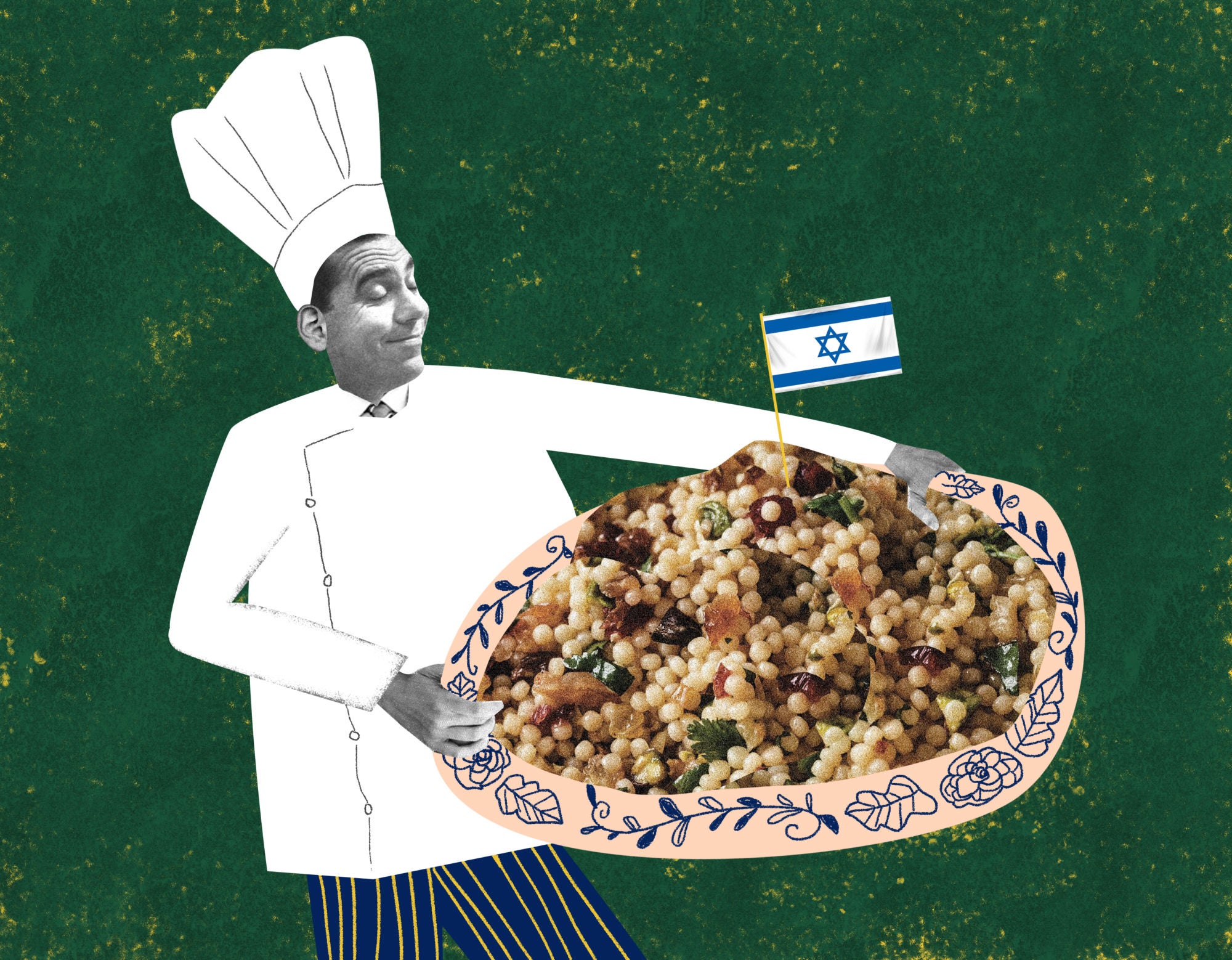 A story of starch, political will, and mistaken identity.
With apologies to Linda Richman, the big-haired, Yiddish-spouting yenta that Mike Myers brought to life on Saturday Night Live, Israeli couscous is neither Israeli nor couscous: Discuss. True, the chewy, spherical starch has an Israeli pedigree and is widely served there today, particularly to children. But "at the end of the day, it is not actually couscous," says Leetal Arazi. "It's pasta." As a co-owner of New York Shuk, a Brooklyn-based company that made its name teaching novices how to hand-roll authentic semolina couscous at home, she should know.
Furthermore, no Israeli home cook has ever called the dish—which is typically served dressed with heaps of fried onion or a basic tomato sauce—Israeli couscous. That name, just like French toast or Italian dressing, is a figment of the American culinary imagination. (More on that in a moment.)
In Israel, the dish is called ptitim, which translates roughly from Hebrew to "little crumbles." It was created by the Osem food company in the early 1950s at the behest of then prime minister David Ben-Gurion. At the time, the modern state of Israel was essentially in a startup phase, and resources were scarce: As Gil Marks writes in The Encyclopedia of Jewish Food, "the government imposed a period of national belt-tightening and rationing known as tzena (austerity)."
Osem was tasked with devising a hearty starch that was more affordable than rice, which at the time was prohibitively expensive for many families. The company's response was ptitim, a simple wheat paste that got extruded into small pasta granules, dried, and then toasted. Originally, ptitim were only made in the shape of long-grain rice. Later, Osem added the small spherical shape that resembles both maftoul – a pearled Palestinian couscous made from bulgur and wheat flour – and farfel, the petite, toasted egg noodles favored in Eastern European Jewish cuisine.
Ptitim, which became known colloquially in Israel as "Ben-Gurion's rice," caught on amongst home cooks and has remained popular decades after Israel solidified its economic footing. Osem is still the country's largest producer of ptitim, making the toasted pasta in several shapes, including SpaghettiO-style rings and small stars. There are also tricolored ptitim and a version fortified with dehydrated vegetables. "Over time, the couscous shape became the most prevalent," says Janna Gur, a cookbook author and founder of Israel's most respected food magazine, the now-closed Al Hashulchan (the name translates to "On the Table").
The story of how ptitim ushered a young nation through its harsh early years is one of political will. But the story of how it became an American food product (and changed names in the process) is one of serendipity. Until the end of the 20th century, Osem's signature product was an undiscovered entity in America, occasionally cooked, perhaps, by homesick Israeli expats who smuggled home a bag or two, but not otherwise known.
That all changed in 1993, when the Israeli-born chef Mika Sharon was working in the kitchen of New York City's then trendy, now iconic Tribeca Grill. One Friday evening, Sharon invited the restaurant's executive chef, Don Pintabona, over to her family's home for dinner. At the meal, she served ptitim to her young daughter. Intrigued, Pintabona asked for a taste and was quickly smitten with its texture and nutty flavor; Sharon ended up giving him an extra bag she had in the pantry. A few days later, Pintabona added a new dish to the Tribeca Grill menu: seared sea bass over what he decided to call "Israeli couscous." "He cooked it like pasta and served it in a saffron broth with a lot of brunoise vegetables," Sharon recalls. "All of a sudden they looked like these beautiful swimming pearls."
Over the next decade, American chefs and food personalities from Charlie Trotter to Martha Stewart enthusiastically embraced Israeli couscous as a part of the increasingly popular Mediterranean diet. And like Pintabona, they treated it like an exotic new ingredient worthy of experimentation. At the now shuttered Citronelle, for example, chef Michel Richard famously mixed Israeli couscous with squid ink and served the tiny, jet-black orbs atop lobster in a caviar tin.
By 1996, Israeli couscous was showing up in New York Times dining reviews. And in 2002, an article in the New York Daily News declared that, "couscous is pulling off a bit of a coup, by pushing polenta off the plate as the starch of choice at trendy restaurants around town."
American home cooks followed suit, incorporating Israeli couscous (which is sometimes called pearl or pearled couscous) into their meals with increasing frequency. Although it has never reached the popularity of other imported starches, like macaroni or quinoa, it is certainly in regular rotation: Today, it often serves as the base of vegetable- and herb-packed salads, is stirred with stock to make creamy risottos, and sometimes replaces tapioca or rice in dessert puddings.
Israelis are always a bit bemused to hear about ptitim being treated like a specialty ingredient overseas. To them, after all, it is "kid food": a 10-minute side dish meant to help get weeknight dinners on the table. "Every now and then ptitim producers in Israel try to encourage chefs to use it, but they always fail," Gur says. The reason isn't that ptitim aren't tasty, but that its humble image is so deeply entrenched within Israeli culture that no one would pay money to eat it at a restaurant. It is, as Gur puts it, "just the kind of thing you are supposed to eat very late at night, cold from the fridge."
Still, whether it's deemed lowbrow or high—and regardless of what it's called—Osem's miracle starch is undeniably delicious. "In Israel, ptitim and fried onions are often served alongside chicken schnitzel," Arazi says. "It may be kid food, but I can't think of any adult who would say no to that."