Treat Shiso Like an Herb, Not a Garnish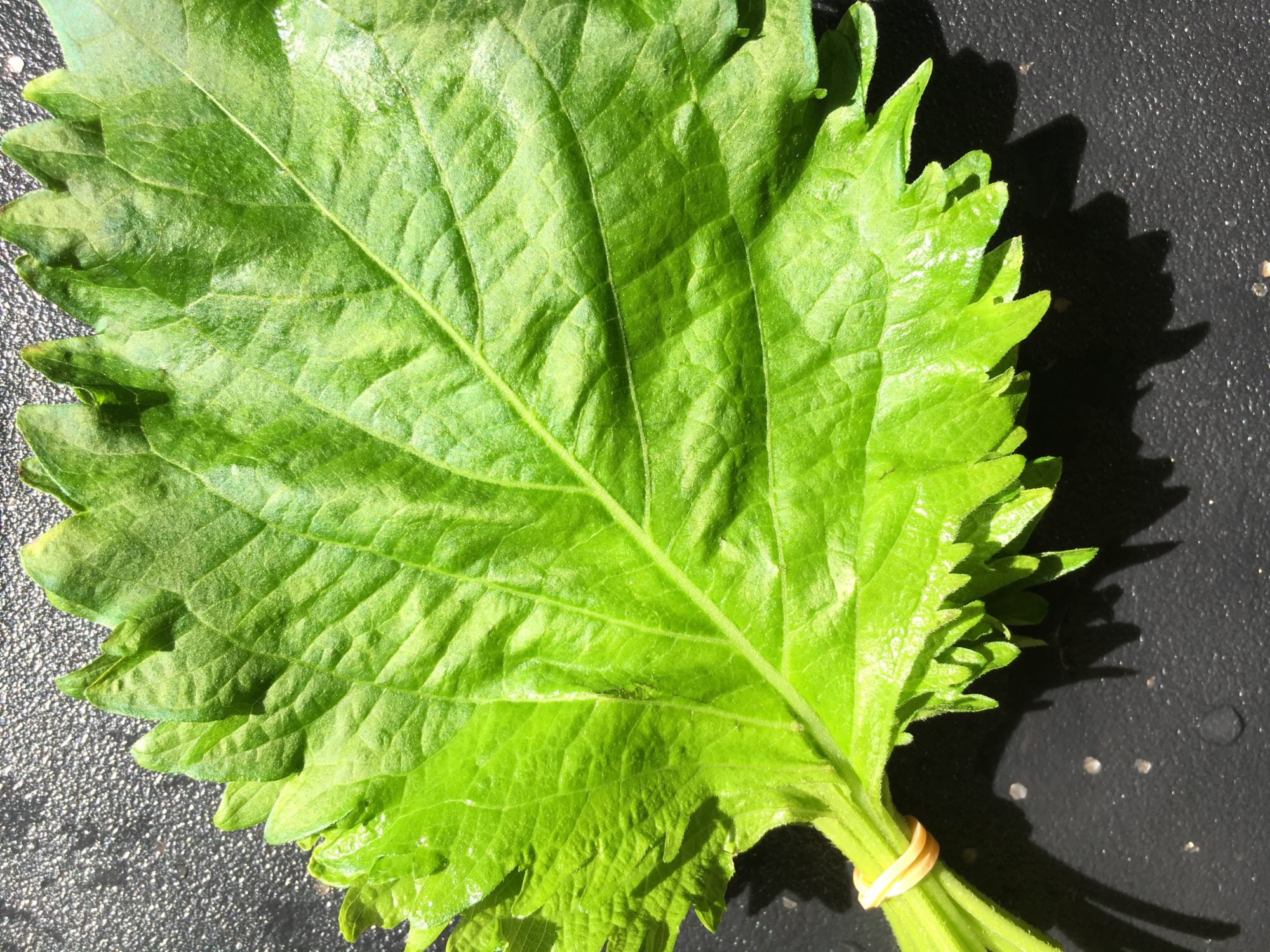 It's time the minty, bitter Japanese herb did more than top bowls of rice.
Order a plate of sashimi and most Japanese restaurants will serve it with usual accoutrements: wasabi, pickled ginger, spirals of shredded daikon, and shiso leaves with their uniform jagged edges. The glimmering slices of raw fish all get snapped up, but often leftover smears of wasabi and wilted leaves remain. But those shiso leaves aren't just there for pretty plating purposes—they possess a peppery bite and pungency unlike anything else.
Also known as perilla leaves, shiso is indeed part of the mint family, which explains why it works so well as a foil for richer foods. Not as sharp as mint, shiso retains a subdued freshness that lingers with a twang of bitterness. That delicate cut of freshness complements the fattiness of fish or red meat—as seen in sashimi plates and marinated pork at Korean barbecue as a ssam (wrapping meat with leafy greens). And throughout Japan, shiso is given the same treatment as a mint or basil chiffonade on top of various donburi, noodles, and tofu.
However, the subtle, spiky-leaved herb is being utilized in unconventional ways in New York's dining scene. At a number of Japanese cocktail bars, like Katana Kitten or Bar Goto, shiso has made its way into gin and tonics or riffs on the White Lady to deliver its distinct herbal flavor. But best of all, shiso is put front-and-center of in the form of pesto at Bar Beau, a café by day, restaurant by night.
Udon noodles, cooked al dente,  are slathered in a light coating of pesto and lemon juice, finished off with a shower of grated grana padano. For a bare-bones noodle dish, it doesn't need shreds of meat or an oozing egg yolk to bring it all together, either. Upon first glance, it's unmistakably a pesto, but the first bite reveals something much different—shiso's vibrant herbal flavor melding with the nuttiness of the cheese and a tangy squeeze of lemon. It perfectly hits the middle ground between acidity, brightness, and richness. Able to stand on its own without brash flavors or a chef-y cooking technique, this is a restaurant dish I could replicate at home.
The approach is not all that different from a traditional pesto made with basil, pine nuts, cheese, and olive oil.The pesto comes together in a food processor with shiso, walnuts, garlic, and olive oil, while the Parmigiano-Reggiano gets grated on top at the end, rather than being incorporated into the mixture to round it all out. But in lieu of the lemon juice used in Bar Beau's dish, a splash of yuzu juice delivers a more forceful tartness when slicked onto the chewy, springy udon.
While you won't find it in the herb section next to rosemary and basil, hunting down a package of shiso at a Korean or Japanese grocery store is well worth it. From sauces to cocktails to its most basic function as a garnish, it's a breath of fresh air.