Top Chef Is Our National Sport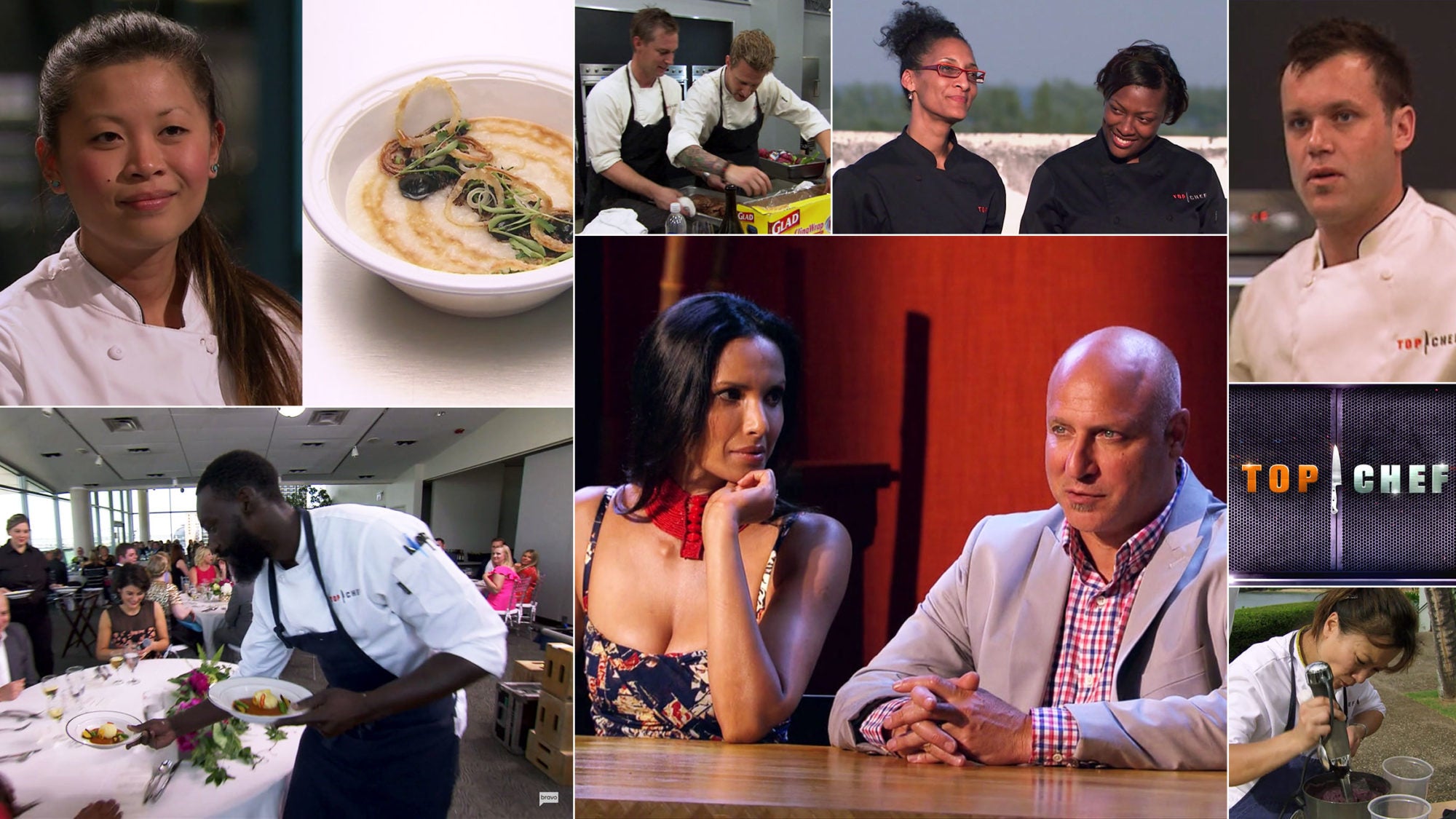 For almost 15 years, Top Chef has been a way of tracing which foods are celebrated and duplicated in American cuisine.
On the very first episode of Top Chef Season 12, debuting on October 15, 2014, each of the 16 contestants was tasked with revivifying the very first dish they had learned to cook. Mei Lin, then a sous chef working for Season 6 winner Michael Voltaggio (and now the chef behind LA's Nightshade), made congee, something she learned from her grandmother when she was very young. Spooned on top of Lin's congee was pork, fish sauce caramel, a black garlic puree, and fried rings of onion, altogether resembling a Led Zeppelin crop circle, or maybe a dream catcher laying in snow. Head judge Tom Colicchio thought the dish was flawless. With all the chefs huddled in a storage room after the judging, viewers hear an off-camera snipe from a competitor: "She's like, 'I'm so fucking good, I beat you with rice porridge,'" as though cooking rice porridge were the same as tying one hand behind her back.
It'd be hard to imagine the same comment made about risotto or polenta at any point in the show's history. At the time, it was a new frontier line drawn on Top Chef; the tabula rasa that is congee has since been weaponized on the show to overwhelmingly positive effect.
Through the 17 seasons of Top Chef, we can trace the passage of time in what gets celebrated, then duplicated. In its endless showcase of creative dishes that its millions of viewers cannot taste, Top Chef is a show that fancies itself an arbiter of nowness: This is what food looks like in 20XX. "It is possible to look at the show as a barometer of trends and shifts in the culinary industry," says Korsha Wilson, a writer who has profiled Top Chef contestants for Food & Wine and the New York Times. Wilson was enrolled in the Culinary Institute of America when the show debuted in 2006; she and her colleagues would host viewing parties in the common areas on campus, a ritual not so different from catching a Thursday night NBA on TNT doubleheader.
These days, that parallel is clearer than ever. In pandemic-mandated isolation, familiar rhythms of time and space disintegrate. The walks to the subway station, the quick happy hour bite, the sounds of Kevin Harlan and Reggie Miller calling a Lakers game in the background — they all used to serve as proof of the day's forward momentum. Those of us who are lucky have had months to recalibrate, and many of us have found some semblance of comfort and rhythm in Top Chef's archives. To watch Top Chef in 2020 is to recognize it as one of the great American sports: a controlled environment with clear guidelines and tentpoles upon which one can observe shifting tastes and trends through the heated competition.
"There are reliable contours to the season," says Kevin Arnovitz, conveniently an ESPN writer by trade, who cohosts the Top Chef podcast "Pack Your Knives." "There is going to be a Restaurant Wars, which is around the midway mark, and that is a badge of honor: Can you make it there? The first 17 minutes [of every episode] is going to involve this lovely preliminary round, where somehow they're able to create narrative and conflict. They've created a perfect sport in the way, I don't know, Abner Doubleday was sitting around saying, 'This baseball thing has got legs!'"
The show's format has been tweaked, but it remains largely consistent throughout 17 seasons. Hopping around Top Chef's timeline might induce whiplash, but that might not be such a bad thing, and in fact, it might even be instructive. "I'm always telling my students why not START with an all-stars season of Top Chef THEN watch the original season of one of your favorite contestants to flesh them out psychologically," the comedian John Early argued in a recent tweet.
In Top Chef All-Stars L.A., San Diego–based chef Brian Malarkey is a 47-year-old caricature of a hammy restaurateur, charging his crystals and turning his repeated ice-cream-machine blunders into a bit.
I've certainly followed this syllabus. In Top Chef All-Stars L.A., San Diego–based chef Brian Malarkey is a 47-year-old caricature of a hammy restaurateur, charging his crystals and turning his repeated ice-cream-machine blunders into a bit; of course, he has the latitude to consider himself a showman first: He's opened more than 15 restaurants across the country, and he has a net worth that might just exceed that of anyone on set. But in Season 4 (2008), he's an uncertain 34-year-old chef with a soul patch and a sweating problem. He isn't the same person, but after more than a decade, he shouldn't be.
"I would say that some people arrive fully formed, but I do think that one of the things that keeps the show worthwhile is that it tends to choose people for their more old-fashioned qualities—their work ethic, their culinary point of view, their abilities—rather than their breakout potential to be a TV character," says Andy Greenwald, a former TV critic turned showrunner and host of a podcast, "The Watch," that frequently dips into the Top Chef universe. "So what we see, especially in the early seasons, is a lot of kitchen grunts suddenly in front of klieg lights learning about themselves and how they operate with others under the harsh glare of cameras in a way that they never would have had an opportunity to learn before." The show, boiled down, is all about how chefs metabolize pressure; given that its platform has occasionally transformed potential into stardom, identifying the contestants with the right stuff becomes its own rewarding game within the game.
Over the past 15 years, the show's priorities have gradually shifted away from technical perfection and veered toward earnest expression. An early-season chef may have found validation in recreating a hare à la royale to a tee. But lately, the chefs that capture the imagination of the judges and fans mine their own memories for the truest possible reflection of their cooking. "There is a life story that the judges know and appreciate and honor at this point, more than they might have 12 years ago," Arnovitz says. "Not that they were insensitive to culinary legacy and family and everything else, but they certainly seem more excited about it. There is authentic excitement when Eric [Adjepong, a Season 16 finalist and Season 17 contestant] turns in a fufu dumpling that there would not have been 12 years ago."
Yet that sense of openness, at least in the Top Chef universe, is still fairly new. "To be honest, it's disappointing to see how late to the game Top Chef has been in terms of bringing in new perspectives," Wilson says. Over the years, she's tracked fan responses on Twitter, poring over the #TopChef hashtag. She remembers the Season 16 finale in the spring of 2019 and the overwhelming online response to seeing chef Alexander Smalls appear as a judge for the final tasting; it was one of the few times a Black judge had been present for the most important moment of a season.
"One of the things that I found really heartening to observe in real time over the life cycle of the show is that the show has mirrored a much more profound and important sea change in kitchen culture."
So much of the show's early allure and spectacle came from presenting legends of the old guard before a stunned ensemble of young cooks—a handful of whom, like Stephanie Izard, Carla Hall, and Edward Lee, have become legends in their own right. The sense of wonder and presence is still there in the guest judge reveals, but they're coming from a much different place of respect. "One of the things that I found really heartening to observe in real time over the life cycle of the show is that the show has mirrored a much more profound and important sea change in kitchen culture," Greenwald says. "Whereas the first few seasons, especially in retrospect, really supported the kind of old-school French brigade system of patriarchal abuse."
Watching older episodes with more than a decade of hindsight can feel complicated, though. John Besh and Mario Batali, who were both met with multiple accusations of sexual harassment in 2017 and onward, were once frequent guest judges. "When I go back and watch older seasons, I physically cringe at seeing Batali or Besh as a guest judge," Wilson says. "Not only because we know their behavior at their award-winning restaurants was heinous, but also because having them on a show where they're casting judgment gives them credibility for viewers who are not as deeply entrenched in the culinary world."
Viewers, of course, don't need to be deeply entrenched in that world; the show's own bubble is engrossing enough. And in the show's bubble, we enter the alternate universe that is six months ago, a time when the restaurant industry, while fractured, was not in obvious crisis. Malarkey leaves All-Stars L.A. simply to return to his adoring family, not to a pandemic-ravaged reality wherein he furloughs nearly 400 restaurant group employees.
In the bubble, we see a handful of the industry's best and brightest, allowed to showcase their individual creativity, knowing the energy and momentum of this particular journey will carry on to their ventures outside and beyond. And we see that same energy and momentum feed back into the Top Chef loop moving forward. For all that Top Chef has been able to tell us about the progress of food culture in the 21st century, the most comforting thing about watching Top Chef in 2020 is also the most terrifying: It tells us nothing about what comes next.