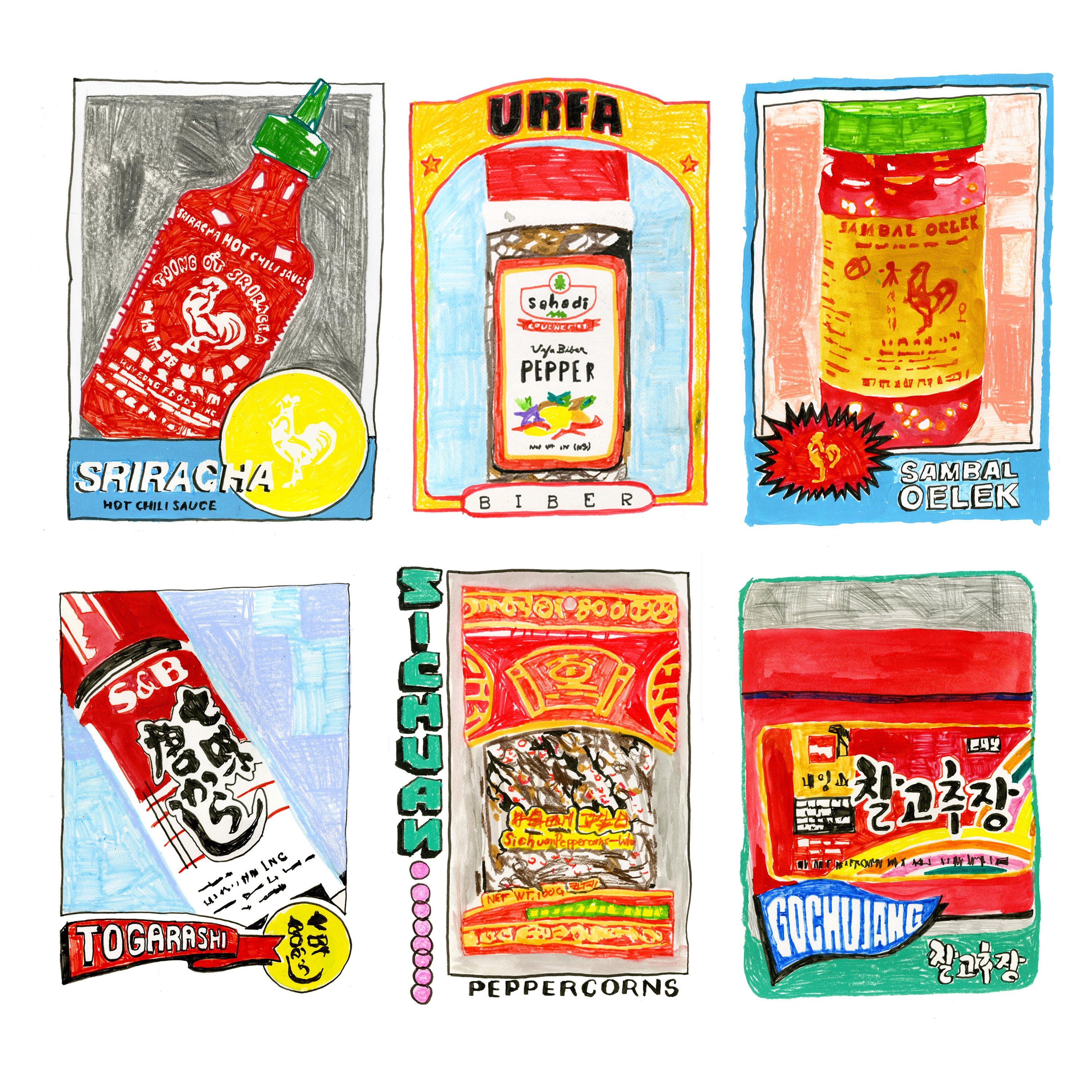 Stocking your kitchen with dried peppers and pepper sauces is a pretty good idea. But where to start?
Most recipes, the savory ones at least, will tell you to season with salt and pepper. While black pepper can play that role like Tom Hanks (perfectly fine, but perhaps not always worthy of an Oscar), having a few other pepper varieties on hand can help you push a dish from nominee to actual statue in hand.
Matching up which pepper belongs with which dish can take some practice. But a good way to think about it is: Will this chile highlight a flavor I'm going for, like earthy or chocolaty notes from Urfa biber in a brownie recipe? Or will it play off other flavors in this dish the way spicy Thai chiles counter the intense funk of fish sauce and sweetness of palm sugar in a green papaya salad?
When you buy a new bag of pepper flakes or a bottle of chile sauce and are just getting acquainted, try sprinkling or drizzling it over a fried egg or a bowl of warm white rice, using the kitchen test as your baseline. Is it hot? If so, how hot? What about smoke—does it bring to mind a block-party barbecue? Or does it remind you of raisins or plums? Does that pepper paste balance heat with sweetness? Or is that bottle of hot sauce loaded with vinegar? Take note and make sure to use it within the next few months if it's a paste and within a year if it's peppercorns or flakes. Make sure to "store it in a good container with a sealed lid," says Lior Lev Sercarz, a spice whisperer who owns a shop in New York called La Boite and authored The Spice Companion.
Small quantities at stores with a large spice selection, like Kalustyan's in New York, rarely run more than $7 for a couple of ounces, which is plenty if the pepper is new to you. So don't hesitate to buy several at once. Here are 13 good places to start. 
Black Tellicherry
If you don't have a jar or pepper grinder filled with black Tellicherry peppercorns, do not pass go. Don't collect $200. Get thee to a market and buy some. This is the absolute most essential pepper to have in your kitchen if you cook a variety of dishes from around the globe. They are larger than the typical black peppercorn (in this instance, yes, bigger is better) and carry with them a mild to medium heat and a brightness that might remind you of an orange or lime being peeled. Supermarket varieties of generic "black pepper" that's already cracked can also include filler, so clearly labeled, whole black Tellicherry peppercorns are the right choice.
And invest in a good grinder. Then crack it at will into anything from marinades to a bagel with cream cheese and tomato that needs a spark and a bit of heat. Add it throughout the cooking process as it changes with cooking heat, and crack just a bit more right before serving. If your neighborhood market doesn't carry Tellicherry peppercorns and you don't live near a spice shop, your best bet is to buy them online. Store them in a tight container in a dark cupboard, and they will hold for a year.
White Pepper
White pepper suffers from bad PR. It's made by taking black peppercorns, soaking them, removing their black shells, and letting the white core dry. But when that's done improperly, it gives off a bad, fermented scent—hence its bad rap. But once you experience a high-quality white pepper, you understand how "fabulous" it is, according to Lev Sercarz. White pepper is more delicate and slightly herbaceous, and it works well with fish, poached chicken, and fruity cocktails made with watermelon or grapefruit juice. Try using it to dress a salad with gem lettuces and peaches or plums; it will give the salad a kick without overwhelming the bowl.
Hari Mirch
Walk into any Indian grocery and you will spot these slender green chiles. They are bright, refreshing, and fruity—and have a creeping heat that doesn't totally kill the flavor of the dish at hand but complements it really nicely, advises Priya Krishna, a journalist who is writing a cookbook called Indian-ish. Hari mirch is best raw, worked into chutney and kachumber—a salad of cucumbers, tomatoes, onions, and lime. Or take a note from Krishna's mom, who is working on the cookbook with her. "When my mom makes grilled fish, she makes an amazing little topping out of ginger, hari mirch, garlic, and lime, and sprinkles it over the top."
Sambal Oelek
This Indonesian hot sauce often hangs out at grocery stores next to Sriracha. Unlike its aisle neighbor, this sauce, which is made typically with hot ground red chiles, salt, and sometimes vinegar, is chunky. Sambal's straightforward heat makes it exceptionally versatile, allowing it to stand in for lots of other chiles without adding an additional flavor to a dish like the vinegar of Sriracha or the smoke of, say, Urfa biber. Add sambal to a soy-based marinade for steak or tofu, or use a fork to mix it into a last-minute spicy peanut dipping sauce for vegetables.
Togarashi
"Togarashi" literally means "chile pepper" in Japanese, but it's also the name of a jarred spice that you'll find at udon restaurants or in a Japanese home when nabe, or hot pot, is what's for dinner. It's most often sprinkled on right before eating to add a hint of heat, instead of being used while cooking. When buying it, make sure to look closely to catch if it's ichimi togarashi, which is just pepper, or shichimi togarashi, which is a pepper blend made with seven ingredients, including Sichuan peppercorns, citrus peel, sesame seeds, garlic, and seaweed. Sprinkle it on clear soups like udon or use it to brighten a bowl of white rice. It also dresses up avocado toast nicely, adding heat and a little popping texture, courtesy of the sesame seeds.
Ancho
Take a fresh poblano pepper and dry it, and it not only scrunches up its skin but gets a name change as well, morphing into an ancho chile—one of the backbones of Mexican cooking. The chiles, which have a sweet, smoky, and fruity flavor that isn't too spicy, can be ground up and used in spice rubs, but they are perhaps best celebrated when they are soaked and brought back to life. "I love to put piloncillo and cinnamon with a touch of cider vinegar in a pot and once everything is melted and has a slight syrupy consistency, soak the chiles in there," explains Mexican cookbook author Fany Gerson. Once the peppers have softened, "cut a slit down one side with the tip of a small knife and remove the seeds and veins. You can then stuff them with pretty much anything—beans, chorizo and potatoes, cheese. They can then be baked to heat up."
Aleppo Pepper
The classic pepper of Aleppo, Syria, which has a balanced heat, slight sour and overwhelmingly fruity notes, like a touch of orange flavor, is no longer grown in its hometown. "For the last three to five years, there's [been] no more Aleppo in Aleppo," explains Lev Sercarz. Today, the namesake pepper is grown in Turkey. Its flakes can stand in for several other peppers in cooked recipes, but it also works well raw. In my kitchen, I use it most often to finish a salad or sprinkle it atop stone fruit, like peaches with ricotta salata or feta, olive oil, and fresh basil.
Sriracha
Using a secret ratio of crushed red jalapeños, vinegar, salt, garlic, and sugar, Southern California–based Huy Fung Foods makes 20 million bottles of Sriracha a year, about one for every 16 people in the United States. But no one should be without this versatile sauce that can be mixed into mayo and spread on bread for a sandwich with a kick, doused atop sad takeout to brighten it up, or simply put on the table the same way ketchup is. In my kitchen, it's most clutch as a zigzag of spice spread across a late-night snack of dumplings from the freezer.
Crushed Red Chile Flakes
Sometimes neglected and left to sit too long on the supermarket shelf, these all-purpose and perennially available flakes are a good source of heat if you're in a pinch and not looking for an added flavor like smoke or fruit. "Look for something vibrant in color," Lev Sercarz advises, adding that you should look for a jar that mentions the origin of the chile or the specific variety. And fewer seeds is better. "Seeds are great, but they can bring some bitter notes." You can add flakes early on to a tomato sauce (careful not to burn them) to release a wave of heat throughout the dish or, taking a note from pizzerias across the country, use them to top homemade pizza or flatbread. Make sure to replace your jar of flakes every six months to ensure they will still do their job.

Gochujang
Made from spicy and subtly sweet peppers, plus fermented soybean powder, glutinous rice, and salt, gochujang is a "cornerstone of Korean cooking," chef and Koreatown cookbook author Deuki Hong explains. "That richness and depth you get from the naturally fermented chile paste is incomparable to anything else," helping bolster kimchi-based stews and marinades. Hong adds: "You get that spice, without that smoke, but another deep flavor that's hard to describe." If the gochujang you buy has sugar in it, be wary of applying intense direct heat (like a sear) as it can burn.
Sichuan Peppercorns
These peppercorns hit your lips and tongue with a tingling and numbing sensation that's often combined in dishes with intense heat. That addictive pairing, which is both painful and pleasurable, is called mala. While Sichuan peppercorns can be eaten raw, says Taylor Holliday, a Sichuan-food blogger and owner of the Mala Market, they're more commonly cooked, added early on in recipes to hot oil for a stir-fry. They can also be dry roasted and ground into a powder for dishes like mapo tofu. If you have leftovers of that powder, mix it with kosher salt and use it as a chicken rub or to top popcorn, Holliday suggests. "Once you get over the initial shock, it tastes good on everything." And note, Sichuan peppercorns aren't technically (as in genetically) peppercorns, and are grown from a bush. But regardless, they're always referred to as peppercorns.
Urfa Biber
This Turkish pepper has so much going on with it that it might catch you off guard on first taste. It's smoky, a touch fruity, a bit earthy, and has a lingering heat, with a texture that's akin to raisins. If you taste it rubbed into ground lamb kebabs, or mixed into an eggplant dip, you could easily think that it's made up of several different spices. In Turkey, you'll see the pepper laced into kebabs, but its tempered-but-still-very-much-there heat level and coffee note play nicely with chocolate in brownie recipes.
Thai Bird's Eye Chiles
It's hard to comprehend Thai food without the bracing burn of one of the country's most beloved ingredients, the small but mighty bird's eye. (Fun fact: Those chiles and others didn't arrive in the country until the 16th or 17th century.) Today, tables in Thailand are dotted with little bowls or jars of fish sauce and chopped chiles, so diners can add more heat to a dish at will. In the United States it is easier to find them dried, but fresh ones, which are red or green and smaller than your ring finger, are available in some Asian markets. Their fierce burn will spread to anything it touches, making it a good choice for infusing honey or simple syrup, or adding a kick to a marinade or soup. Keep in mind, that kick can also transfer to your skin and eyes, so be careful when cooking with these ones.