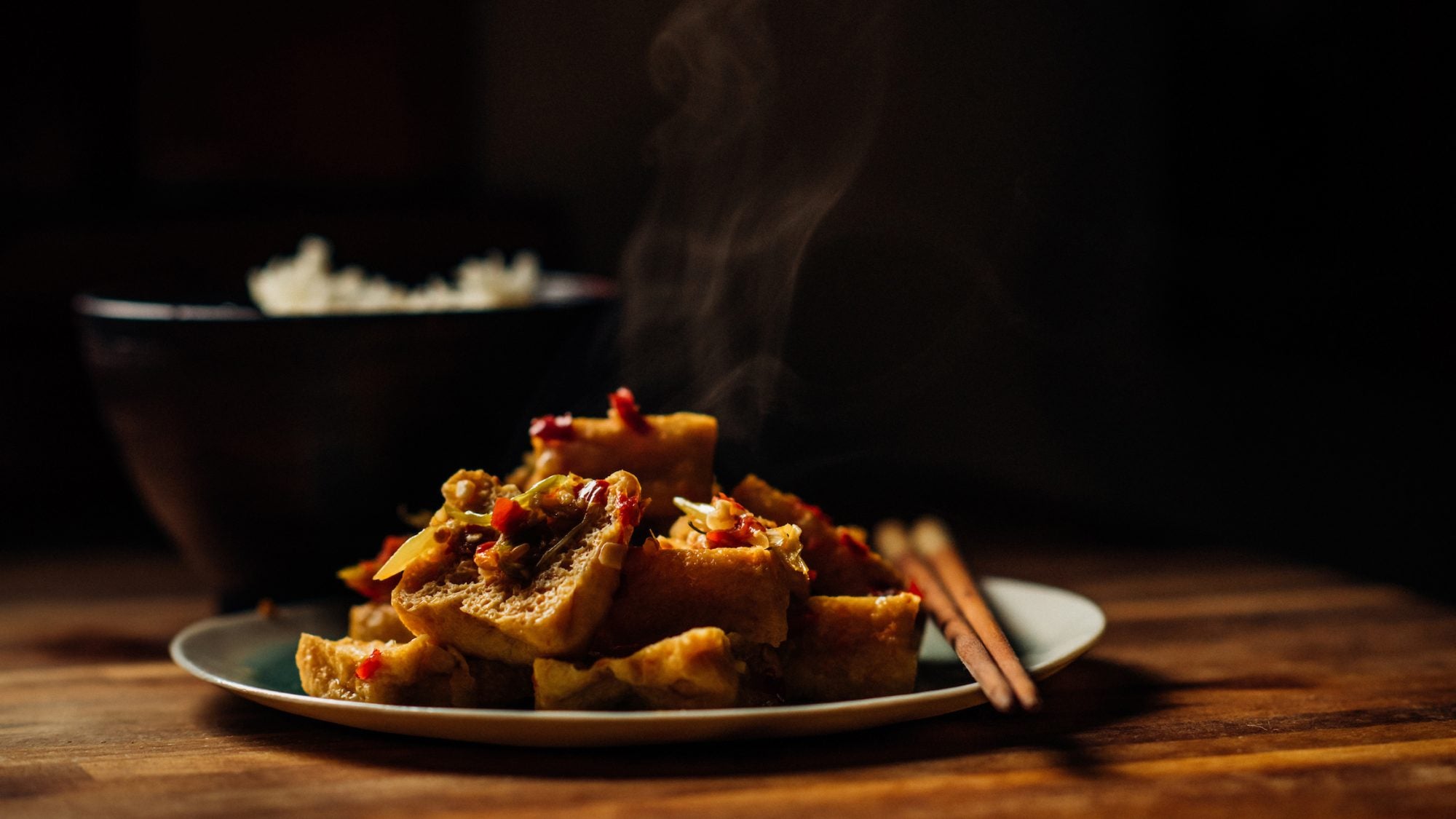 The mighty bean curd can crisp up like fried chicken, absorb fiery sauces, or smooth out dairy-free desserts.
Tofu can't always be pinned down to a single flavor, which leaves its cook with the need for an imagination—and some work ahead. It's a familiar component that soaks up all of laksa's coconutty fragrance, but it's a time-honored staple of Buddhist temple food, too. Yet it's also an affordable meat alternative that can evoke the comfort of fried chicken or crumbled chorizo, ready to absorb the spices, sauces, and flavors of whatever cuisine you're incorporating it into.
Perusing the tofu aisle (or a grocery delivery service drop-down menu) and all its varying levels of softness is where the choose-your-own adventure begins. Reach for delicate, custard-like silken tofu to make the usual suspects, like a warming, tingly pot of mapo tofu or kimchi-laden soondubu jiggae, or break out a blender and use it in like-minded soft desserts—think puddings, smoothies, and even a vegan crema catalana. Looking to tofu's by-products, long, wrinkly tofu skins (or yuba) are a common addition to Chinese-style stews and have a bounce similar to al dente pasta.
The denseness of firm and extra-firm tofus brings out a pleasantly chewy texture, ideal for hearty stir-fries or a quick shallow-fry in hot oil for a crunchy, golden exterior. For many home cooks, drawing out excess moisture is the first step to maximize crispiness, which can be achieved in a number of ways: dry the tofu with a few paper towel squares under a heavy plate; freeze then defrost it to expand its cell walls; soak it in salt water to coax out the moisture; or simply let a tofu press do the work for you.
From there, you can sear each plainly cut slab to golden brown perfection or score your block like a glazed ham to maximize the surface area of crispiness. (And, if you were wondering, you can apparently put your tofu in a waffle maker, too.) Ripped into craggy bits and covered in starch (like corn, tapioca, or potato), each piece benefits from an extra coating of crunch.
MAKE YOUR TOFU CREAMY, CRISPY, OR CRUNCHY: