Tiny Homes, Tinier Kitchens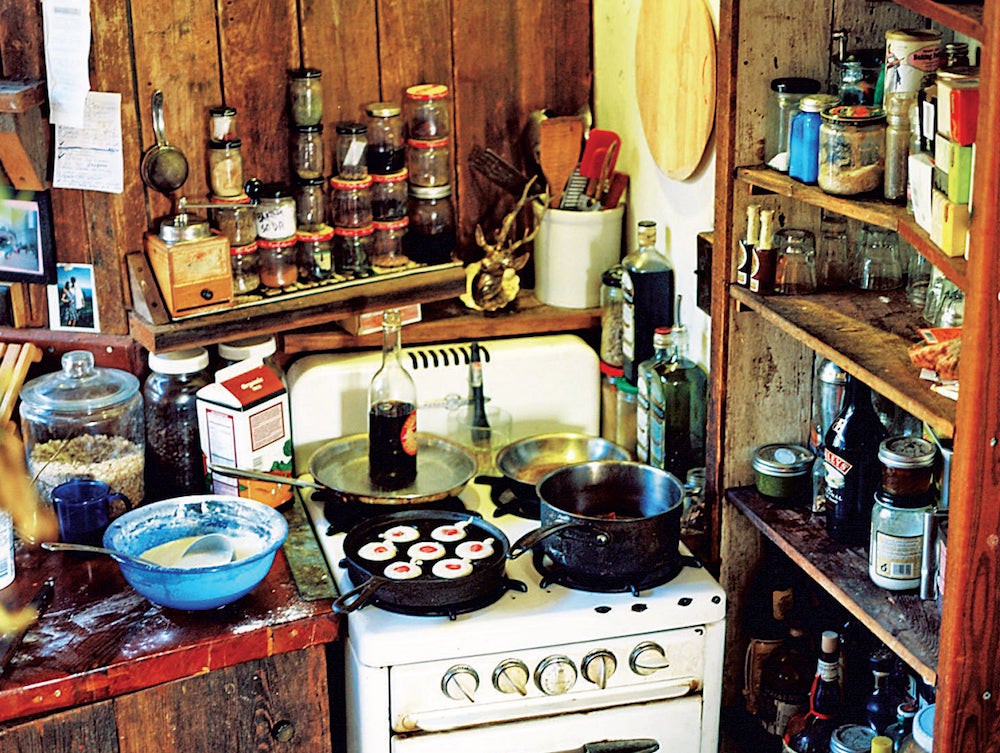 When it comes to kitchen square footage, less really is more.
Tiny homes have become a fascination of design blogs and curated Instagram feeds, as well as Netflix series glorifying their complete lack of space. But for some home cooks, these close quarters aren't about having a cartoonishly small vacation home or a weekend away at a cozy Airbnb. They're just a fact of everyday life.
In The Tiny Mess, the tiny kitchens of converted school buses and former water towers are celebrated. Inevitably, they've had to adapt a bit, focusing on shortcuts, but never the shortcomings. "No one seemed to miss many of the niceties an abundance of space allows," says the book's photographer, Trevor Gordon. "I think if anything, it's slightly more worry-free, less to clean, and more time spent actually cooking and planning out your meal." In the book, together with Maddie Gordon and Mary Gonzalez, the trio takes a peek inside of their homes to get a better idea of what each person keeps close at hand. Bare necessities are a given, but everyday needs have a personality too. They take the form of ebelskiver pans, marble pastry boards, and meat grinders rejiggered for coffee beans. As Trevor puts it, "I think you can cook most anything anywhere with a little patience and planning." Here's a look at how three petite kitchens work on a daily basis.
Previously a water tower, Tyson transformed what he calls "The Barrel" into a home in Big Sur, California. Most of the space is inhabited by his greenhouse, where he grows vegetables (which he even lived off of for a year). His kitchen shelves are stuffed to the brim with cooking oils, spices, and of course plants, but it's not all about function and efficiency. Even in the confines of his cramped four-burner stove, Tyson reserves a spot for an ebelskiver pan—notably less useful than a traditional cast-iron skillet, but every bit as necessary to him. Breakfast calls for his mother's old ebelskiver recipe, with each fluffy sphere of batter cooked in its designated slot.
When Lindsey and Zach bought their house on wheels, it was already move-in-ready, with much of the interior converted into a living space by a woodworker. They parked their turquoise bus and decided to stay put on Lopez Island in northern Washington. The kitchen nearly takes up the entirety of the 30-foot-long bus, but for a baker (Lindsey) and fisherman (Zach), this seemed just about right. A cast-iron skillet and a sharp knife are vital, versatile tools, but beyond that, Lindsey and Zach consider their pasta maker and countertop meat grinder (which they use for coffee beans) prized possessions as well. After rolling out the dough on occasional pasta nights, the fresh noodles are strewn like string lights over furniture and wherever there's spare hanging space. Surely, there are obstacles, but it's not totally impossible. Trevor recalls, "It was just bustling with color and smell and was settled in a little forest near the ocean. A big pot of soup was quietly bubbling on the stove while the two chopped a mountain of veggies and rolled fresh pasta out on the countertop towards the front of the bus. It was just an idyllic setting and summed up everything we wanted to capture for this book."
Marie and Dean's two-story home in Skamania County, Washington, is far from a conventional loft. The first level, a yellow school bus, houses their kitchen and wood-burning stove, while the upper level, a Volkswagen Vanagon they bolted on top, is where they sleep. With custom-built cabinets, ingenious storage systems under the floors, expansive countertops, and both a pull-out breadboard and marble pastry board. Marie and Dean have truly utilized every inch of space. For Marie, her trusty kitchen essentials include a single measuring cup with all increments labeled, a compost bin within reach, a few sharp knives, and a collection of well-labeled spices.