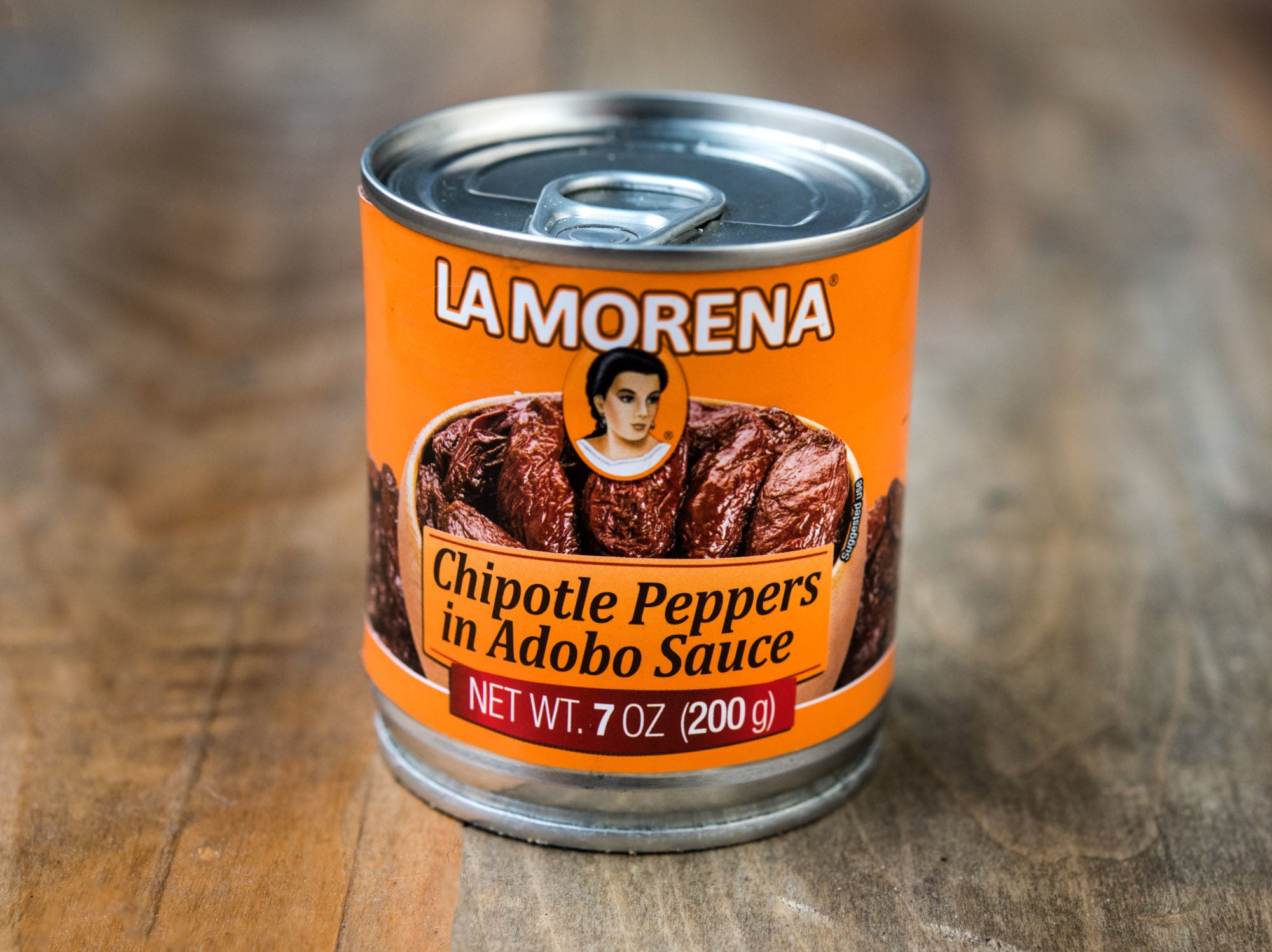 Canned chipotles are an extremely dependable grocery-store staple, and the smoked peppers are going to change the way you think about veggie burgers.
Canned chipotles are my secret or, rather, not-so-secret pantry essential. I first discovered them while living in Chicago in the early 2000s, a time when cooking shows were less about cutthroat competition and more about, believe it or not, cooking. I remember tuning in every weekend to Rick Bayless's PBS cooking show, Mexico: One Plate at a Time, and eagerly cooking my way through his Mexican Kitchen cookbook, now stained and falling apart from nearly 20 years of use.
He piqued my curiosity about Mexican food, encouraged me to get in the kitchen and cook, to discover new flavors and ingredients, and exposed me to a whole world of Mexican chiles—ancho, arbol, chipotle, guajillo, pasilla, puya, and more. To this day, when I reminisce about Chicago, I think about cooking mole negro and the dried-chile-based salsas that I've been trying to perfect for the last 20 years.
Chipotles are not actually a type of chile themselves, but rather smoked cultivars of the fresh jalapeño. The smoking of chiles, as a way to preserve and store food for long periods of time, dates back to the Aztecs. There are two main types of chipotle chiles, the first being a black-red variety (aka chile mora or chile morita) that is sweet, smoky, fruity, and full of heat. The second is a light-brown chipotle (aka chipotle meco) that can range from medium spiciness to full-on heat, with grassy, smoky, mesquite, and tobacco notes.
Canned chipotles are typically made with the black-red variety, which are rehydrated and canned in a tangy adobo sauce of tomato, vinegar, onion, garlic, and spices. They're an instant flavor booster, adding a punch of heat and deep smokiness to any number of dishes, from sautéed vegetables to a pot of beans to soups, stews, and eggs. You can even doctor jarred salsas with them. You can mix them into some store-bought barbecue sauce or create your own using a combination of lime juice, oil, honey, garlic, and spices to marinate beef, chicken, pork, or seafood.
La Morena is my go-to brand. It is easy to find at grocery stores and has a more intense, mesquite chipotle flavor and good amount of heat compared to other brands. The adobo sauce, in which the chipotles are bathed, is rich and tomatoey.
While the possibilities abound, I decided to take a plant-based approach with the canned chipotles, incorporating them into this black bean and portobello burger with spicy mayo, the latter of which is also flavored with canned chipotle. The robust, savory flavor makes canned chipotles a great match for meatless burgers. That being said, you could certainly incorporate them into a beef burger if you like. Either way, the chipotles will add a punchy, smoky, spicy tanginess to your burger. Perhaps start with one chile, though if you like it spicy and smoky, definitely opt for two or more, to taste.