This Squash Recipe Brings the Heat (and the Burrata)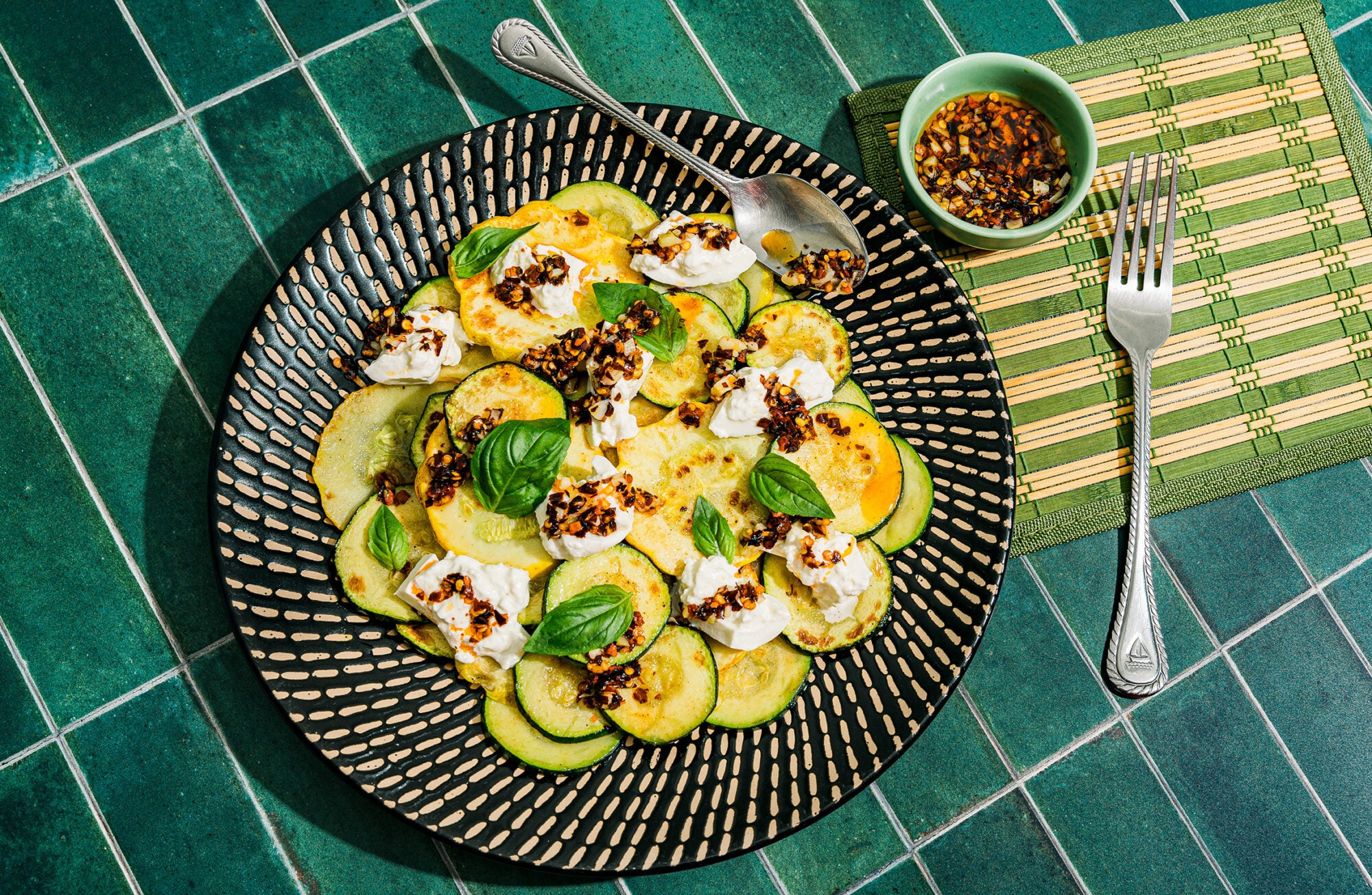 A late-summer stunner that's anything but bland.
Every summer, people who don't have gardens have to listen to those who do complain about their enormous surplus of zucchini and squash. While I am lucky enough to have a small garden, my efforts are focused exclusively on tomatoes. However, my local market offers a rainbow of seasonal squash, from every shade of zucchini to round eight-ball squash and scallop-edged patty pan squash. Whichever I choose, I always buy a medley of colors and varieties for the most beautiful presentation. 
There are countless delicious ways to use summer squash (as the gardening folk will remind you from behind their piles and piles of zucchini), from fritters and gratins to pastas and ratatouilles. But a simpler preparation lets seasonal produce really shine. To retain the flavor and texture of peak summer squash, I prefer them sliced into thin rounds and lightly panfried in butter until just tender and golden brown. Then I add a drizzle of chili oil, a handful of torn basil, and a smattering of burrata—simple additions that amp up the squash's mild sweetness without overpowering it.
The Sichuan-inspired chili oil is spicy, toasty, and full of garlic. It's easily thrown together with ingredients I keep on hand. If you have a jar of chili oil, or even chili crisp, already in your fridge (store-bought or otherwise), go ahead and use that instead. 
Burrata's cooling creaminess balances the spice in this dish. But instead of serving the burrata in one giant ball, where it becomes overwhelming and, frankly, a bit bland, I prefer to roughly chop it—cream and all— and scatter it over the warm squash along with the basil so that every bite can have a bit of everything and the cheese becomes just slightly melty. Top it all off with spoonfuls of chili oil and serve with a hunk of crusty bread to mop up all the creamy, spicy, saucy goodness or toss in some pasta for a heartier meal. 
This is Extra Good, a cooking column sharing decadent (but doable!) recipes from Zola Gregory.