This Should Be Pasta's Time to Shine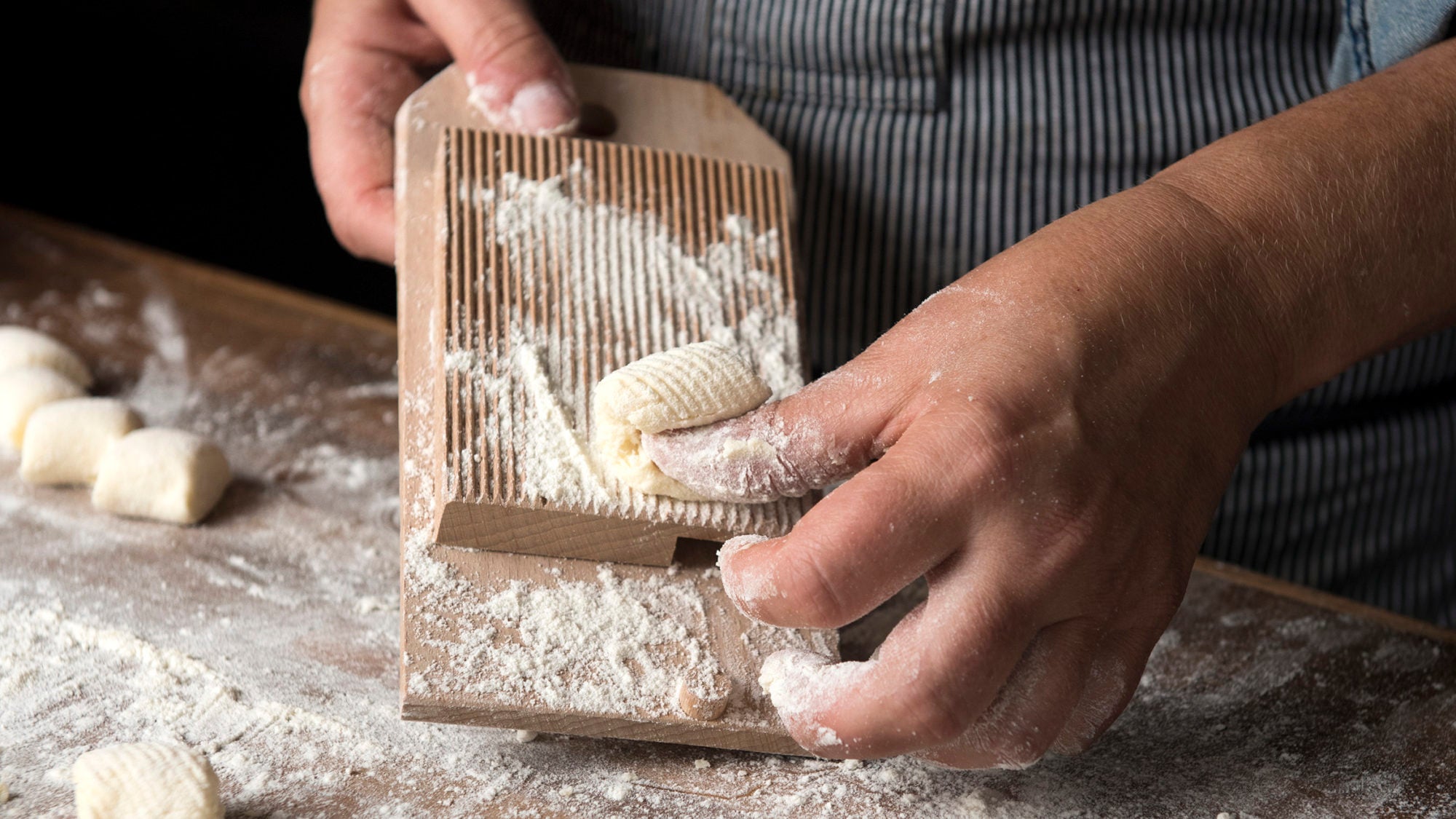 Missy Robbins wants you to make gnocchi.
The only thing I know for certain in these very uncertain times is that everyone is baking bread. But with all due respect to sourdough—and its legion of new fans—this should be pasta's time to shine. If you've got the flour, you've certainly got the time; all you need is a smart place to start—a sure bet with some margin for error. Might I suggest ricotta gnocchi?
To most Americans, "gnocchi" is synonymous with potato gnocchi, a shape that is canon in both Italian-American cuisine and regional Italian cooking. But gnocchi are far from one thing. They can be made from bread, from ricotta, from a mixture of semolina, milk, butter, eggs, and cheese (gnocchi alla Romana), and even from a simple mixture of water and flour. They come in myriad shapes and sizes and are finished with as many sauces. Gnocchi, in short, are all around us.
I've made them every which way, but when I crave gnocchi, I crave ricotta gnocchi. At their best, they have just enough structure to differentiate themselves from gnudi (basically spinach ravioli cooked "nude," or without their pasta cloak), and a pillowy richness that is addictive and shockingly easy to eat in quantity. The trick to avoiding the gummy fate of so many gnocchi (we've all had them) comes down to how you work your dough; take care not to over-knead or apply too much force when forming the shape. For light gnocchi, you must have a light touch.
While the ricotta gnocchi with broccoli pesto has become a menu constant at my Brooklyn restaurant, Lilia, at home, ricotta gnocchi with a simple red sauce is my sure bet.
SOME COOKBOOKS WE THINK YOU'LL LOVE
Missy Robbins' first book Breakfast, Lunch, Dinner…Life (Rizzoli) was released September 2017. Her second, Pasta, with Talia Baiocchi, will be released next spring from Ten Speed Press.
Last week, we caught up with blogger, author, and TASTE contributor Leela Punyaratabandhu about her latest book, Flavors of the Southeast Asian Grill.
Part cookbook and part brutally honest memoir, Always Home by Fanny Singer tells the story of growing up as the daughter of activist and chef Alice Waters.
A perfect follow-up cookbook for the current climate is My Pantry, by Alice Waters, which helps you turn those piles of grains and jars of pickles into impromptu meals.
Clarkson Potter and Ten Speed Press have teamed up to put together a free digital cookbook filled with baking recipes, from rustic country loaves to buttermilk biscuits, featuring authors like Ken Forkish, Toni Tipton-Martin, Martha Stewart, and more.
How to Drink Wine is an accessible, lighthearted guide that will make shopping for wine (and drinking it) a lot more fun.
Dimes Times: Emotional Eating, from the duo behind the all-day café in New York's Chinatown, has a grain bowl or a juice for every mood.
Build a hearty ramen bowl at home with Let's Make Ramen!, a comic book cookbook by Hugh Amano and Sarah Becan.
Each week, we talk to an author of a new or upcoming cookbook we love. Subscribe to our newsletter to get these previews (plus excerpted recipes) in your inbox.