This Fried Chicken Has a Waitlist—and a Secret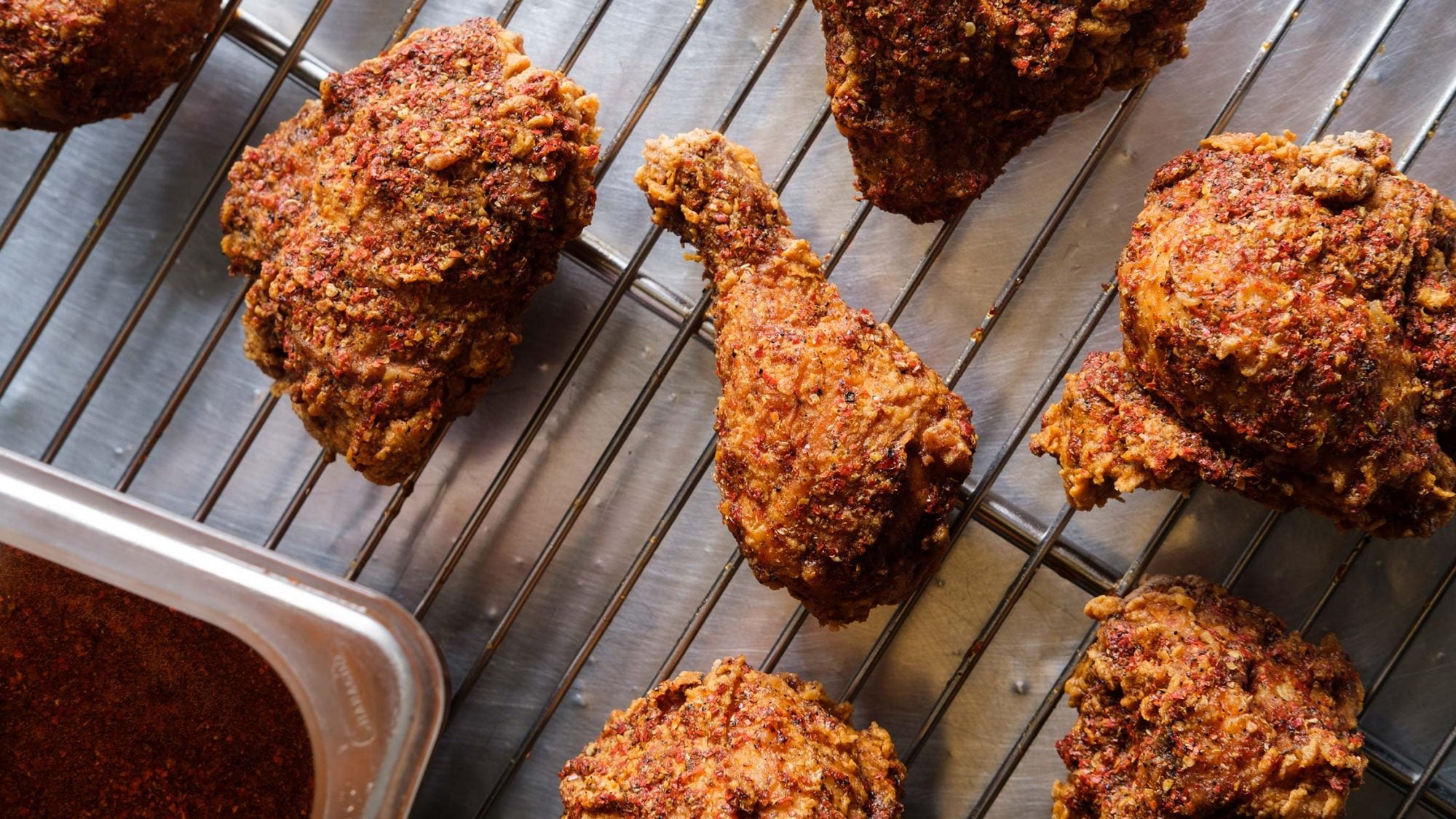 For chicken that stays crispier for longer, chef Eric Huang calls upon EverCrisp, a modernist ingredient that home cooks can use, too.
Over the past year, there was a single critical question many restaurant owners were forced to ask themselves, often for the first time: Will this food travel well?
As the pandemic forced dining rooms to shut down, even the most high-end of restaurants became exclusively takeout and delivery operations. This posed problems: A dainty salad that might look vibrant and perky on the pass may end up damp and wilted after being bounced around in a wax-coated takeout box. A flaky, pan-roasted fish, delicate and streaked with a verdant sauce, may turn rubbery in texture and muted in flavor after 20 minutes in a delivery vehicle.
Preserving that restaurant quality was also a major concern for Eric Huang, who left his job as sous chef at Eleven Madison Park last January with ambition to open his own high-end place. But when lockdown delayed plans, he instead found a new calling slinging fried chicken (takeout and to-go only) out of his uncle's Flushing Chinese restaurant, Peking House. He calls the concept, cleverly, Pecking House, and it opened last September. It has become one of the most sought-after restaurants to open in the past year. And it relies on a simple technique that may have been hiding in plain sight.
Huang's fried chicken marries the shatteringly crisp, Chinese five-spice-laced character of a Taiwanese fried chicken with the saucy, spicy, glazed goodness of a Nashville hot chicken. The problem? Fried chicken, while glistening and crunchy straight of the fryer, quickly turns soggy in transit—as anybody who has frowned after popping the top off a KFC or Popeyes takeout box can attest.
Huang found his solution in EverCrisp—a modified wheat dextrin (a type of starch found in wheat) from the food science products emporium Modernist Pantry. In most fried foods, as the protein releases its moisture after being fried, the gluten in the flour absorbs it, eventually causing the crust to become soggy. Wheat dextrin, on the other hand, retains less oil. Also, in the manufacturing process for EverCrisp, the gluten is removed. With these forces combined, using two teaspoons of EverCrisp means chicken won't soak up that moisture as quickly or as easily, resulting in a crispier bird for longer.
At Pecking House, the bone-in chicken parts arrive still warm, the thick crust practically fused to the meat, and crushed red chiles speckling the outside. It's one of the more specific styles of fried chicken to land in the city, and the response to Huang's crisp-for-hours fried chicken has been profuse—Pecking House currently has a list of more than 6,000 people waiting for the opportunity to try this culinary marvel. Which leaves Huang wondering: Has he stumbled upon the holy grail of fried chicken cookery?
Huang, who is Taiwanese American and was raised in New York, grew up on Popeyes and Kentucky Fried Chicken, but he didn't learn to fry chicken until he went to the Culinary Institute of America in his mid-twenties. While a classic Southern-style preparation will instruct you to brine the chicken in buttermilk and then dip it in flour (which can be "a messy, miserable process," Huang says), he learned instead to use a unique paste of buttermilk, all-purpose flour, Dijon mustard, and seasonings to form a crust on the raw, seasoned chicken.
Huang theorizes that this process results in a crust that better sticks to the chicken, by hydrating the flour and therefore creating a "uniform, durable substrate for dry starches to adhere to when fried," he says. In his version at Pecking House, he adds a Nashville-inspired touch by mixing duck fat with a proprietary blend of spicy seasonings to lacquer the finished chicken. But the single key ingredient to the buttermilk paste, which also includes Chinese five spice powder, is, of course, the EverCrisp.
Huang first started playing around with Modernist Pantry products while working at Eleven Madison Park. When he was developing his fried chicken, he ordered some EverCrisp and tested out replacing 20 percent of the flour in his dredging mixture with EverCrisp. The results spoke for themselves. "People pick it up in Queens and drive it to Connecticut, and it is still crispy," Huang says of his fried chicken. He theorizes that 20 percent is "the sweet spot" where the EverCrisp keeps the food crispy for longer without giving the chicken a "cakey and gummy" crust. The chicken is also transported in boxes that have ridges on the bottom to create air circulation.
At Pecking House, the bone-in chicken parts arrive still warm, the thick crust practically fused to the meat.
"A lot of chefs are very attached to the romance of food," he explains, "like, 'Oh, this is my grandmother's fried chicken.'" In contrast, he's always felt that science—and a product like EverCrisp—has so much to offer in terms of "pushing the objective parameters of what makes something excellent that is removed from the emotional components."
He doesn't know of any other restaurants that use EverCrisp in their fried chicken, though he imagines it could become more popular as takeout and delivery continue to dominate the service industry. (I contacted Modernist Pantry about restaurants that use EverCrisp, and the company sent me a short list of places, including the Country Club of Landfall in Wilmington, North Carolina, and Blue Ridge Catering in Roanoke, Virginia.)
Huang was cool enough to offer up his fried chicken recipe, as he says that EverCrisp can make cooking the dish at home a lot more foolproof—practically guaranteeing a crispy end result. You can make fried chicken to bring to a picnic, and EverCrisp is insurance that it'll stay crunchy.
Aaron Hutcherson, a staff writer at the Washington Post's Voraciously, is a big proponent of fried chicken at home. He recommends that home cooks shallow pan-fry rather than deep-fry their chicken, so there's less oil to deal with. He often skips the buttermilk brine, too, instead focusing on seasoning both the raw chicken and the dredge. Huang recommends buying a splatter screen and placing cardboard on your backsplash to make cleanup easier.
Huang is now looking at spaces in New York City for a brick-and-mortar restaurant that will (unsurprisingly) focus on fried chicken. Although diners at his new spot may not be transporting the chicken across state lines, he still plans on using EverCrisp in every order, "for the possibility that someone brings [fried chicken] home," he says. "For the 10 percent of people that eat it later that night and find it still crispy, that is a moment worth delivering."