These Light Ukrainian Cheese Pancakes Carry a Heavy Load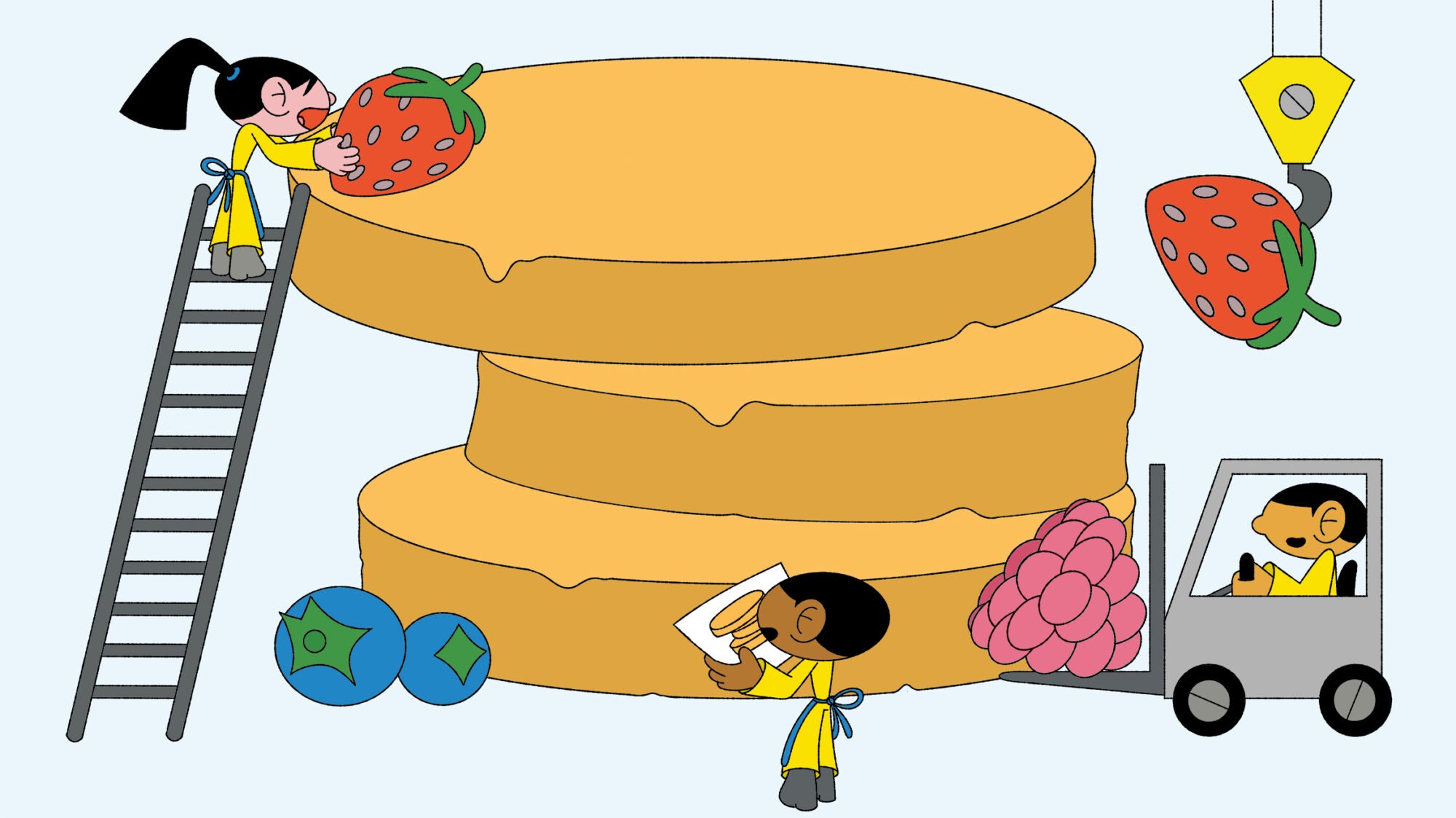 Syrniki—fluffy, fruit-topped, and a beloved staple in a country at war—is experiencing a restaurant renaissance in the US
Every time I eat syrniki—which is often—I marvel at the magic that occurs in the frying pan. So does anyone else who, like me, grew up eating them; syrniki are a cornerstone of a Soviet upbringing, a perfect example of scarcity yielding perfection. The pillowy, cheesy Eastern European pancakes are made from a simple mixture of flour, eggs, vanilla, and farmer's cheese—but one bite is enough to understand that the dish transcends its humble ingredients. Syrniki (sometimes spelled "syrnyky" by Ukrainians) are both sweet and savory, with a sturdy bite, and in my opinion are best served with nothing but a dollop of sour cream on the side. Lately, to my excitement, they're becoming more visible and varied on TikTok and more popular in US restaurants, from the innovative Birch & Rye in San Francisco to the delivery-only in New York City. If you look harder, however, you'll find that these light, barely sweet pancakes are on a somewhat heavy mission:      to distinguish and empower a nation'     s identity under fire.
While widely perceived as a hallmark of Soviet cuisine and a childhood comfort dish, syrniki, the historic origins of which are inconclusive, are deeply Ukrainian, some say. "In Ukraine you can now find syrniki everywhere, from a gas station to the fanciest restaurants," says Anna Voloshyna, a Ukrainian chef whose first cookbook, BODMO, came out last year. Voloshyna, who lives in San Francisco, is originally from the Ukrainian village of Snihurivka and is currently one of the most vocal advocates for modern Ukrainian cuisine in the United States. "Right now everything that is truly Ukrainian is a strong point of affection and protection," she explains. "With the war, it's time for us to dig deeper and figure out what's ours and how we can build on that."
Syrniki are a cornerstone of a Soviet upbringing, a perfect example of scarcity yielding perfection.
Since syrniki are highly riffable, young chefs in Ukraine have been experimenting, says Voloshyna, who just completed a volunteering trip back home. Part of the fun is rebelling against the old-school, no-frills origins of the dish to fancy it up with decadent sauces and toppings. In the United States, many chefs are starting to follow suit, viewing the dish as an important ambassador of Ukrainian identity. "Look at food, and you can tell who has the power in the world," says Johnny Clark, the chef and owner of Chicago's award-winning restaurant Parachute, hinting at how syrniki's prominence can elevate Ukraine's presence on the global culinary map. Clark, whose grandmother was born in Kharkiv, Ukraine, recently opened Anelya, a new Ukrainian restaurant in Chicago's Avondale neighborhood celebrating his roots. Syrniki, he says, will be front and center on the soon-to-be-added brunch menu.
While his grandma had an aversion to dairy and never made syrniki, they found Clark anyway; he was introduced to the dish by Marina Yakush, a refugee who has helped him with the Ukrainian pop-ups he's been hosting for charity since the war started. Clark was immediately hooked. "It's like a ricotta pancake but with more texture," he says.
Until the war, Clark didn't think opening a Ukrainian restaurant in Chicago was possible (or profitable). "Most people I talked to didn't know what Ukraine was or where it was," he says. But the crisis helped him shed his doubts. "The war opened my eyes and ears to the possibility, and I just took it." For Anelya's syrniki, he's planning to incorporate farmer's cheese from Prairie Fruits Farm & Creamery, a Champlain, IL-based producer, and serve them either sweet or savory, filled with chestnut puree and drizzled with pine cone honey.
In San Francisco, those who crave the subtle flavor of childhood can head to Leleka ("stork" in Ukrainian). The restaurant was originally called Pushkin—referencing the famous Russian poet—but owner Sergii Shukailo pivoted given the current situation. As a former resident of Donetsk, it was important to Shukailo to stay true to his culture and heritage by reframing his restaurant's origin story. Syrniki are part of it. "For me syrniki are a Ukrainian dish, because I'm Ukrainian and I grew up eating them," Shukailo says simply. At Leleka, delicate syrniki are served for dessert with a side of homemade raspberry jam.
Clark aptly calls syrniki a "vehicle," predominantly for flavor and seasonality. But they might in fact be the perfect Trojan Horse for making a point about identity. Being beloved and widespread, Voloshyna says, syrniki are at the forefront of Ukraine's ongoing reconciliation with its culinary history. Just last year, the Ukrainian Ministry of Culture and Information Policy nominated borscht, another dish that had spent too much time in the Soviet Union's shade, to be considered a uniquely Ukrainian heritage tradition by UNESCO—and succeeded. In 2023, famous Ukrainian chef and activist Ievgen Klopotenko has claimed in numerous interviews that syrniki should be next. "We don't mind sharing them with the world; it's just important for us to know that this is our dish," Voloshyna says.
They might in fact be the perfect Trojan Horse for making a point about identity.
Back in Chicago, Olga Vinyak, owner of the just-opened  restaurant, taps into the conversation by reinventing syrniki just like up-and-coming chefs back home do. At Velour, guests can find them dressed in sour cherry and pistachio powder or served in a savory style with smoked salmon and caviar. Vinyak says syrniki are already a bestseller at the restaurant and sees them as an integral part of Ukraine's reemerging culinary narrative. "Growing up in Ivano-Frankivsk in West Ukraine, many people had their own cows and made farmer's cheese," she says. "It's our tradition."
According to Vinyak, Velour's customers, many of whom are recent Ukrainian transplants, love to be reminded of these traditions—but also to see them played with and rewritten for current times, instead of looking only to the past. In terms of food trends, "Ukraine is now more European than ever," Vinyak says, hinting at the country's rejection of its Soviet affiliation in favor of a hard-won—and currently fragile—Westernized stance. Syrniki, it turns out, are the perfect dish to reflect this complex moment in time. Equal parts nostalgia and innovation, they may have had a modest, homey start, but they're poised to take on the world, one ladle of cheesy goodness at a time.