These Canned Tomatoes Don't Need Cooking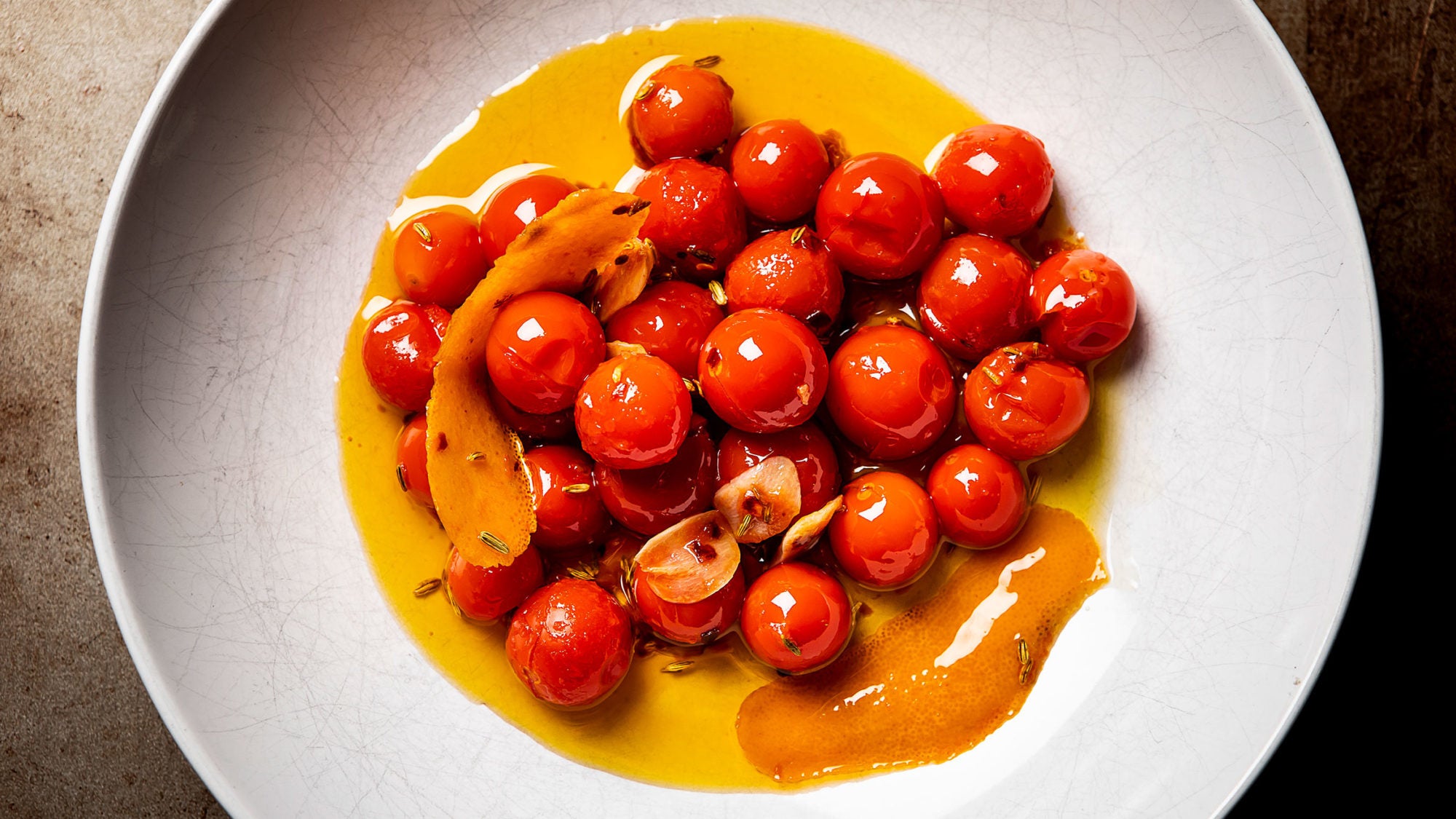 A quick cure in olive oil, citrus peel, and chile flake is a shortcut to summer.
Canned tomatoes, from the sunny fields of California or the shadows of Mount Vesuvius, are the kind of low-maintenance kitchen workhorse that you can cook for as long as you want without worrying that you're going to mess anything up. Through slow simmering and seasoning, they can add a fruity and acidic backbone to vodka sauces, bean-filled soups, and lamb stews. But those bigger, meatier, and far more common tinned plum tomatoes that are standard fare at the grocery store and in our pantries have a daintier, and harder to find, counterpart: canned cherry tomatoes. Seek them out, though, and you will be rewarded.
Brands like Mutti and Carmelina sell the marble-size fruit with the skin on, packed in silky puree. The juicy tomatoes have a freshness and a sweetness to them that could transport you to July during a January blizzard. And because of their delicate flavor and texture, they're at their best when you don't cook them at all.
Sure, by all means, swap these tomatoes in for your favorite pasta sauce if you want, or scatter them around a whole fish that you're getting ready to roast. But to get that pure, summery flavor, all you need is a little fat, a few aromatics, and a bit of time. By straining off any of the tomato puree (and saving it for future pastas) and marinating the tomatoes in olive oil, garlic, citrus peel, and chile flakes, you can make an antipasto snack that doubles as an easy sandwich condiment and a focaccia topping.
Don't have citrus peel? Try it out with a sprig of rosemary or thyme. Or swap in some panch phoron, Kashmiri chile powder, and cider vinegar for an acidic chutney that will work as a unique side for grilled chicken or fish. You could even turn that 14-ounce can into two jars of cured tomatoes for your pantry, with completely different flavor profiles and completely different destinies.