There's Always Money in the Bananacue Stand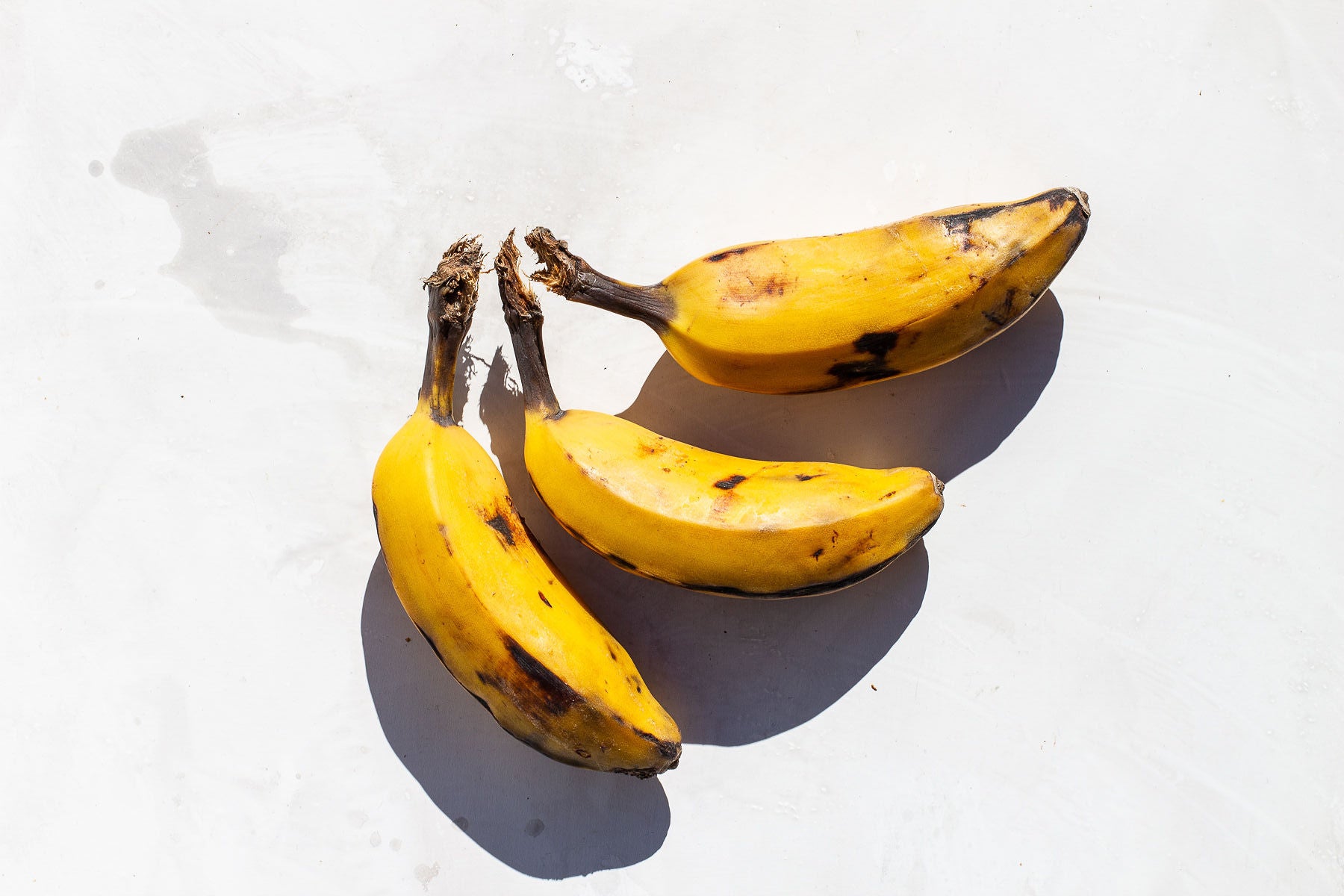 This Filipino street snack turns three ingredients into something that's sweet and crackly on the outside and pudding-like on the inside. 
When I was about seven or eight years old, my lolo (grandpa) would pick me up from the bus stop and we would walk home together. I could always tell that we were near home once I could smell burnt caramel and roasted bananas tickling my nose.
The smell came from the bananacue street vendor near our house in Olongapo, in the Philippines. At around 3 o'clock, when it was time for afternoon merienda (snack), they would start to fry up new batches of bananacue, a snack made with just three ingredients: saba bananas, oil, and brown sugar.
Saba is a variety of bananas from the plantain family that is cultivated in the Philippines. Like plantains you might find in the United States, saba bananas have a high starch content. But when the saba is ripe, it's sweet enough to eat raw, like you would with your average supermarket banana. Lucky for all of us (especially me, living in the Bay Area of San Francisco), they're available flash frozen, already ripe and peeled, at Trader Joe's, right next to the frozen mangoes. You can also find them fresh at a Filipino grocery store, like Seafood City, if you have one nearby.
This banana is used in some Filipino soups and stews, like nilaga (a clear beef- or pork-broth-based soup served with cabbage, potatoes, and saba) or pochero—a more Spanish influenced stew cooked with some tomato sauce. But the fruit is mainly used in desserts or sweet snacks. You can make it into turon—bananas and lanka (jackfruit) wrapped like a lumpia roll in a crispy fried skin. Or, if you're like me, you can relive some of the sights and smells of the bananacue vendor from second grade.
My lolo always refused to buy the fried bananas that were already cooked and set out on display. He requested them freshly made, so we got to watch the vendors throw the brown sugar in the hot oil and watch it melt. Then they would throw in freshly peeled bananas and slowly stir it around so that the melted hot sugar would coat the banana all over.
Once they were a perfect golden brown, the vendors would fish the pieces of banana out of the oil and skewer them onto some sticks and stuff them in a brown paper bag. We were close enough to our house that when we got home, the bananacue would still be piping hot, with a crispy, sugary shell and a soft, pudding-like interior.
When I re-create bananacue at home now, as an adult, I like to take the dangerously hot vat of oil and burnt sugar out of the equation. I roll the bananas in coconut sugar and give them a quick cook in my air fryer until the sugar is caramelized. If you don't have access to one, a frying pan with a little bit of coconut oil does the trick, too, with a moment under the broiler to help melt the sugar.