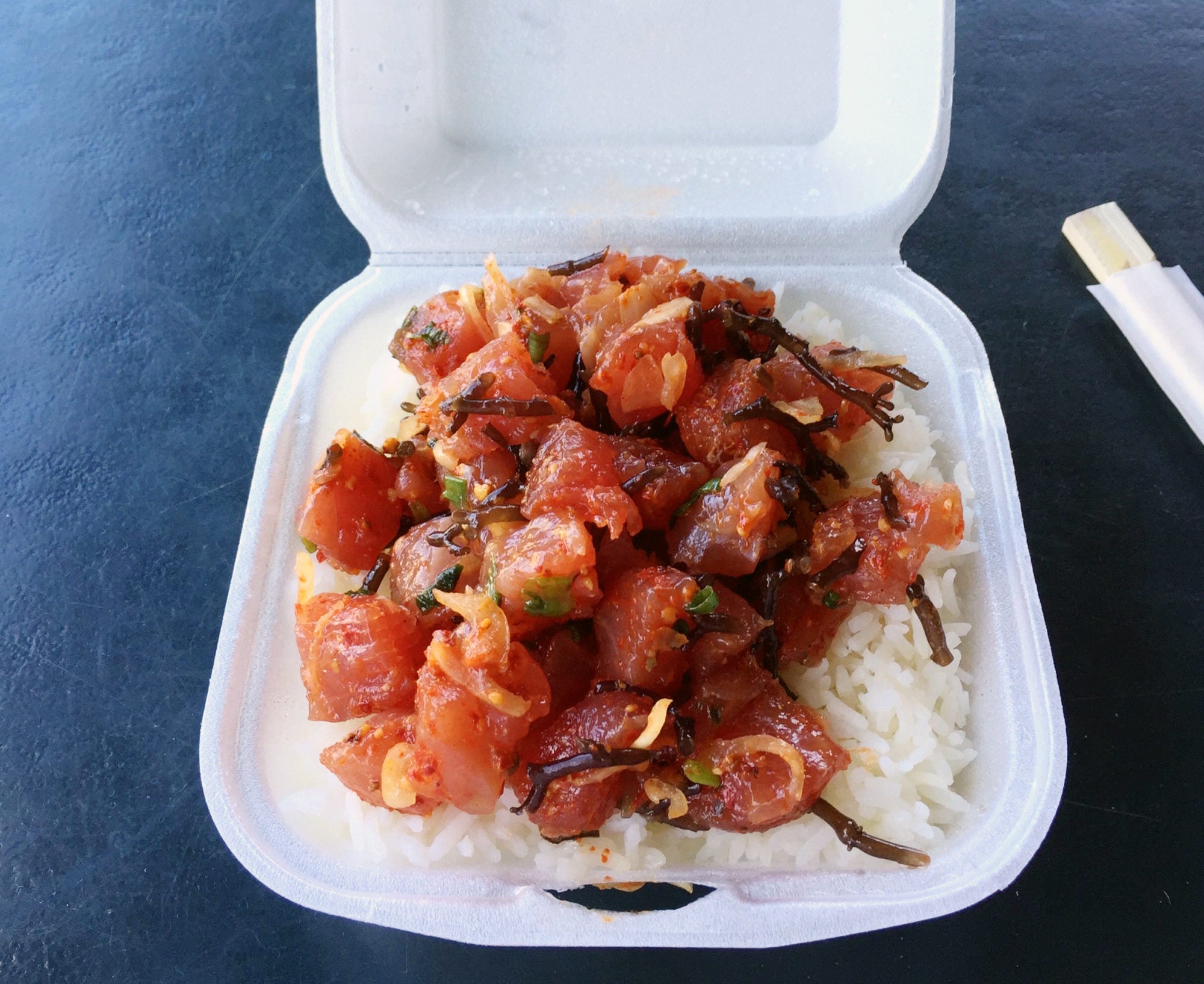 The traditional Hawaiian dish has been co-opted and reinvented by hipster fast-casual chains around the world. This is not cool.
"You're pronouncing it wrong," said my friend Sheila. "It's poke."
"Poh-kee?" I asked. "As in Gumby and Pokey? Like do the hokey-pokey? Rhymes with gnocchi?"
"Two short syllables," she said. It's not supposed to sound like "bouquet."
"OK. Got it. Poke. Not puh-kay."
We waited in her car at a stoplight on Kalakaua Avenue as tourists toting swim tubes and ice coolers crossed toward the surf on Waikiki Beach. Sheila is kama'aina—born in Honolulu—and I'm from the mainland, but we've been friends through shared meals of Spam musubi, loco moco and lau lau, pipikaula, chocolate haupia cream pie. (I loved the pie.) We even had an episode involving the etiquette of two-finger poi.
Poke wasn't about to part us. Food shouldn't do that. Politics, possibly. Never food.
And here's the problem: Poke has spread in popularity beyond its location of origin, and much like tacos, gumbo, ramen, or Nashville hot chicken, the greater world has embraced it without ever visiting Hawaii or eating the original iteration: chopped raw reef fish, like moi or oio, rubbed with three other precontact ingredients. Only three. Fresh seaweed, sea salt, and chopped, roasted kukui nuts. No pineapple, tofu, jalapeños, zoodles, or mayonnaise in sight. No "volcano" sauce or "ginger mojo" mix-ins or toasted rice puffs or chopped kale toppings.
Don't call it a freaking salad.
Poke has been around since Polynesians first paddled across the Pacific to Hawaii, as early as 400 C.E. According to Ulukau, A Dictionary of the Hawaiian Language, the word means: "to slice, or cut crosswise into pieces, as fish or wood." Poke would become a staple of family luaus and pu pu platters, and be championed by Hawaii regional cuisine chefs like Alan Wong and Sam Choy, but didn't really gain popularity on the mainland until around 2012, when it was appropriated by the healthy-bowl sector and franchises started rolling out faster than lava flows from Kīlauea.
It's easy to blame an intersection of surf culture and hipster fast-casual eating habits for why poke landed in a grain bowl next to avocados and edamame, but that's discounting the benefits of its low fat content and ample amount of omega-3 fatty acids. A four-ounce serving, minus all the mix-ins, barely tops 150 calories. It's unlikely poke will ever appear on the same menu as a Quarter Pounder With Cheese; however, as an egalitarian, feel-good meal, no wonder it appeals to clean-eating bowlers who can't afford a plane ticket to Hawaii. Sweetfin Poké is on track to West Coast domination.
Chef Sam Choy, who launched poke contests back in the 1990s and authored Poke, Hawaii's Food, has a restaurant called Poke to the Max in Seattle. Two financial-sector dropouts opened Wisefish Poké in Manhattan. You can also find mom-and-pops like Grey Whale Poke Bowl in Lincoln, Nebraska, and Lei'd Hawaiian Poke in Vienna, Virginia. There's a shop called Hokee Poke in Sacramento, not to be confused with the other shop called Hoki Poki in Tucson. I can find prepackaged smoked salmon poke bowls in the refrigerator section of my upstate New York supermarket, and that's about as far from the South Pacific as it's culturally possible to get.
A Chicago-based chain receiving the most attention, and outrage, this past year was Aloha Pokē Co., which holds two federal trademarks for its design logo and the words "Aloha Poke," claiming the exclusive right to use those words together in connection with restaurant services within the United States. That includes the Five-0.
Scrolling through the company's upbeat Instagram and Facebook feed is a bad lesson in how to skim culture, from the employ of shaka graphics and hula dolls to Anglicized misspellings of Hawaiian expressions like "grindz" and "ono." Logo wear emblazoned with the phrase "Pokē Responsibly." Posts featuring founder Zach Friedlander are riddled with angry comments about colonization, appropriation, and racism. (Friedlander left the company last May, but that hasn't stopped the online protests.) Reading these left me with a queasy stomach. Food really shouldn't do that. When contacted for comment, Aloha Pokē Co. declined to respond.
Activists protested Aloha Pokē Co. for issuing cease-and-desist orders to other businesses that paired the words "poke" and "aloha," which is one of the most nuanced in the Hawaiian language. The Hawaiian word for the breath of life is "ha." (A formal greeting called honi involves touching noses or foreheads and sharing breath, or ha, with another person.) It's also a root of the derogatory term haole, for those without breath, like cultural appropriators who try to trademark aloha.
Micah Hodson Kamohoali'i is a master Hawaiian cultural practitioner. He grew up on a farm on the island of Hawaii, and when we met for coffee one morning overlooking Kauna'oa Bay, he pronounced "poke" differently from my city friend on Oahu, who made it sound like Okie.
"So it's poke like OK?" I asked. "The 'e' sounds like 'a,' each syllable has its own weight?"
"Yeah. I think we became lazy tongue in a way," he said. "So many people say poke like popoki, but then I tell them it's the word for cat."
Kamohoali'i laughed.
"Some old people say poki, and that's when I say, uhm, I hope you're not eating raw cat. I don't know if that would be good."
"What about the spelling?"
"If there's a kahakō above the 'e' that prolongs the vowel," he said. "But we don't have 'pokē' in Hawaiian. It's completely wrong how they put a dash on the top. That Chicago pokē? Let them have that word—it's not even Hawaiian anyway. But the 'aloha' word really belongs to us. It means so many things, used in everything we do—I don't know how you could take that. If someone says 'aloha,' you have to say 'aloha' back. I say 'aloha,' I give you my breath; you say 'aloha,' you give it back to me. My grandmother? We knew when she really didn't care for someone, because when they'd say aloha, she'd say, 'Oh, hello.'"
Later that day, I shared an order of poke at a place called Lava Lava Beach Club with Kama DeSilva, 21, who gave up a baseball scholarship on the mainland to return home and fish out of Kona on his boat Kai Nui. (It means high tide in Hawaiian.) The poke arrived on a bed of wakame seaweed, topped with avocado, ginger, and black sesame seeds.
"What do you think?' I asked. "Is this your fish?"
"Might be, you never know," DeSilva shrugged. "It's pretty good. Simple. Fresh. That's the main part."
A third-generation commercial fisherman, DeSilva sells mahi mahi and yellowfin tuna (ahi) to local restaurants and a wholesale distributor who ships his catch to the West Coast and occasionally New York. It's even landed at Disneyland.
"A lot of the restaurants have 'day boat caught' signs now," he said. "That's us."
"What's the price of ahi right now?" I asked.
"Six to eight dollars a pound."
"And what does your distributor charge?"
"Double that, at least. It's a good living. That's why I left that other stuff. I wouldn't go back, let's put it that way. Fishing takes a toll on you, though: There's a lot of ice to lift, and I fish a lot out there by myself. You just talk to yourself some days, and when you don't catch anything, it's easy to get frustrated and stressed out. Then there's the day you're filling your boat. Not only do we got to catch it, we got to take care of it, gill and gut. Then haul it out of the boat, put it in a truck, take it to someone."
Back on Oahu, I made a final stop at Ono Seafood, a modest storefront takeout next to an empty lot on Kapahulu Avenue in Kaimuki, miles from the tiki lounges and ABC Stores of Waikiki Beach. It's owned by Kim Brug, whose parents, Judy and Willy Sakuma, started the business to make a little extra money back in 1995.
"Humble beginnings," said Brug, busy at the cash register. "It was really hard. Mom's recipes, our consistency."
Ono Seafood has a refrigerated snack case and a prep counter where five staff members, including Brug's mother, assemble orders based on fresh catch off boats that sell directly to the Honolulu fish auction. It's never frozen or from overseas. Ono Seafood sticks to the two modern classics: octopus and yellowfin tuna.
The menu has only eight pokes.
"We keep it simple," said Brug. "It's getting so trendy with all the toppings, but they kind of go overboard, and it takes away from the fish—the main thing. Some people even put Cheetos on their poke bowl, changing it up, Americanizing it, instead of the way it's supposed to be. Who puts cheese on fish?" Brug buys kukui nuts raised on the island of Hawaii, sweet Maui onions, and ogo seaweed from aquaculture ponds on the North Shore. "We like the robust ogo because it adds texture and crunch," she said. "The limu gets stuck in your throat, it's so fine." She handed me a styrofoam clamshell filled with her mother's traditional "Haw'n Style" ahi poke and two scoops of plain white rice. I went outside to sit at the picnic table next to the parking lot. That ruby mound of raw fish with bits of brown seaweed and crushed nuts is why I'll never eat poke in Nebraska.