There Is No Substitute for Shacha Sauce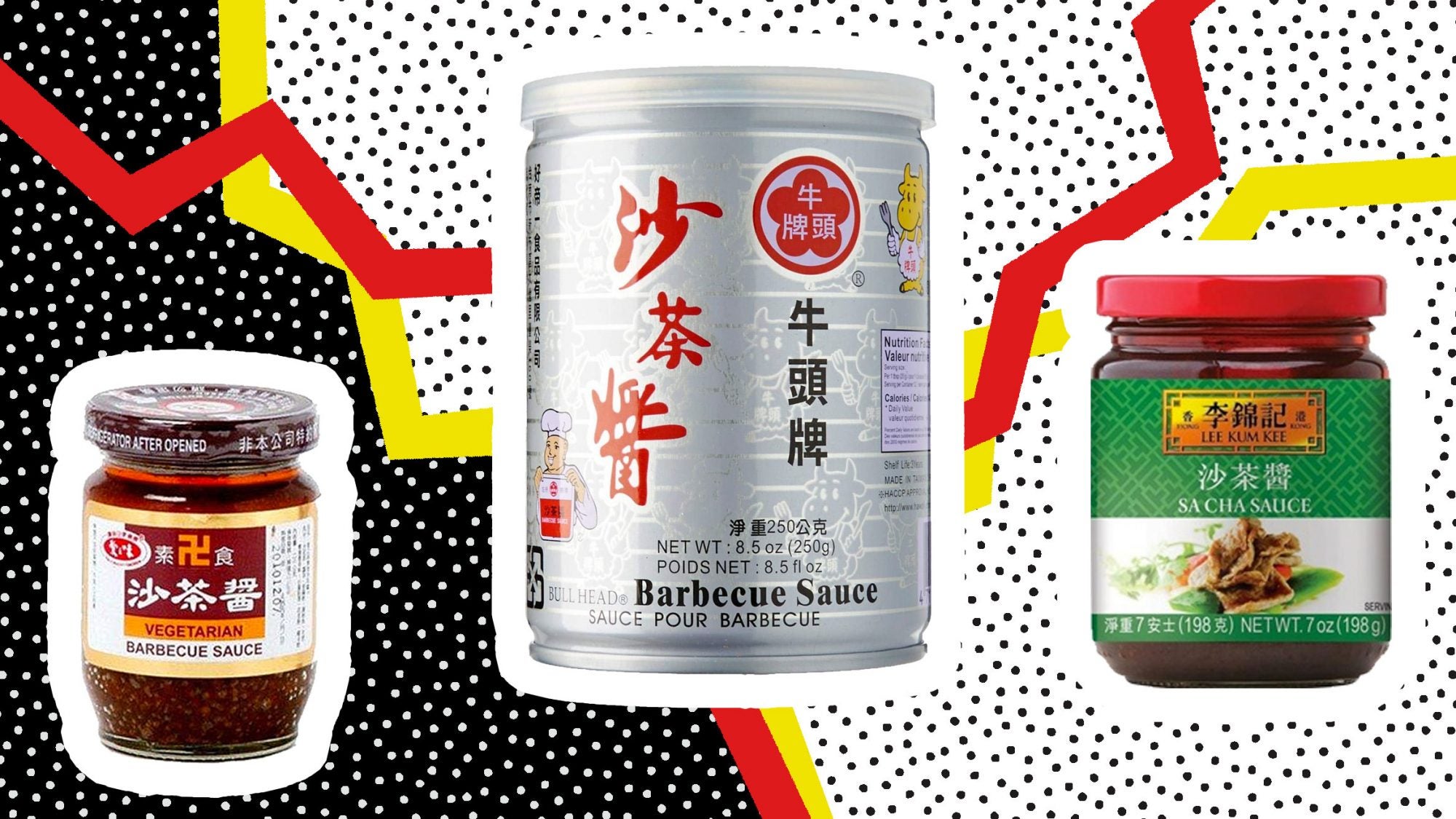 The smoky, savory Taiwanese sauce is a cyclone of flavors fit for stir fries, soups, grilled meats, and more.
More savory than spicy; a bit smoky, sweet, and vaguely tropical thanks to a hint of coconut powder and ginger; shacha sauce is a cyclone of flavors that's beloved in Taiwan—though it has not quite had its moment in the internet cooking spotlight like other condiments have. The burnt orange oil, streaked with a heavy sediment, might remind you of crispy chile oils with plenty of fried alliums. But take a whiff, and you will encounter a wave of dried seafood that has been crushed up in the mixture—dried baby shrimp and brill fish, cured and concentrated in the sun—along with shallots, garlic, and chiles. With origins in satay, it took this condiment a lot of trips throughout Southeast and East Asia, thanks to migrant worker patterns and war, to develop into the complex sauce that it is.
"It's super umami-packed, so I feel like it just makes everything taste better," says Diana Danxia Zheng, author of the cookbook Jia! The Food of Swatow and the Teochew Diaspora. She explains how, throughout the twentieth century, men from the Chaoshan region in Southeast China often worked seasonal jobs in Indonesia, Malaysia, and other parts of Southeast Asia, and they would bring back food traditions from those places, adapting them to local tastes back home. In Southeast Asia, satay sauce was a more peanut-forward blend of chiles and herbs. But a chunky, oil-based sauce emerged in and around Chaoshan in lieu of the nuts—with local additions like dried seafood—and a wholly new version was born.
The way the sauce's name is pronounced even sounds similar to "satay" in the Teochew and other Minnan dialects; "sha-cha" is just how it's pronounced in Mandarin. Therefore, Zheng calls it "satay sauce" in recipes throughout her cookbook. (Though it is derived from a name that was likely coined in Tamil, the Chinese written characters for the sauce roughly translate to "sand tea," possibly for its grainy texture.) And according to Zheng, the composition of the sauce can vary quite a bit throughout these regions, blurring lines between Southeast Asian–style satay and its Southeast Chinese interpretations; she's had varieties back in Chaozhou that are just slightly peanutty, or less fishy, or more spicy.
Yet while Indonesian satay sauce is mostly associated with grilled meats, shacha is commonly served with beef-based noodle soups or hot pot, or used as a seasoning in stir-fries, such as a simple sliced beef stir-fry with chunks of scallions or Chinese broccoli in the Chaoshan region and its diaspora. "Even here in [Southern California], some Teochew-Vietnamese or Thai places will be selling their own homemade versions of satay sauce, especially if it's a more noodle-soup-oriented place, and they take pride in the sauces that go with them," Zheng says of diasporic Teochew-owned businesses in America.
One of those diasporic regions took the sauce even further. During China's Civil War, hordes of mainland Chinese followed China's Nationalist Party to resettle in Taiwan, many of them from Chaoshan. In 1958, a noodle shop owner in Tainan named Liu Lai-qin, originally from Chaoshan, created the Bullhead brand of shacha sauce. It is, according to Katy Hui-wen Hung, coauthor of A Culinary History of Taipei, "sold in a silver tin nearly as iconic as the Taiwan Beer can."
Bullhead shacha sauce has a global presence today and is available in both vegetarian and original varieties (as well as a powdered form of shacha sauce, which was the brand's first offering, in fact). Its label often features a yellow cartoon bull wearing a bib—which is not the only association that shacha sauce has with bovine creatures. When Liu was first selling the funky-flavored sauce and powder in the late 1950s and early '60s, many Taiwanese people were slow to accept it, along with the custom of eating beef. According to Lin-Yi Tseng, assistant professor at Taipei Medical University, Liu initially received a bump in sales after a well-known radio host fell in love with Liu's shacha-smothered noodles and featured the dish on his food radio program in the late '50s. Liu scrapped the shop and opened a factory to mass-produce the powder and sauce instead.
Considered a taboo meat by earlier, agrarian generations in Taiwan, beef consumption slowly grew more acceptable over the 1960s and '70s, mirroring the rise in shacha's popularity. By the late '70s, meaty hot pot had become a national craze, popularly eaten with a small dish of shacha sauce for dipping slivers of just-cooked beef and other meats. According to Tseng, the restaurant that helped inspire this trend, Xiao Haozhou, was opened in Tainan in the 1970s by Chen Musheng, a retired military soldier who had once served as Nationalist Party leader Chiang Kai-Shek's personal bodyguard and driver. He was originally from the city of Shantou (aka Swatow, in the Chaoshan region) before fleeing with the party to Taiwan, and his restaurant served shacha beef stir-fries and shacha beef hot pot using a shacha sauce recipe derived from his uncle, who had been a plantation laborer in today's Singapore.
Tseng writes: "In fact, as a youngster in Shantou, Musheng learned from his uncle that wherever Shantou people went, they could improve their livelihoods by preparing and selling good sha-cha sauce." Once shacha beef cuisine caught on in Taiwan's cities, it spread to households, and—thanks in part to the growing business of Bullhead brand sauce—by the 1980s, most Taiwanese families could afford to purchase jars to use in their home cooking.
Given its fishy flavor and variety of uses, it might come as a surprise to Americans that shacha sauce, including Bullhead brand's, is usually translated on jars and cans as "barbecue sauce" in English. This is probably owing to its origins in Indonesian-style satay, though it's hard to say for sure. Perhaps a similar conundrum is how the American notion of "barbecue sauce" became commonly understood as a sweet, ketchup-based condiment—after all, you can flavor grilled meat with any type of sauce, and that's not even getting into the debate about what it really means to "barbecue" it.
My mother, who grew up in Taiwan, keeps a silver can of Bullhead shacha sauce in her fridge at all times, scooping out a spoonful to build an instant "broth" for noodle soups when mixed with hot water and a splash of soy sauce. I do this as well, and I usually add chile oil or crisp as the finishing drizzle for a bit more heat. Eric Sze, the Taiwanese-born owner of the Taiwanese restaurant 886 in New York City, sells a sauce inspired by both shacha sauce and chile oil—alas, another vast category in itself—with a hint of Sichuan mala spice, a nod to his dad's family's roots. He calls it "Sze Daddy" sauce, a New York–born spin on a sauce that has spun a good length around the globe, acquiring more fragrance and nuance each step of the way.
Shelve It explores the world of groceries from the fluorescent-lit aisles to the nooks and crannies of your cupboard. We dive into why certain ingredients got pantry-staple status, the connection between cookbooks and buying habits, the online-ification of grocery shopping and what gets shelved along the way.