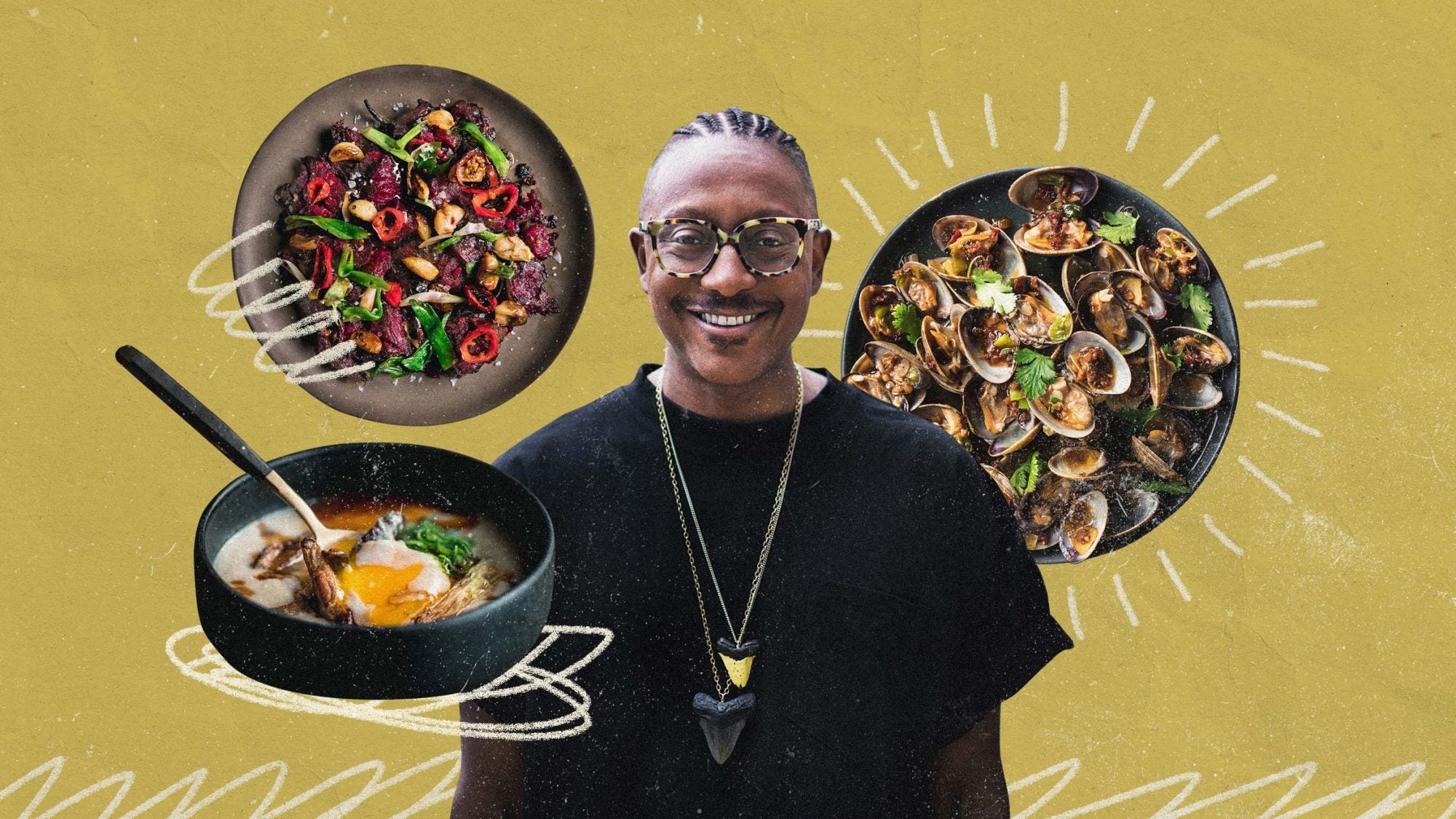 A new cookbook from Top Chef's Gregory Gourdet is the best argument we've seen for going paleo.
If you were one of the many people who spent the pandemic rewatching old seasons of Top Chef, Gregory Gourdet is probably a familiar face. The two-time former competitor is back this season as a judge, introducing viewers to the breadth of the food landscape in his hometown of Portland, Oregon, where the show was filmed.
In addition to filming the season last fall during forest fires and Black Lives Matter protests, with a massive list of COVID precautions in place, Gourdet was also getting ready to open Kann Winter Village, an outdoor pop-up restaurant that celebrated the Haitian food he grew up with (a summer iteration of the pop-up is in the works now). He was also working on his first cookbook, Everyone's Table, coauthored with JJ Goode.
The book walks a fine line between the fun, easygoing food you'd feel great about eating on a Wednesday night for dinner (cauliflower rice and ribboned zucchini squash—"zoodles"—make appearances), and the careful, special-occasion dishes you might plan a dinner party for the excuse to cook (the whole grilled lobster with pikliz and jalapeño oil comes to mind). And, as you might not notice from flipping through the recipes, it all happens to be totally free of gluten, dairy, soy, refined sugar, and legumes. It's paleo for the paleo-skeptical. I talked to Gourdet about this approach to cooking, and about what we can expect from this season of Top Chef. —Anna Hezel
One of the things you write about in the book is your journey to paleo and embracing the paleo lifestyle. A few years ago, when you started to cook and eat more paleo food, how much did that change your cooking style?
The funny thing is, even before I went through my lifestyle change, I worked for Jean-Georges [Vongerichten], for quite some time. for about six or seven years. He was a revolutionary in that in the '80s—he started using fruit juices for sauces, he started using herb oils. Even at Jean-Georges, when we worked there, in the early aughts, a lot of it was about not [using] a lot of buttery jus but making creative sauces to pair with all the foods, so that was kind of always in the back of my head, because I spent my formative years there. So I already had this helpful take instilled in me in a fine-dining setting, and I was never really making crazy, insane food that was fatty and out of control. But, of course, I would eat mac and cheese. I would get drunk and go to Cafeteria at 4 in the morning back in the day and get a bacon cheeseburger. So my eating wasn't great, but there was always a part of me that knew food didn't need to be really, really fatty to be delicious.
How has being paleo (and avoiding dairy and legumes) affected or changed your relationship with Haitian cooking?
The thing for me is that the way I eat is based off the paleo diet, but I don't really consider myself paleo. Because the book is paleo, but I don't really push it. No one has to be paleo to cook from the book. And yes, I was strict paleo ten or twelve years ago, but now I'm very comfortable in the place where I'm at. I'm definitely dairy-free and gluten-free. But I have soy sauce sometimes, if I'm in Japan. I'll taste a bite of this or a bite of that. But for me, it was about discovering the best foods and looking at everything from a nutritional standpoint.
I grew up eating rice and beans, and I cook them at the restaurant every day, and my mom cooks them all the time. So that's not a problem for me. Of course I'm going to have what my mom makes, and of course I'm tasting what the restaurant makes. There isn't a lot of dairy in Haitian cuisine, so that works really well, and there isn't a lot of gluten in Haitian cuisine. But there's definitely a lot of legumes, and we cook them and eat them, and they're delicious.
I like that the book doesn't shy away from cauliflower rice and zoodles. Do you think they're underrated, and what do you like about them?
I love cauliflower rice in a bowl. For me, this book was really about two parts. There's one part where I just wanted to make regular food. Most of the book is dishes that anybody could make. You read the recipe title, you read the recipe, and you don't think anything of it. You don't think it's a diet book. You don't think it's missing any element of anything. And everyone in your family wants to eat it. And the other part of it is going into some alternative ingredients: how to make nut milks, how to make interesting sauces and dressings from cashews. How to make a gluten-free flour that works great in a handful of cakes, and the muffins in the book. How to make caramel using coconut milk. So there are definitely some tips and tricks to create different things, but I didn't want it to be a book that was filled with alternatives for the regular thing.
The book spotlights fermentation in some really cool ways, from the fermented pine nut Caesar dressing to a soured cashew cream. I think fermentation can be a bit intimidating to people who haven't done it before. Why should home cooks get on board with the technique, and what's a good project to start with?
Fermentation can feel a little science-y. But, at the same time, it's really one of the simplest methods to create something delicious. It's literally leaving something out on the counter to create something delicious. And this process has been around for centuries. From sauerkraut to wine, so many things ferment every day. I've simplified it in such a way that some of it can be foolproof. And yes, there's a lot of science involved in fermentation. But the results are definitely worth it, when the only ingredients you need to add are water and salt.
I think the pine nuts are a great starting project. It's something we used to do at one of my restaurants, and it just creates this really funky, delicious, umami-packed sauce when pureed, and the dressing is so versatile—you can keep it in your refrigerator for a few days. It's literally just pine nuts and water. You let them sit. You can watch the fermentation process. I definitely encourage people who are new to fermentation to pay close attention to the project. To see what happens. To see the bubbles forming, to see the fermentation happening. It's kind of like having a little pet project. You check on it for three days, and then you throw everything in a blender with some aromatics, and you have this great dressing.
When you decided to become a judge on this season of Top Chef, were there any particular topics you wanted to cover or things you really wanted to accomplish with the season?
We started filming, and it was really a critical point in terms of protest and everything. Protests for police brutality, protests for social justice. All these things are extremely important, and there's no right way to protest. You just have to protest. And at the same time, Portland was getting a lot of negative press from conservative media because of it. We took the pandemic really seriously here, and there are a lot of smaller restaurants here, so a lot of communities and businesses were hit really hard. So I wanted the show to represent all the things we love about Portland, and not to hide from the reality of what was going on, as a time stamp in America right then. But I was really grateful for the episode where we focused on Black-owned restaurants in town. Some of the beautiful natural landscapes—the Oregon coast, Mt. Hood. I want America to see that we are a diverse culinary community, and that Oregon has lots of beautiful natural surroundings and indigenous ingredients to offer.
How different was the feeling of being on set last September as a judge from the previous season, when you were a contestant?
It was definitely a different season. We had been trying to work on getting Top Chef to Portland for a couple years. And of all the years for it to come, it was this year—in the middle of the pandemic. But I'm thrilled that we got to film here. And, obviously, being on the other side, it was really fun for me to see a little bit more behind the scenes of what really happens. Because as a contestant, you're held in the dark, because it's a reality show. You're not told anything. Everything that happens is quite a surprise, and the clock and the timing are very real. I was actually quite jealous of the chefs, because I'm a competitor, and I love competing on Top Chef. I think it's just so exciting. But it was nice to be on the other side and see more of what happens behind the scenes to make it all happen. The best part for me was that I'm from here, and I'm well connected to my community, so being able to advise and connect them with chefs and purveyors for local seafood and all that good stuff—it felt good to support some of my colleagues and some of the businesses by connecting them with Top Chef.
But, outside of that, we stayed at a hotel that was literally a few blocks away from the nightly protests downtown. We had to change a lot of production because of the forest fires, because even inside our hotel, it completely smelled like smoke. So we had to go through a lot. But I think the season is really great so far, and I'm excited to see more.
This interview has been edited and condensed for clarity.
THREE EXCITING RECIPES FROM EVERYONE'S TABLE:
Slow-Cooked Eggs with Cauliflower Congee and Crispy Shiitake
Cauliflower rice is simmered in broth with plenty of ginger for this grain-free take on the classic.
Crispy Smashed Beets with Garlic, Scallions, and Chile
Borrowing a technique that's usually used for potatoes, beets are roasted until tender, then smashed and fried.
Steamed Clams with Ginger, Scallions, and XO Sauce
A great excuse to make your own XO sauce if you've never tried it before.
MORE BOOKS TO BUY, READ, AND COOK FROM:
Last week, we talked to Los Angeles chefs Genevieve Gergis and Ori Menashe about their latest cookbook, Bavel.
In Ripe Figs, Yasmin Khan digs into the culinary stories of Turkey, Greece, and Cyprus.
Drew Lazor's Session Cocktails is a warm-weather essential.
Get into a whole new cooking rhythm with Nigella Lawson's latest: Cook, Eat, Repeat.
A new Netflix series (coming May 26), hosted by Whetstone editor Stephen Satterfield, will dive into the history of African American cuisine. The series is based on the absorbing, influential High on the Hog, by Jessica B. Harris.