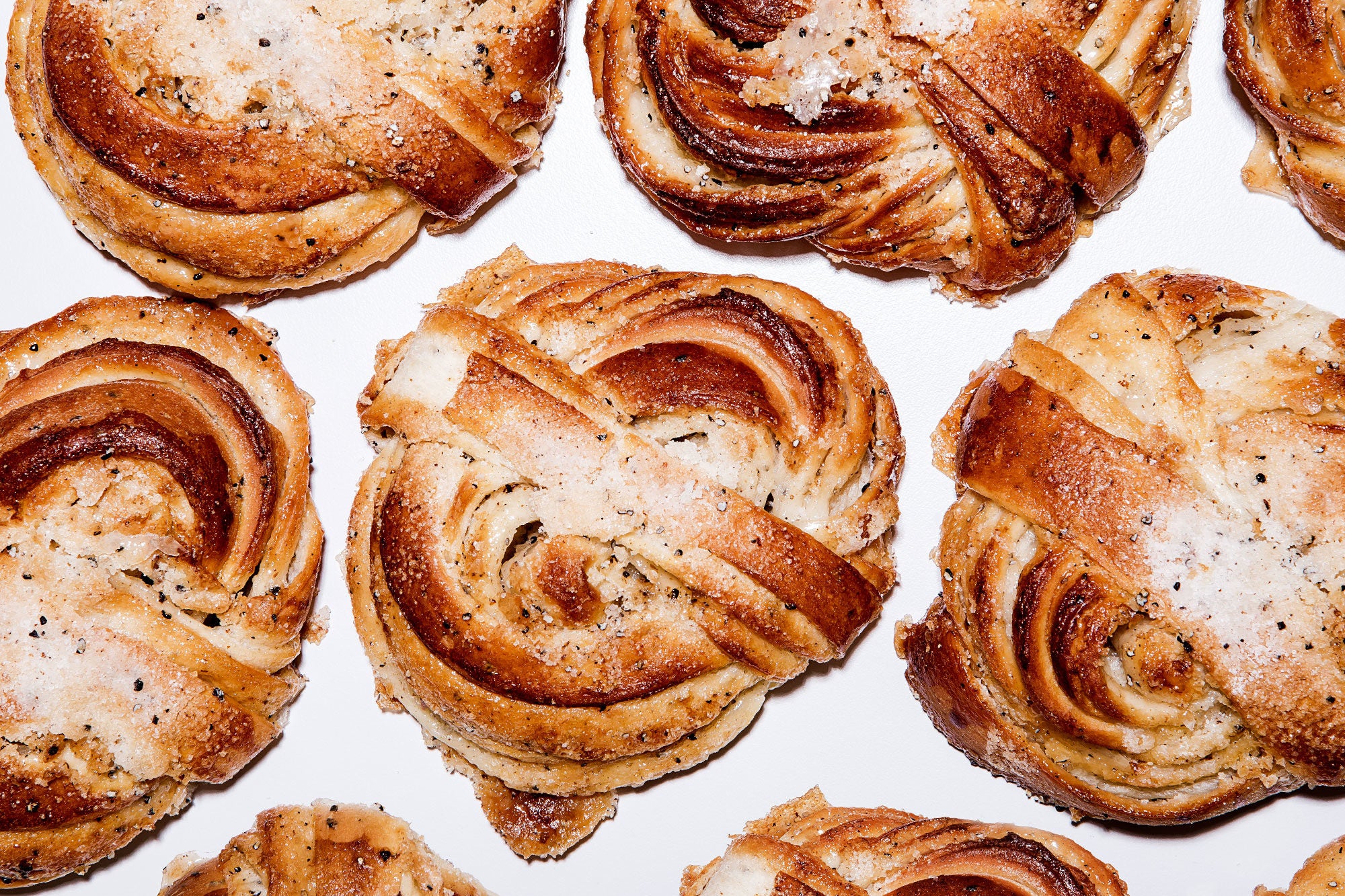 With its heady aroma and dramatic knots, the Swedish cardamom bun is worth getting behind.
This May, a chain of Swedish bakeries called Fabrique opened its first U.S. outpost in New York City's Meatpacking District. Writing about the occasion for the New York Times, Florence Fabricant observed the droves of people who lined up to get their hands on the chain's cardamom buns. Known as kardemummabullar in their native Sweden, these sturdy yet delicately woven pastries are the default centerpiece of the country's sacrosanct fika, or coffee break.
The buns, perfumed with cardamom, belong to the same family as cinnamon rolls, croissants, and danishes, which is to say the family of enriched dough pastries—or those pastries whose base contains eggs, milk, butter, and/or sugar. Though it appears to be most closely related to the American cinnamon roll, the cardamom bun is less sticky-sweet and more peppery-aromatic. But its most pronounced quality is its spiraled braid shape. Instead of slicing off rolls from a log of dough, the buns are generally finished using one of two techniques.
Some prefer a method that involves slicing the rolled-out dough into strips, each of which is cut nearly in half to create what looks like pairs of dough trousers. The legs are corkscrewed together and wound into a tidy bun. Others, including Fabrique, shape their buns using a method similar to hand-winding yarn. The individual ribbons of filled dough are wrapped around your fingers until there's just enough left of the strip to loop around and under the coil, resulting in a banded bun.
The finishing touches are flexible. Some cardamom buns are topped with a cascade of white Swedish pearl sugar, which provides a contrasting crunch. Slivered almonds or freshly ground cardamom are also fair game. Others are brushed with golden syrup for a glossy effect, or are left entirely unadorned, an ideal state for being eaten warm from the oven.
For my version, I chose to shape according to Swedish chef Magnus Nilsson's recipe from The Nordic Baking Book, mostly because he's Magnus Nilsson, and also because he claims that the dough-trouser method (my terminology) creates the most traditional shape. I also followed his choice of finishing; after emerging from the oven, the cardamom buns are glazed and topped with a flurry of cardamom sugar, a mix of granulated sugar and ground cardamom. Though Nilsson suggests golden syrup, I substituted it with maple syrup, which imparts a deep, caramelized flavor and is easier to source in the United States.
The cardamom bun is ripe territory for experimentation. Infusing the milk with a pinch of saffron gives the dough a pale golden hue and a subtle, enigmatic flavor. Brush the dough with rose water syrup or warm apricot jam, drizzle with citrus icing, or, in a nod to the American cinnamon roll, go ahead and slather with cream cheese frosting.
Unlike cinnamon buns or IKEA, kardemummabullar haven't yet found ubiquity across the United States. Though they can be sought out at Lost Larson in Chicago, Byen Bakeri in Seattle, and Fika, the café inside the American Swedish Institute in Minneapolis, as well as from Sweet Kardamom (a mother-daughter baking team in Portland, Oregon, who provide buns for Broder Söder), it doesn't require a plane ticket or a wait in an hours-long line. Simply roll up your sleeves and twist some dough.