The Shortcut to Clam Opulence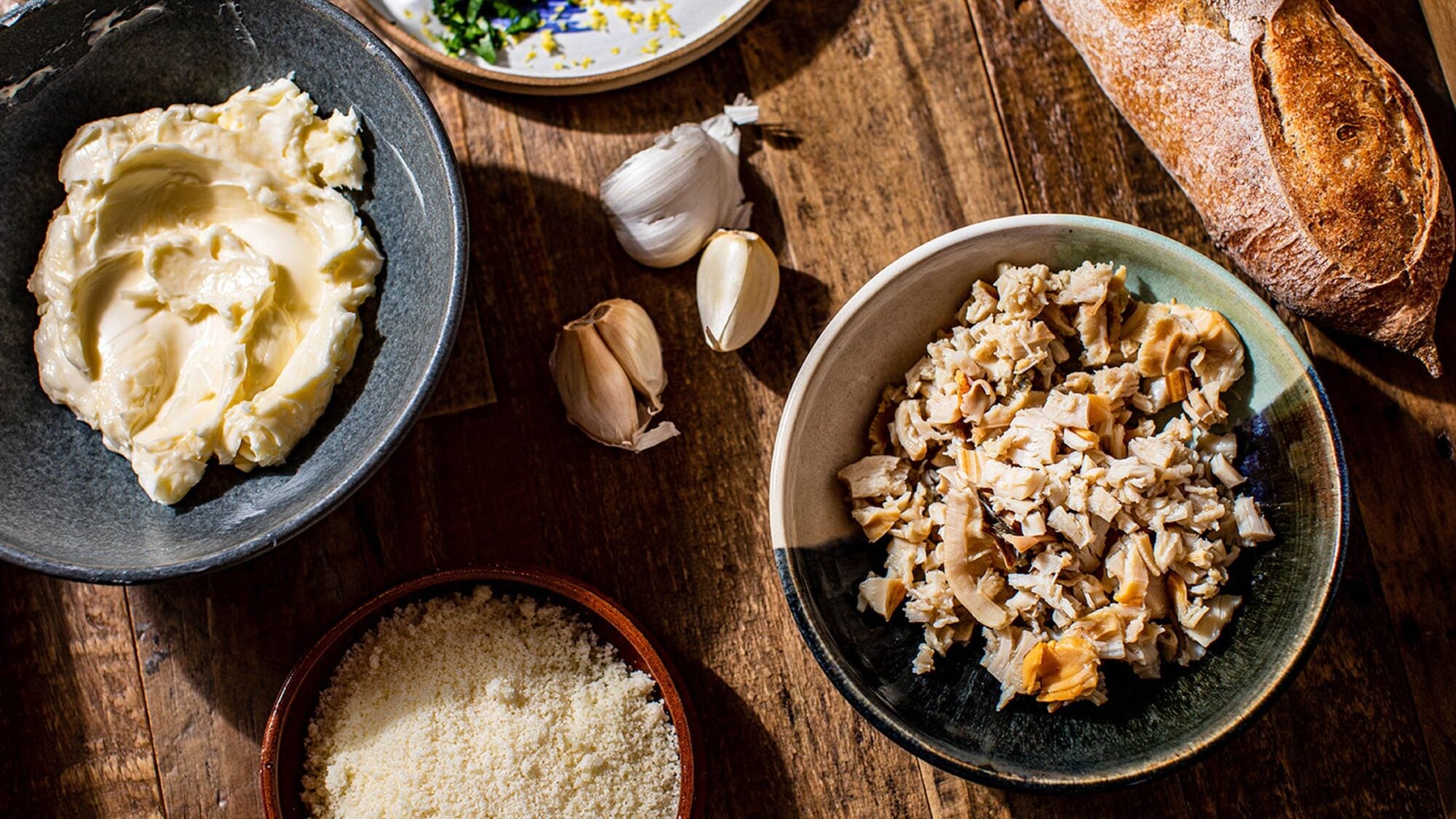 Conventional wisdom says that fresher is better, but when it comes to umami-packed brine and easy volume, canned clams have the edge.
"I hate when you go to a restaurant—especially an expensive restaurant—and they have a clam pizza, and you get it, and it comes with six clams in the shell," Peter Reinhart tells me. "Where are the clams? I wanted clam pizza, not a pizza with six clams. I wanted a clam festival."
As the author of Perfect Pan Pizza and numerous other books about bread-baking and pizza, Reinhart has eaten fresh clam pies from Connecticut to Oregon to Italy. But, for his part, when it comes to cooking at home, he says, "I don't love shucking uncooked clams." Like thousands of other home cooks out there, he turns to an economical, widely available, and fairly delicious alternative: canned clams.
While the last fifteen years of spaghetti alle vongole recipes, Portugal vacation photos, and mail-order seafood services may have tried to convince us that fresh clams are the only ones that matter, the kinds that come in cans have some serious strengths in the kitchen. There's obviously a convenience factor, especially during a pandemic, when we're relying more and more on shelf-stable ingredients, and especially if you don't have a great fishmonger at your disposal. There's the fact that shucking at home can result in an entire countertop coated in sand and brine. But there's also the fact that these grocery store cans, which you can get for around $3, are massively flavorful, taste perfectly salty, and come with plenty of brine to double down on the clam flavor in whatever you're making.
Reinhart's recipe for a white clams casino pan pizza bypasses the arduous (and potentially hazardous) shucking process and any clam stinginess by opting for the canned variety. The whole surface is coated with a mixture of chopped clams, bacon crumbles, basil, lemon juice, and breadcrumbs, and the remaining clam juice in the can is reduced into a concentrated elixir for drizzling over the finished pie. The resulting combination manages to hit both the deeply savory and vividly fresh ends of the clam flavor scale, and, as Reinhart points out, the moisture-packed canned bivalves are much harder to overcook in the oven than their fresh counterparts, which can turn rubbery in a matter of minutes.
Trying the pizza for the first time a few weeks ago reminded me of another favorite use for those flat little cans from the grocery store: clam garlic bread. This recipe, which chef Tony Liu developed for his Jackson Heights restaurant the Queensboro, involves reducing the clam juice and using it to create a punchy compound butter full of garlic, chopped clams, lemon zest, parsley, and parmesan. The bread is slathered with this mixture and baked until your kitchen smells like fried garlic and seashore.
For Liu, using canned clams for the dish (which makes an appearance as a special on the menu every now and again) means a consistent product with a shorter process, and extra splashes of leftover clam juice (which you can also buy by the bottle) make their way into Bloody Marys, mussels, and other dishes involving seafood. But it's also a nostalgic flavor from his childhood in Hawaii. "One of my favorite dishes was always linguine with clam sauce," he tells me. "My dad would brown a little garlic, open up a can of clams in clam juice and a can of cream of mushroom soup, and it was done in ten minutes."
"I think of clam juice like I think of dashi: a versatile, savory stock with an identifiably oceanic taste with no gelatin."
Serious Eats editor Sho Spaeth is a fan of using canned clams on pizza and in pastas, and then adding the juice to soups, rice, and braising liquids. "I think of clam juice like I think of dashi: a versatile, savory stock with an identifiably oceanic taste with no gelatin," he explains. "A flavor-booster, basically."
As Spaeth points out, clam juice has a smaller amount of glutamates than dashi, which inspired him to start adding a hint of soy sauce to his clam pastas. At the very beginning of the pandemic, he published a recipe for his go-to canned clam spaghetti (a basic technique that he's been riffing on since high school) on Serious Eats.
Spaeth, like me, picks up the occasional tin of delicate clams or cockles from brands like Donostia and Matiz for snacking straight from the can (I like to add a drizzle of sherry vinegar and eat them alongside a bowl of potato chips). While these $9–$10 cans certainly can be added to bowls of spaghetti, they tend to have a delicate texture that's best enjoyed without too much additional cooking or fussing. For the unabashed briny flavor that holds up to a hot skillet, a 500-degree oven, and the fiery heat of garlic and chiles, just go for the $3 can of chopped clams at your local grocery store.