The Secrets of the Salad Bar Bosses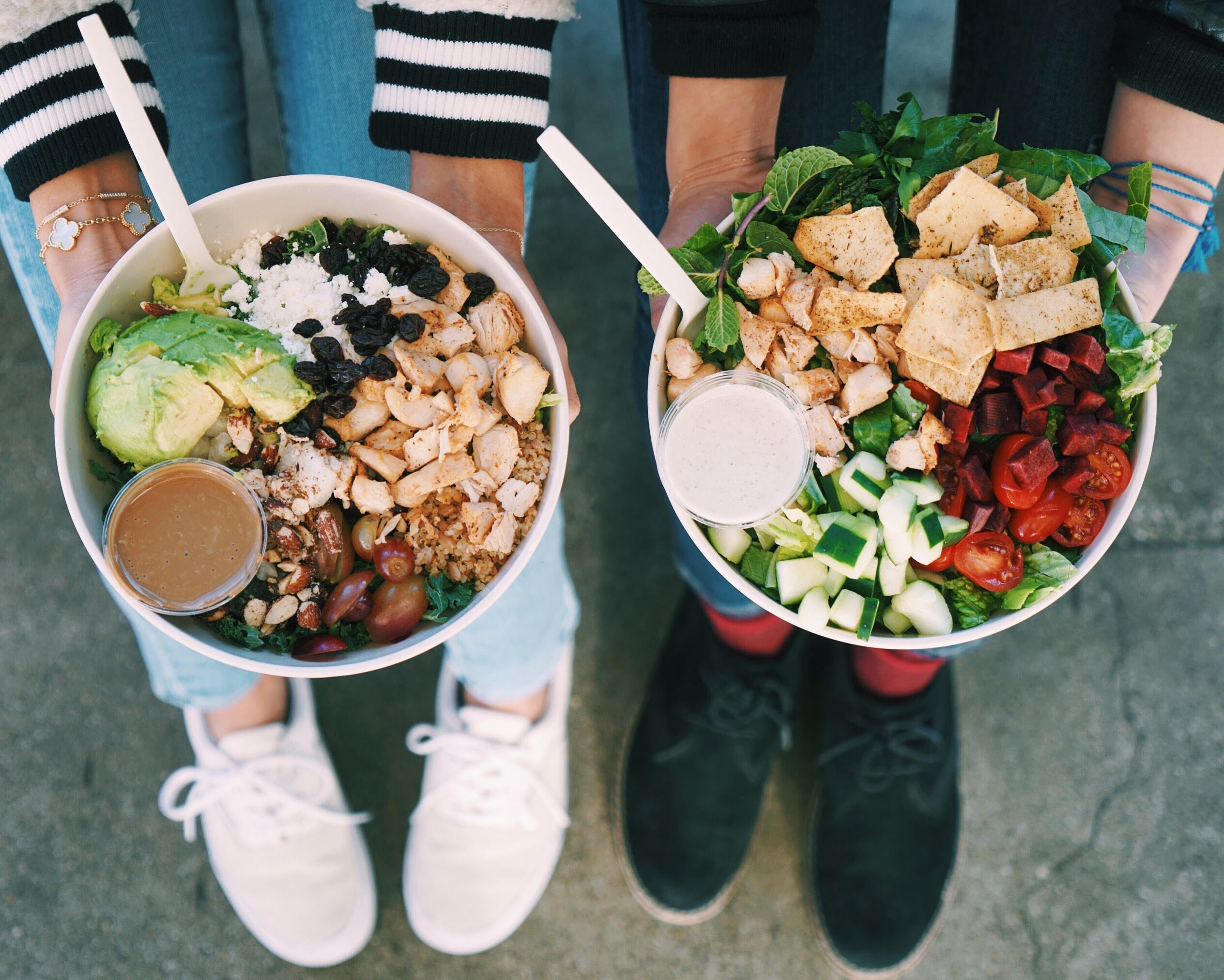 A 20-something employee wearing a crisp black T-shirt chops a hulking bunch of lacinato kale and romaine lettuce and throws it into a metal bowl, along with some heirloom cherry tomatoes and chopped, hormone-free roasted chicken. He picks up a block of Parmigiano-Reggiano (the good stuff) and grates a flurry of the aged, salty cheese over the top. He slices a lime clean in half and squeezes it into the bowl. His colleague hands him a squeeze bottle filled with a freshly made, and umami-packed, Caesar dressing—which he carefully swirls on top. In his final act, he unsheathes a pair of tongs and rhythmically massages the mixture into submission, before packing the finished product into a 100 percent plant-based disposable bowl, and readies himself for the next order.
This is his job: not just to toss a salad, but to build one. He's not simply preparing lunch, but actively promoting a lifestyle that puts healthy, sustainable eating front and center. And people are absolutely going nuts for it.
The salad bar as we know it has fundamentally changed. What was once a limp, lifeless cold bar with a sneeze guard is now a vibrant theater of on-trend ingredients and bold flavors. Walk into any of the new, wildly popular high-end salad bars that have opened over the last decade (see: Sweetgreen and Chop't in the Northeast, Snappy Salads in Texas, Mixt in California), and you'll find that the greens are not the appetizer, or a lunchtime aside, but the main course. The dressings are freshly made, never bottled; the lettuce isn't wilted and soggy but crisp and locally sourced. Yes, the salads cost as much as $12, but the rapid growth of these spots over the past decade—Sweetgreen plans to add 30 stores to its 64 in 2017 alone—suggests people are more than willing to pay up for a meal that tastes as great as it makes them feel.
"Fifteen years ago, there was no real opportunity for the general restaurant customer to enjoy salad in a cravable way—one that explored different cultures, highlighted certain flavors, and gave you more than just limp vegetables," says Aneesha Hargrave, executive chef of the New York–based salad chain Chop't. The company, founded in 2001 and now operating over 35 locations, actively showcases ingredients from around the world, offering a menu of rotating "Destination Salads" to its customers—like a Hokkaido salad made with soba noodles and sesame dressing.
Sweetgreen, a salad company birthed in D.C. by Nicolas Jammet, Jonathan Neman, and Nathaniel Ru, has grown into a $135 million brand by putting quality and sustainability above all, with made-to-order creations like the Rad Thai (arugula, bean sprouts, citrus shrimp, and organic cashew dressing) and the Spicy Sabzi (spinach, kale, seasoned quinoa, and carrot-chile vinaigrette). Each Sweetgreen location—there are stores throughout the Northeast and Midwest, as well as in California—has a board that lists all of the farms where the ingredients of the day originated. "It all starts with the product and the supply chain," says Jammet, Sweetgreen's cofounder. "We wanted to create a level of transparency for the customers so they could actually feel connected to their food and know that healthy eating is accessible and delicious." Local, quality produce and diverse, globally inspired flavors are no longer the exception, but the norm.
This ingredient-forward approach with an uncompromising stance on freshness, however, brings with it a unique set of challenges. "You're working with everything fresh," says Chris Dahlander, CEO of the Dallas-based Snappy Salads. "You can't tell if a hamburger patty is old—you can tell when romaine lettuce has brown spots or rust. It's a very visible expiration date." There are also droughts, blizzards, and workers' strikes to consider. Dahlander remembers an ice storm that hit California, Mexico, and Florida three years ago and destroyed his tomatoes. But if you're a salad company, you have tricks for getting around these issues.
Esteban Villar, managing partner at Chop't, makes sure stores are well stocked with lemon juice to keep avocados and apples looking fresh, along with a bottled treatment called Vegetable Wash to rehydrate and revitalize produce that is starting to wilt and go bad. He devotes at least three employees per store just to monitoring the vegetables as they are washed and making sure they aren't carrying any bugs or dirt.
But fresh vegetables alone do not a great salad make. What each salad chain has in common is thought-out menu items, as well as the option for customers to customize their own salads—selecting from an almost excessive range of on-trend ingredients, like quinoa, tofu, Parmesan crisps, and pepitas. When Hargrave is creating a new salad for Chopt's menu, she adheres to a strict standard she calls "whole bowl worthy." As in: "Are you immediately thinking about a second bite? Could you finish an entire bowl of this?" she explains.
The trick, according to Chopt cofounder Colin McCabe, is to start with something familiar, like a Caesar salad, and "flip it on its head, pushing it to a deeper level than people are used to" with bold flavors. He also identifies five key elements that his most successful salads have in common: texture ("You want to feel like you are crunching something"), heat ("People always gravitate towards chiles"), color ("It has to be visually appealing"), richness ("You want your salad to feel like a meal"), and acid ("Otherwise you get bored after four bites," Hargrave says). And you have to know when to stop.
"If you don't want a soggy or heavy mess, four—at the max five—ingredients is the way to go," she adds. "At a certain point the flavors just become murky." Unlike a bag of potato chips or a burger, the appeal of these salads isn't driven by excessive amounts of sugar, salt, and fat. "We've found that healthy food can be really addicting, too," Jammet points out. "When you eat a salad that is delicious and makes your body feel good, that is physically addicting. Once you start eating like that, it's tough to go back."
One of Hargrave's proudest and most popular creations to date at Chop't is the spicy New Mexico Caesar. "It hits all the right notes," she says. "It has texture with the tortilla chips, richness from cotija, spiciness from raw jalapeños and chile chicken, creamy avocado, and then to support those ingredients is this crisp, clean romaine lettuce."
The best-selling offering at Snappy Salads, the grilled avocado salad (in which grilled avocadoes are tossed in to add depth and smokiness), further confirms McCabe's theory on salad cravability. "For salad haters, it is transformative," Dahlander says. "It tastes like a million bucks. I only charge you $10.75."
SMOKY SPANISH CAESAR
Makes 2 large salads
This is a Spanish twist on the classic Caesar salad, served up with Manchego or Iberico cheese and spicy pimentón powder. The dressing, a pimentón lemon Caesar, brings it all together with heat and acidity.  Adapted from Aneesha Hargrave, executive chef of Chop't.
INGREDIENTS
4 cups chopped romaine
¼ cup croutons
¼ cup thinly sliced celery
2 tablespoons cubed Manchego or Manchego-style cheese, such as Iberico
1/2 cup diced Spicy Pimentón Chicken (see recipe below)
Pimentón Lemon Caesar dressing (see recipe below)
DIRECTIONS
1. Combine all ingredients in a large salad bowl and drizzle with desired amount of dressing. Toss using two large forks until fully incorporated.
2. Serve immediately.
---
SPICY PIMENTÓN CHICKEN
Makes 2 cups
INGREDIENTS
4 tablespoons hot smoked paprika
1 tablespoon granulated garlic
½ tablespoon kosher salt, plus more to taste
6 tablespoons sweet paprika
4 boneless, skinless chicken breast
½ tablespoon olive oil
DIRECTIONS
1. Preheat oven to 300°F.
2. Combine all spices in a small bowl to make the spicy pimentón spice blend and toss to combine. Drizzle both sides of the chicken breast with olive oil. Sprinkle each side of the chicken breast with approximately ½ tablespoon of pimentón spice blend. (You can keep extra spice blend for future cooking.)
3. Transfer the chicken breast to a baking sheet and roast for 15-20 minutes or until cooked through.
4. Remove chicken from the oven and allow to rest for 10 minutes prior to serving.
---
PIMENTÓN LEMON CAESAR DRESSING
Makes 2 cups
INGREDIENTS
Juice of 2 lemons
½ cup Greek yogurt
¼ cup mayonnaise
¼ cup diced Manchego cheese
Zest of 1 lemon
¼ teaspoon granulated garlic
1 anchovy fillet, chopped
1 teaspoon hot smoked paprika
¼ cup neutral oil, such as sunflower
¼ cup olive oil
Salt and black pepper
DIRECTIONS
1. Add all ingredients except the oils to a blender or food processor and blend just until ingredients combine, about 30-45 seconds.
2. While continuing to blend, add the neutral oil in a slow and steady stream, followed by the olive oil.
3. Season to taste with salt and freshly ground black pepper. Use right away, or store in the refrigerator for up to 5 days.