The Secret's in the Antacid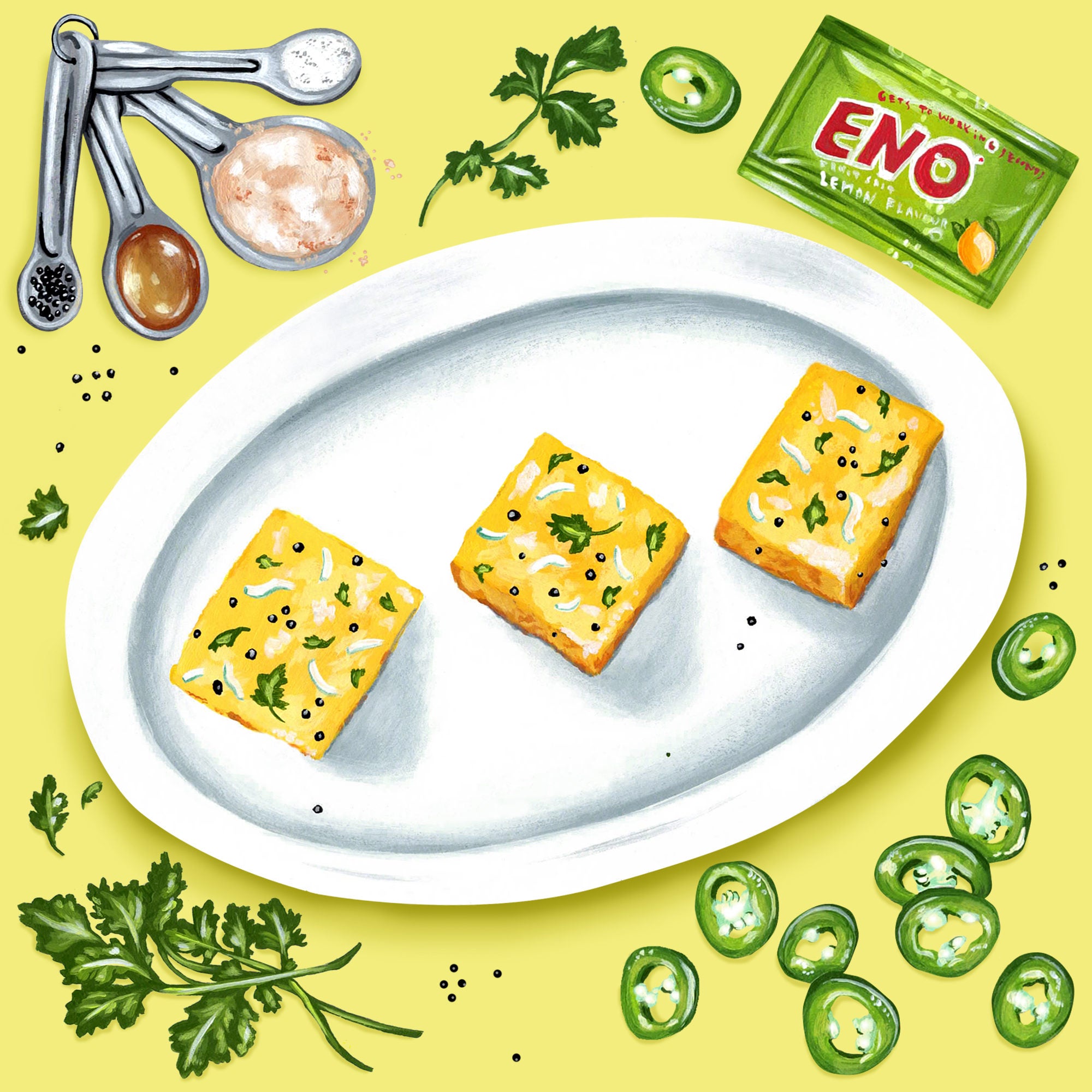 Khaman dhokla, a fermented chickpea cake from Gujarat, is India's great blank-canvas dish.
I noticed them out of the corner of my eye while in line at Vik's Chaat in Berkeley, California: yellow sponge cakes topped with black mustard seeds, chopped cilantro, and coconut. Khaman dhokla! I remembered, as a kid, sneaking into the kitchen while my aunts, Lila Kaki and Rajni Kaki, were setting up dinner. I'd do a run-by, grabbing a warm dhokla and escaping before anyone could yell, "Aii, Leena!" That first bite of the savory snack cake was an explosion of bean-y, nutty chickpea flavor, scented with ginger. There was a slightly sour funk from yogurt, a bit of piquantness from hot peppers, and the faintest hint of sweetness from coconut. It'd been years since I'd had dhokla. I had completely forgotten about it until it was back before me, beckoning me to take a bite. I grabbed two plastic clamshells and headed straight for the register.
Khaman dhokla is a fermented chickpea cake from the Indian state of Gujarat. Cookbook author Madhur Jaffrey once described them as "one of Gujarat's glories." They taste like a French chickpea pancake (socca) and a sponge cake married, moved to India, and had a baby—the essence of chickpea in a fluffy cake form. Like any good Indian food, khaman dhokla hits several different flavors at once: spicy, sweet, savory, salty, and sour. And with its small, square shape that is easy to eat with your hands—and going along with a cup of chai or a cocktail—you'll see why my preferred serving size of this farsan (Gujarati snack) is half a pan.
Dhokla is made with rice and high-protein legumes like urad dal (black lentils) or grains like rava (semolina), which are staples of Indian vegetarian diets. My family's version is made strictly with chana dal (split chickpeas) and served with a spicy cilantro chutney. It's in the same family as dosa, a crispy pancake made from rice and black lentils, and the savory steamed cake called idli (also rice and black lentils).
I grew up eating dhokla at family dinners and special occasions, alongside freshly fried puffy puri bread and ammras, mango pulp thinned with milk. But on a trip to Gujarat, I learned that there really is no wrong time for dhokla. My Seema Kaki ("kaki" means auntie) in Surat served it for breakfast, crumbled and topped with crunchy sev noodles (made from besan, or chickpea flour), chopped cilantro, and a little bit of sugar—a dish called khamani. I had it as a snack at a dhaba (roadside food stand) just outside of Ahmedabad. It was so spicy, I had to gargle dahi (yogurt) to drown the raging fire in my mouth.
I turned to my Gujarati aunts, my Indian-food Yodas, to learn the recipe for myself. It's Rajni Kaki's specialty, and she started by pureeing dried and soaked chana dal with water until smooth. To that, she added yogurt, ginger paste, salt, oil, half of a box of store-bought dhokla mix, and enough water to make a thick but pourable batter. "Why the box mix, Kaki?" I asked. Lila Kaki helpfully jumped in: "It makes it better." The last ingredient was Eno, an antacid from India that not only helps indigestion but also helps batters rise. It's a fairly common shortcut ingredient made with sodium bicarbonate (baking soda), sodium carbonate, and citric acid that Indians use to make dhokla or idli batter rise.
Within seconds of stirring it in, the batter inflated with tons of little air bubbles. She steamed it in a greased cake pan, removing it when it was firm and an inserted knife came out clean. She sliced into diamonds in the pan while Lila Kaki started on the tadka. "Tadka" refers to both the method of tempering spices in hot fat to release flavor and the by-product, a fragrant, spiced oil or ghee that is used to start or finish a recipe. "Bol!" she said to Rajni Kaki, asking her how much oil to put in. Rajni responded, "Bus, bus," when there was enough, around three tablespoons in the pot. Once the oil was heated, she fried black mustard seeds until they puffed up, then tossed in sliced jalapeño and sesame seeds for a few seconds. The resulting tadka was poured over the sliced cake, and a quick toss ensured that little black dots of mustard seed clung to each piece like ants on a log. It was finished with a shower of chopped cilantro and desiccated coconut. "For decoration," Rajni Kaki said. It's my favorite part because it adds a hint of herbal flavor and sweetness.
Afterward, I compared Rajni Kaki's version to recipes from cookbooks and online. Some used besan, some used dried soaked chana dal, and my aunts used both (remember the box mix? It had besan in it). They skipped fermenting, which, after a great deal of research, I learned is traditionally done to help leaven the batter, give it a sour tang, and make the beans more digestible. My aunts rely on Eno for lift and yogurt for tang. "Eno makes life easier," Lila Kaki confessed. "It's good for lazy people like me," she joked. And my aunts aren't the only ones: All of the recipes I researched incorporated either baking soda with lemon juice or citric acid, or Eno, regardless of whether they fermented the batter.
I made batch after batch of dhokla using these variations, including an unfortunate batch that I fermented for 48 hours and smelled like rotten fish. I wasn't able to get enough rise from fermentation alone, but I liked how it soured the batter. The nostalgic part of me loves the spongy, super tall Eno versions. I wound up using besan so I could skip the overnight soaking; this has an optional fermentation step. The result is a quick I-need-dhokla-now recipe that reliably transports me back to my dhokla-pilfering days.