The Rise of Kerala Cuisine in America Cannot Go Unnoticed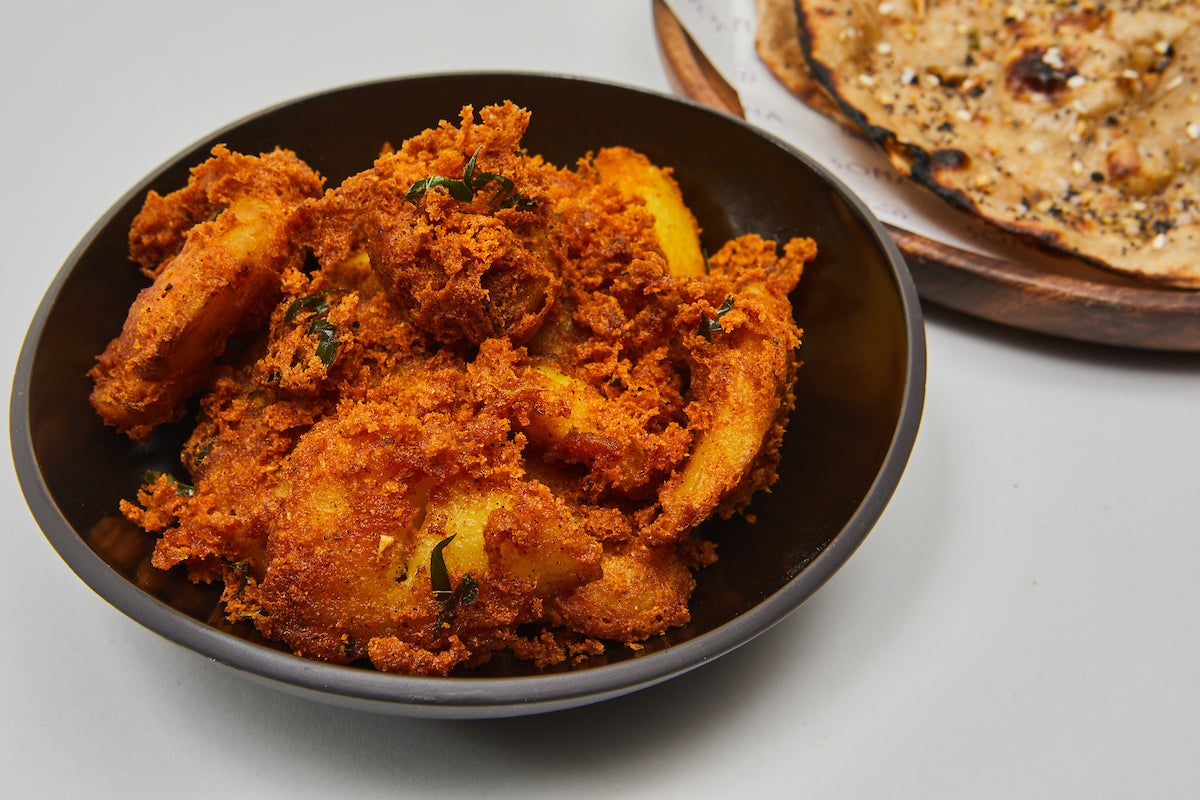 American restaurants are showcasing this South Indian cuisine that is far beyond the universal curry-paratha-rice routine.
Perhaps the biggest pet peeve for a chef who has dedicated their professional life to evangelizing about the foods of Kerala is to see TikTok videos (or Instagram Reels) of Malabari parotta and appam being peeled off the pan with Telugu or Carnatic music purring in the background. Understanding the nuances of South Indian culture is no easy feat, even for a certified Indian like myself. The southern part of India is divided into five distinct states: Kerala, Karnataka, Tamil Nadu, Andhra Pradesh, and Telangana, a state that was carved out from Andhra Pradesh as recently as 2014. Each of these are tightly knit regions, collectively forming the lower half of India while containing their own idiosyncrasies. So that soundtrack is a stretch, sort of like confusing hard bop with Mississippi blues.
Sure, there is a universal curry-paratha-rice routine. But everything from cooking oils and seasonal greens to the preferred variety of chiles makes these cuisines diverse. One out of these that stands apart is the food from Kerala, belonging to the southwest shin of India—a region known for muddy backwaters and coconut-oil-fried unripe banana chips.
Kerala is also one of the only regions in India to have over 90% literacy, access to beef (otherwise banned in many parts of India), and a high female-to-male ratio. In America, the foods of Kerala have recently garnered increased interest, and regional differences in the cuisine of the various South Indian states are being celebrated more than at any time in history.
"In the last two years in America, especially in areas such as New York, San Francisco, and maybe also in Houston, there has been a shift in the mainstream understanding of Indian cuisine," says chef Hari Nayak of Sona, a pan-Indian restaurant in New York City. "It's moving on from an old-school understanding to a more regional approach."
Nayak grew up in Udupi in Karnataka, 230 miles away from Kerala. And while Udupi is where the most obvious representation of South Indian foods—like idli (a fermented, steamed cake), vada (a deep-fried, doughnut-shaped fritter), and dosa—come from, Nayak's menu has ample Kerala inspiration. At Sona, you'll find Kerala-style beef, alleppey fish curry, slow-cooked beef short ribs, parotta, and Malabari chicken biryani cooked with short-grained kaima rice.
Nayak's observation about Kerala's cuisine picking up in America echoes my understanding of this phenomenon. It explains the rave reviews behind newly opened South Indian restaurant in NYC, Semma, run by chef Vijay Kumar—who is cooking traditional food, including Kerala staples such as meen pollichathu (banana-leaf-wrapped seafood), chemmeen moilee (turmeric and coconut milk curry), and parotta, a flaky bread from the state.
For creating this deeper connection to regional South Indian food in America, I partly credit the efforts of South Indian chefs in India, such as Suresh Pillai, Rakesh Raghunathan, Thomas Zacharias, Chalapathi Rao, Regi Mathew, and Naren Thimmaiah, all of whom have been actively championing Kerala's bounty through social media or their restaurant menus loudly in the last few years, and like the love for turmeric, chilies, and chai, this appreciation for regional cuisine has spilled over to the West.
Kerala's culinary legacy is built on the fine nuances of the different communities that call it home. The Nambudiris, a "higher" caste that forbids consumption of "tamasic" foods (associated with darkness), are the inspiration for no-garlic and no-onion dishes such as kurukku (millet porridge), kalan (a yogurt-based yam-and-plantain side), and avial (vegetable stir-fry). Then there are the Nairs, a community of former landlords who favor dishes including mambazha pulissery (baby mango curry) and kootu curry (a plantain and yam dish). The Ezhavas were a class who ate theeyal (an onion curry) and puttu cherupayar (steamed cakes). Besides these, there are non-Hindus, too, like Syrian Christians and Moplah Muslims, who gave rise to a range of meat-based dishes, such as mutton stew and beef cutlets.
Today, many of these staples can be accessed in America via fine-dining restaurants and pop-ups. "In America, chefs such as Floyd Cardoz, Vikas Khanna, Suvir Saran, Hemant Mathur, and Sujan Sarkar have brought Indian fine dining to the fore since the 1990s. But regional Kerala food was still only accessible via homestyle Malayalee restaurants located in areas where the well-off folks from Kerala lived, similar to residing in the suburban sections of New York, New Jersey, Texas, and California," observes Las Vegas–based chef Hemant Kishore. Kishore, who operates as a freelance chef, saw this as a great market to open "America's first toddy shop," called Toddy Shop, in 2016 in Las Vegas.
A toddy shop, a fixture in Kerala, is a local drinking hole in a small town where alcohol is brewed from palm tree extract and served alongside small plates known as "touchings." It's the Kerala version of a low-key, buzzing Spanish tapas bar. "Soon after I launched, the word was out that someone was doing 'unique Indian food' from a tiny window at the back of a dive bar around the Las Vegas strip," says the Trivandrum-raised chef. Kishore cooked dishes such as karimeen pollichathu (fish in banana leaf), netholi fry (where anchovies are marinated in a paste of shallots and spices before tempering), and squid thoran (stir-fry), "along with burgers and hot dogs to keep it familiar for Americans." The same can be said for another Kerala cuisine takeaway called Shirley's India in New Rochelle, New York, which serves a mutta omelet and Kerala-style fried chicken sliders, but also empanadas and spring rolls.
When one of India's leading chefs, Manish Mehrotra, decided to open Indian Accent in New York, he knew he had to have food from Kerala. "Kerala, as a destination, has always attracted international tourists, and the food from this region is delicate and robust at the same time," he says. Mehrotra relishes working with American produce like fresh cabbage, beets, green and red chiles, coconut oil, and the superior-quality beef you get in New York. "But of course, I get my own spices, especially dry kanthari chiles and Malabar peppercorn, from the Indian market," he says.
All the chefs that I interviewed for this story were concerned with accurate representing the cuisine—mainly they wanted to avoid cultural appropriation of Keralan food. This was a problem for Indian food in America when it started becoming more widespread—e.g, the dull representation of Punjabi cuisine, one of the most popular Indian cuisines—when most of it was categorized as curry, gravy, and dal, when it is beyond. Kishore concludes for me, "I refrain from using the words 'authentic Indian' because I believe recipes and techniques are unique to families and households." For example, a Kerala-style biryani in Kannur, Mahé, or Thalassery is different from the one in Kozhikode, and the chefs believe it's their responsibility to educate the diners. "To cross-check a recipe's roots, I'll WhatsApp my mom," he says. No better fact-checker than that.
Photos by Melanie Dunea